ISTANBUL — It's a basic rule for journalists — don't become the story. But in Turkey, not only have reporters, editors and writers become the story, they have turned into a symbol of resistance in the face of a widespread government crackdown.
A total of 17 journalists and staff from one of Turkey's oldest newspapers, the left-leaning daily Cumhuriyet, are on trial for charges related to the failed coup attempt in July 2016.
Ten of them have languished in prison for nine months awaiting the trial which began Monday. Twelve in total are currently jailed.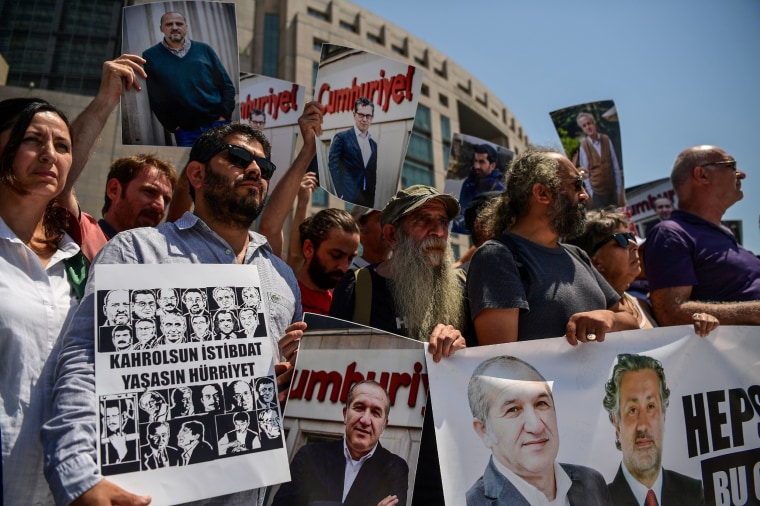 Supporters of the journalists say the trial in the NATO member and ally in the U.S.'s war on ISIS is politically motivated.
"Kafkaesque is an over-used term," wrote Benjamin Ward, the deputy director of Human Rights Watch's Europe and Central Asia section, on Wednesday. "But it seems appropriate when trying to capture the prosecution of 17 journalists, editors, and other staff at Cumhuriyet."
"The Cumhuriyet staff are hardly alone," he added. "Critical journalism has been under assault by the Turkish state for several years, with the crackdown greatly accelerating after the failed coup attempt in July 2016."
Earlier this week, dozens of journalists marched to an Istanbul courtroom holding front pages of the newspaper showing the faces of 12 colleagues already in jail. Crowds gathered outside the courtroom, struggling for seats as the case was set to begin.
The Cumhuriyet journalists — charged with aiding "terrorists" as well as the group accused of fomenting the putsch — are just a fraction of those who have lost their jobs or been taken to court.
According to the Turkish Journalists' Association, about 160 journalists have been jailed and 150 media outlets closed since the putsch. According to the Committee to Protect Journalists, more journalists are imprisoned in Turkey than any other country at any time since the organization began keeping records in 1992.
The purge stretches beyond the media. According to a Reuters count, in the wake of the coup some 50,000 have been jailed pending trial and 150,000 dismissed or suspended from their jobs, including academics, judges and soldiers.
Turkey's Justice and Education Ministries did not respond to NBC News' questions over the jailing of journalists or the crackdown in general.
President Recep Tayyip Erdogan has pushed back on criticism of his government's treatment of journalists, saying only two of those in jail actually possess press cards.
"The rest are either terrorists, or they were carrying guns, or they robbed ATM machines," he told BBC News earlier this month.
"If I don't speak up right now, when will I use my privilege? When will be the right time?"
Erdogan accuses cleric Fetullah Gulen — a former ally — and his supporters of being behind the attempted coup. Gulen, who now lives in exile in Pennsylvania, denies the charges.
Critics argue that Erdogan is using the coup attempt to crackdown on those who oppose his government and his bid to greatly expand his powers.
Aydin Engin, a columnist, is one of them. He is one of the journalists at Cumhuriyet accused of being connected to supporters of Gulen.
The 76-year-old's alleged crime was to write "Peace at home, peace in the world" in an article on June 13 — a nod to a famous slogan by the founder of the Republic of Turkey, Mustafa Kemal Ataturk.
The attempted coup took place two days later, with some behind it labeling themselves the "Peace at Home Council."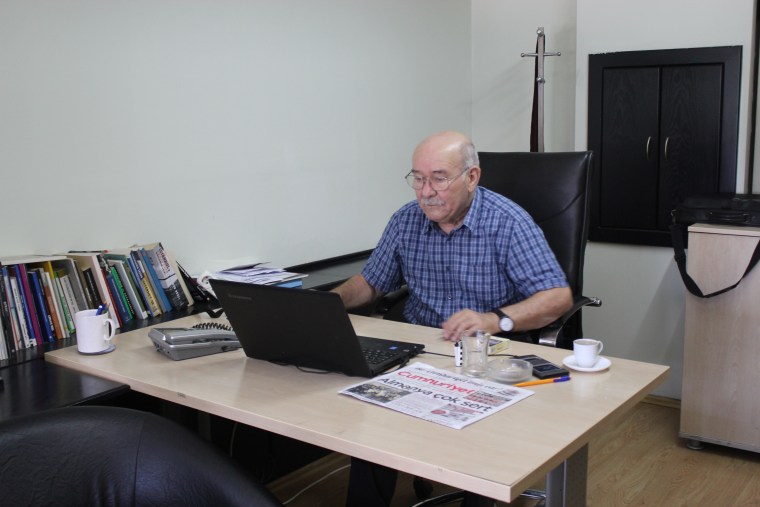 Engin, who was accused of sending a signal to coup plotters, has already spent a total of six-and-a-half-years behind bars.
"It was not very tough because it was in stages — six months here, one year here," he said in his office days before he was scheduled to go to court.
Engin was first sent to jail in 1966 — decades before Erdogan's Islamist A.K. Party came to power. In 1980, a coup forced him to flee the country for Germany where he lived for 12 years.
While he has lived through past crackdowns, Engin said the fallout of last year's failed coup is the worst he has experienced.
"Military judges, military prosecutors tried to work kind of within the law... now we don't have any of that anymore," he said. "The Cumhuriyet trial is not a legal trial it's a political trial."
He knows he faces years in prison but Engin said he is really concerned about the colleagues already behind bars.
"We're living day by day," he said. "Today we will make Cumhuriyet as best as it can be but we don't know about tomorrow."
The purge has gone far beyond the media. Universities have been shut down over alleged links to Gulen's supporters and thousands of professors have lost their jobs.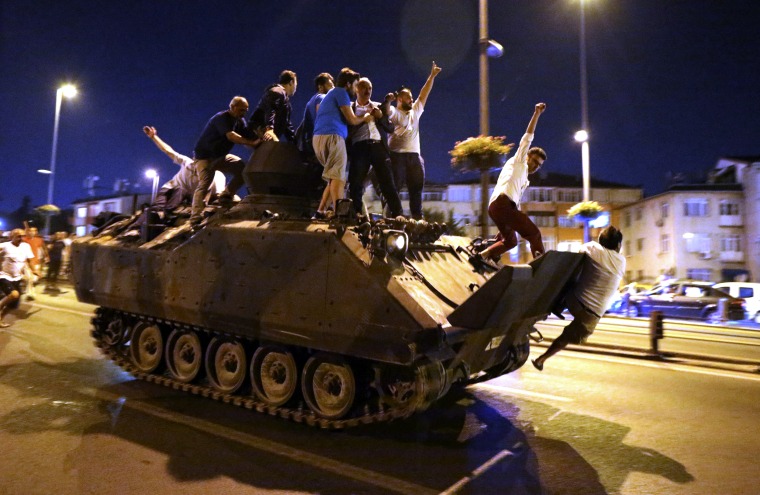 Utku Balaban was a visiting sociology professor at Cornell University in Ithaca, New York, at the time of the coup attempt. The university he taught at in Ankara soon told him to return. At the time, he suspected it was because of a petition he calling for more rights for the Kurdish minority.
"I told myself, 'Hey, you've got to return to your country… you have to be responsible for signing the petition," he says. "At that point, it looked like a good decision."
In February, he saw a government-issued decree online listing academics that had been fired. His name was on it.
Balaban said he now cannot find another job as a professor. Still, he does not see himself as a victim.
"We took action to protest the government and we knew… that we took some sort of risk in singing the petition," he said.
As a scholar, he thought, he had certain privileges as well as the responsibility to take a stand for freedom of speech.
Balaban added: "If I don't speak up right now, when will I use my privilege? When will be the right time?"