Three members of the feminist Russian punk rock collective Pussy Riot received prison sentences of two years for staging an anti-Putin, anti-Kremlin protest earlier this year at Moscow's Christ the Savior Cathedral.
Judge Marina Syrova sentenced Pussy Riot members Nadezhda Tolokonnikova, 22, Maria Alyokhina, 24, and Yekaterina Samutsevich, 30 for "hooliganism motivated by religious hatred" based on the February 21 performance the group called its "Punk Prayer."
Tolokonnikova, Alyokhina, and Samutsevich had been in detention since March, and their trial began in July. The group said it was rallying against "ties between church and state under Patriarch Kirill, who has praised Putin's rule as a "miracle of God."
Pussy Riot, up until today, had perhaps become the most well-known band on the planet that appears to have absolutely no formally recorded material. The other members of the group just released a scathing rebuttal to the trial called "Putin Lights Up the Fires." The tune is a rudimentary, bright burst lasting just north of two minutes. You can listen to it after the jump.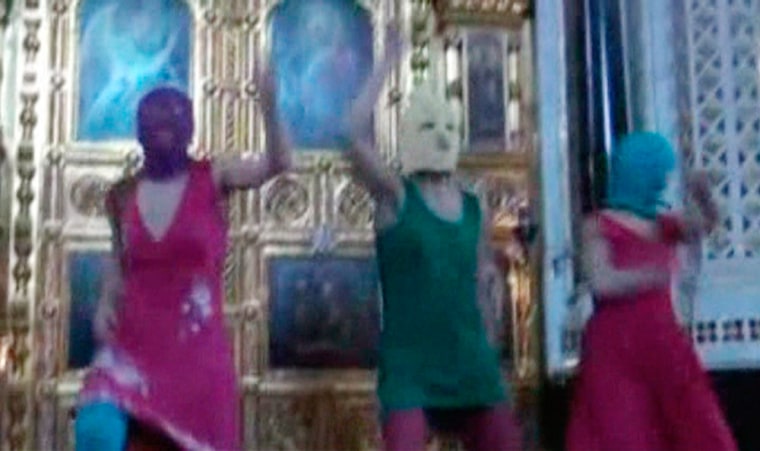 Pussy Riot's protest angered many of the country's Orthodox Christians, while in Russia and internationally they gained support from musicians such as Sting, Paul McCartney and Madonna, all of whom requested the three be released and allowed to return to their families.
Anticipation of today's sentencing yielded a news conference last night at a Manhattan hotel, and the sentencing sparked international demonstrations. 
The 10-member Pussy Riot formed in 2011 in response to Russian President Vladimir Putin's return to power. Prior to their detention, the group became known for its politically-charged, ebullient performances, where the members wore brightly-colored outfits and hid their identities under balaclavas.
Because of their strong feminist stances and, to an extent, their sartorial penchants, Pussy Riot has been likened to the American punk rock band Bikini Kill, who in the early 1990s, stood at the forefront of a burgeoning feminist music community commonly known as Riot Grrrl.
Bikini Kill's frontwoman Kathleen Hanna recently spoke at length about Pussy Riot, and eventually hopes to tour with the group.