U.S. contractor Alan Gross, who has been imprisoned in Cuba for more than four years, announced Tuesday he has gone on a hunger strike, according to a statement from his lawyer.
Gross, 64, who worked as a contractor for the U.S. Agency for International Development, said he began fasting on April 3 to protest his treatment by both the U.S. and Cuban governments. He called on both countries to "resolve this shameful ordeal" so he can return to the United States.
Gross was sentenced in 2011 to 15 years in prison for seeking to "undermine the integrity and independence" of Cuba, a communist country the U.S. hasn't had formal diplomatic relations with since 1961.
Cuba's President Raul Castro called him a spy. Cuban officials said Gross was contracted to work for American intelligence services, a charge denied by Gross and the U.S. government.
"I am fasting to object to mistruths, deceptions, and inaction by both governments, not only regarding their shared responsibility for my arbitrary detention, but also because of the lack of any reasonable or valid effort to resolve this shameful ordeal," read the statement released by Gross's lawyer.
"Once again, I am calling on President Obama to get personally involved in ending this stand-off so that I can return home to my wife and daughters," he added.
Gross's family says he has lost more than 110 pounds since he was imprisoned and is in failing health.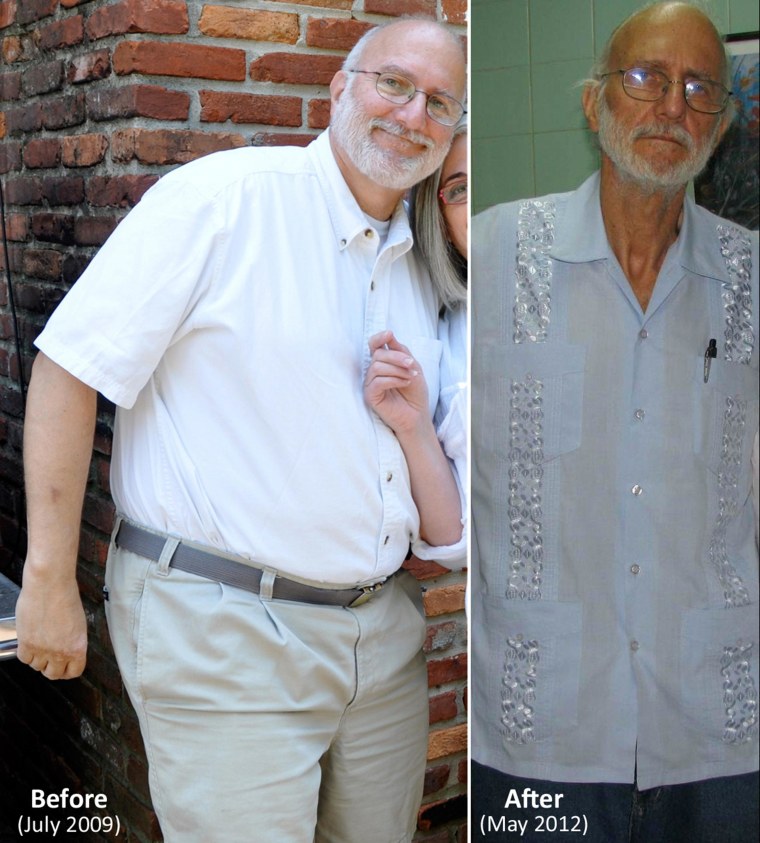 His attorney said Gross decided to go on a hunger strike as news emerged last week that USAID was behind ZunZuneo, the so-called "Cuban Twitter," a text messaging service allegedly created to undermine Cuba's communist government.
Scott Gilbert, Gross's lead attorney, said that USAID's actions on ZunZuneo put Gross's life in greater jeopardy, according to the statement released Tuesday.
"Once Alan was arrested, it is shocking that USAID would imperil his safety even further by running a covert operation in Cuba," Gilbert said in the statement. "USAID has made one absurdly bad decision after another. Running this program is contrary to everything we have been told by high-level representatives of the Obama Administration about USAID's activities in Cuba."
Gross was arrested in 2009. His family says he was working in Havana to help the Jewish community gain access to the Internet, an activity the Cuban government declared unlawful.
The Associated Press last week reported that USAID created ZunZuneo soon after Gross was arrested in Havana.
According to the AP, the U.S. planned to build a subscriber base among Cubans through innocuous messages about weather or soccer. Once the number of users reached a critical number, officials planned to introduce political content aimed at fomenting dissent, the AP reported, in order to "renegotiate the balance of power between the state and society."
During an interview with NBC's Andrea Mitchell last week, Sen. Patrick Leahy, D-Vt., who chairs the subcommittee that funds USAID, called ZunZuneo "dumb," adding that covert operations should not be directed through USAID.
Testifying Tuesday before Leahy's committee, USAID Administrator Dr. Rajiv Shah said the project was "absolutely not" a covert program.
"Working on creating platforms to improve communication in Cuba and in many other parts of the world is a core part of what USAID has done for some time and continues to do," Shah said.
I've been begging our government for more than four years to bring Alan home.
A 2012 AP investigation showed the purpose of Gross's trips to Cuba was to set up uncensored satellite Internet service for that country's Jewish community. The equipment he brought into the country included a phone chip experts said is used by U.S. intelligence and the Pentagon to make satellite signals virtually untraceable, according to the AP.
Gross's wife, Judy Gross, who has been critical of the Obama administration's handling of her husband's case, said in the statement she is worried her husband won't survive his imprisonment.
"I've been begging our government for more than four years to bring Alan home," she said. "I'm worried sick about Alan's health, and I don't think he can survive much more of this."