DUBAI, United Arab Emirates — A journalist critical of Saudi Arabia's crown prince in columns for The Washington Post has gone missing after visiting the country's consulate in Istanbul, the newspaper said Wednesday.
Jamal Khashoggi's personal website bore a banner saying "Jamal has been arrested at the Saudi Consulate in Istanbul!" without elaborating. The Post described the journalist's friends as being worried "after losing contact with him" Tuesday.
Saudi officials in both Washington and Riyadh did not immediately respond to requests for comment from the Associated Press.
However, 33-year-old Crown Prince Mohammed bin Salman's rise to power has seen a slew of businessmen, politicians and activists detained.
"We have been unable to reach Jamal today and are very concerned about where he may be," The Post's international opinions editor, Eli Lopez, said in a statement. "It would be unfair and outrageous if he has been detained for his work as a journalist and commentator. We hope that he is safe and that we can hear from him soon."
Khashoggi, 59, is a longtime journalist, foreign correspondent, editor and columnist whose work has been controversial in the past in the ultraconservative Sunni kingdom. He went into a self-imposed exile in the U.S. following the ascension of Prince Mohammed, now next in line to the throne to his father, the 82-year-old King Salman.
As a contributor to the Post, Khashoggi has written extensively about Saudi Arabia, including criticizing its war in Yemen, its recent diplomatic spat with Canada and its arrest of women's rights activists following women being allowed to drive in the kingdom.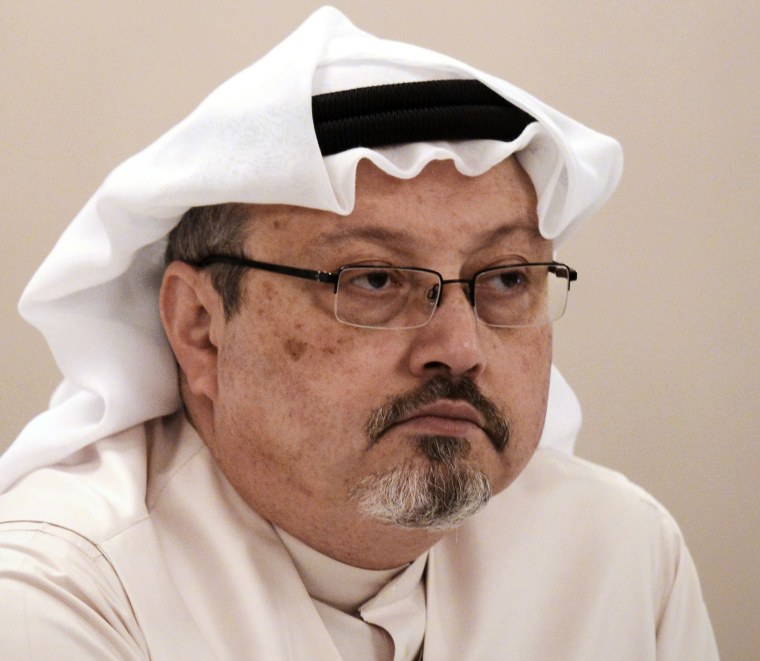 "The arrests illuminate the predicament confronting all Saudis. We are being asked to abandon any hope of political freedom, and to keep quiet about arrests and travel bans that impact not only the critics but also their families," Khashoggi wrote May 21 for the Post. "We are expected to vigorously applaud social reforms and heap praise on the crown prince while avoiding any reference to the pioneering Saudis who dared to address these issues decades ago."
On Tuesday, Khashoggi entered the consulate to get paperwork he needed. His friends never heard back from him, sparking the concern. Turkish officials could not be immediately reached on Wednesday morning.
The Saudi national was known for his interviews and travels with Osama bin Laden between 1987 and 1995, including in Afghanistan where he wrote about the battle against the Soviet occupation there. In the early 1990s, he also tried to persuade bin Laden to reconcile with the Saudi royal family and return home from his base in Sudan, but the al Qaeda leader refused.
Khashoggi maintained ties with Saudi elite and launched a satellite news channel, Al-Arab, from Bahrain in 2015 with the backing of Saudi billionaire Prince Alwaleed Bin Talal. The channel stayed on the air for less than 11 hours before being shut down. Its billionaire backer later found himself arrested in the Ritz-Carlton roundup overseen by Prince Mohammed last year.
"Presently, Saudi citizens no longer understand the rationale behind the relentless wave of arrests," Khashoggi wrote in an Aug. 7 column. "These arbitrary arrests are forcing many into silence, and a few others have even quietly left the country."
He offered this advice to the kingdom: "There is a better way for the kingdom to avoid Western criticism: Simply free human rights activists, and stop the unnecessary arrests that have diminished the Saudi image."