TOKYO — The suspect in the stabbing deaths of 19 sleeping people at a facility for the disabled in Japan was hospitalized just months ago after writing a letter saying "all disabled should cease to exist," an official told NBC News.
According to the Kyodo news service, alleged killer Satoshi Uematsu threatened an attack almost identical to the one carried out on Tuesday.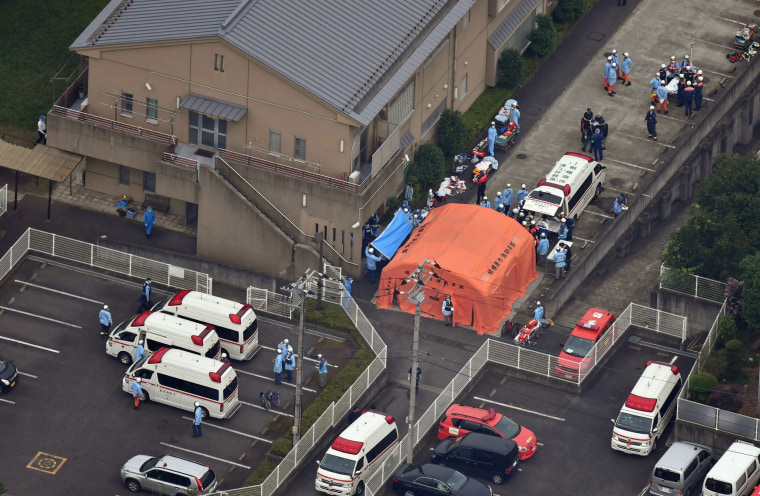 Shinya Sakuma, director of health and welfare for Kanagawa Prefecture, told reporters during a news conference that Uematsu was a former employee at the facility.
Shortly after 2 a.m. Tuesday (3 p.m. Monday ET), Uematsu entered the site by breaking a window. He then tied up a staff member, stole a set of keys and then began stabbing residents, Sakuma said.
"This was not an impulsive crime ... He went in the dark of the night, opened one door at a time, and stabbed sleeping people one by one," the governor of Kanagawa Prefecture Yuji Kuroiwa told reporters.
In addition to the 19 people fatally stabbed, 25 others were wounded.
Uematsu later turned himself into police in Sagamihara, which is around 25 miles west of Tokyo.
"The disabled can only create misery"
The Kyodo news service published a letter that it reported had been delivered by Uematsu to the office of Japanese lawmaker Tadamori Oshima on Feb. 15. According to the report, Uematsu said that he planned to "wipe out" 470 disabled people. The site he targeted houses about 160 people.
"I envision a world where a person with multiple disabilities can be euthanized, with an agreement from the guardians, when it is difficult for the person to carry out household and social activities," the letter reportedly said. "Now is the time to carry out a revolution and make an inevitable but tough decision for the sake of all mankind."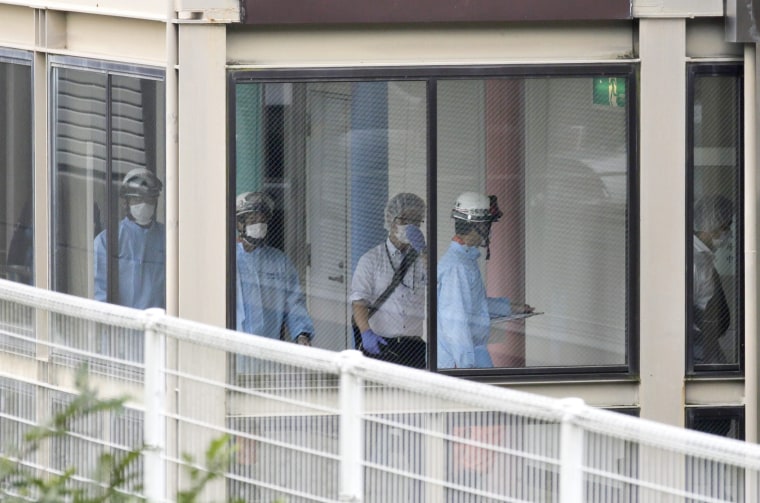 It added: "I believe there is still no answer about the way of life for individuals with multiple disabilities. The disabled can only create misery."
Killing the disabled would stimulate the world economy and maybe even prevent a World War III, Kyodo reported that the letter said.
It also described detailed plans for a nighttime attack when there were few staff working, with Uematsu adding he would turn himself into police afterwards.
The manifesto prompted the local police and health officials to get involved, a local mental health official told NBC News. On Feb. 19, Uematsu was committed to a psychiatric facility.
During his time under treatment, Uematsu tested positive for marijuana use, according to the spokesperson.
He was released on March 2 after doctors concluded he was no longer a danger to himself and others.
Tuesday's incident was the deadliest mass killing in the country since the end of World War II.