TOKYO — A baby girl who was sleeping when a deadly quake rocked Japan was rescued unscathed early Friday after a six-hour rescue operation.
The eight-month old was pulled out of the rubble of a collapsed house in the southeastern town of Mashiki.
The tot was on the first floor when a 6.5-magnitude earthquake struck on Thursday night, police told NBC News. Her mother, grandparents, and 4-year-old brother were in the kitchen and living room at the time, according to Japan's Mainichi newspaper.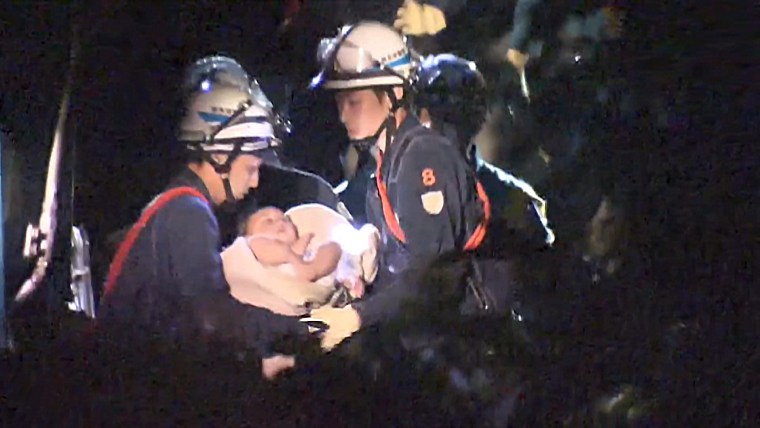 Nippon TV reported that crossbeams from the home's roof collapsed around the baby and created a cavity that protected her.
Following the quake, the girl's mother could see her daughter through a small crevice but could not reach her.
A team of around 50 people climbed on the roof and began to dig down.
Police told NBC News that the girl was freed at around 3:45 a.m. (2:45 p.m. ET Thursday) — six hours after the family called emergency services. She had not been injured.
At least nine people were killed, more than 800 were injured by Thursday's earthquake.
More than 134 aftershocks had been reported by 3 p.m. Friday (2 a.m. ET), officials said.