KITAKYUSHU, Japan — Once a week, Rena Shinohara heads off to work, clocking in for a shift at a job one could say she was born to do.
Rena, 18 months, is a baby worker at a Japanese nursing home, hired to brighten the days of residents whose own grandchildren may rarely visit. 
"It energizes me to see them, so this really helps me," said Tatsuo Ojiro, 93, one of about 100 residents at the Ichoan Nursing Home in the city of Kitakyushu. 
The patter of little feet around wheelchairs and walkers here is meant to ease the isolation that can come with growing older, especially in a shrinking and rapidly aging nation where a third of the population is over 65. 
Loneliness is such an acute problem that in 2021 the Japanese government appointed its first "minister of loneliness," charged with helping people of all ages connect especially after the Covid-19 pandemic.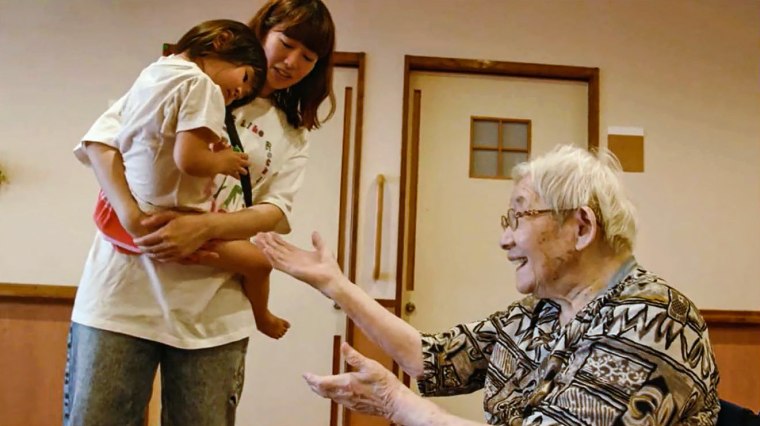 The nursing home's director, Kimie Gondo, came up with the idea of baby workers three years ago when her own newborn granddaughter was visiting and she saw how happy it made the residents.
"When I saw the elderly people smile, I realized the power possessed by infants," she said in an interview as babies wailed in the background. 
The nursing home now has about 70 baby workers, who can inspire even the toughest residents.
"Just by seeing a baby walking around, they smile and they start to speak," Gondo said.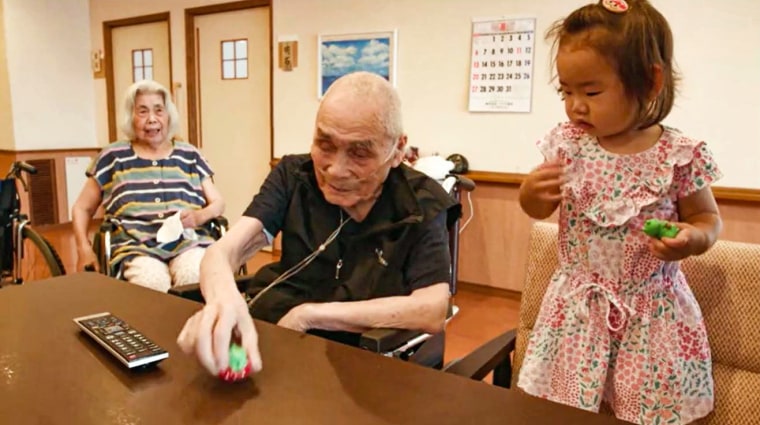 The pint-sized team works flexible hours, strolling around the nursing home with their parents, mostly mothers.
"It's funny, I'm not working but Rena has a job," said her mother, Kanae Shinohara.
Rena and her colleagues are paid in diapers and ice cream. But those are not the only rewards, said Shinohara, who started bringing Rena to the nursing home when she was 5 months old as a way to meet new people after the family moved to Kitakyushu.
"Here she gets to interact with kids her age and also with grandfathers and grandmothers who are a bit more difficult to come across," said Shinohara, who called the nursing home residents "great life teachers."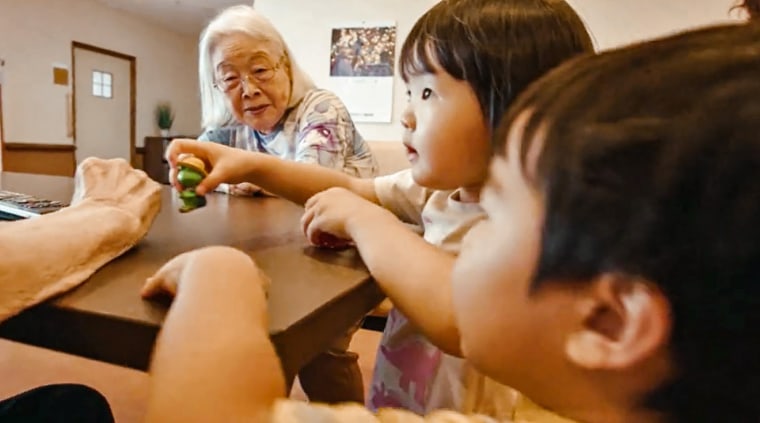 The requirements for Gondo's recruits are simple: They should be under 3 years old, and the less they speak the better.
That's because older people can struggle to speak and communicate, Gondo said, especially if they have cognitive impairment.
"In order to communicate on the same level, words are unnecessary," she said.
For nursing home residents, Gondo said, the visits from toddlers evoke the common Japanese experience of family members from multiple generations living under the same roof.
"Even if they enter a facility like this, they should be able to interact with people from various age groups on a daily basis," she said. "I think that's only natural."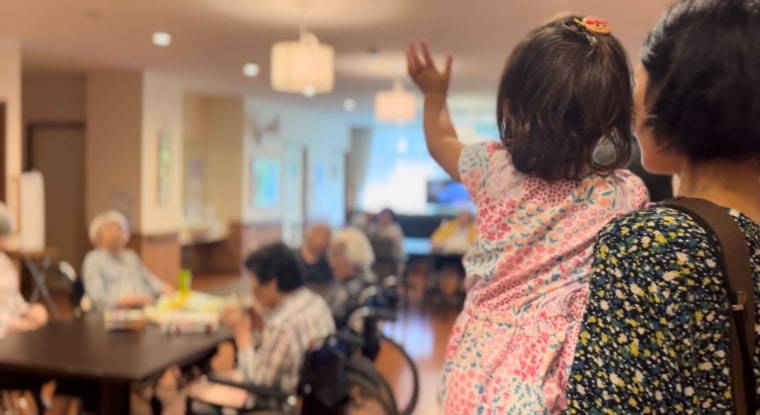 Shinohara said she hopes Rena can continue working at the nursing home for as long as possible, although some days are harder than others.
"Occasionally there are days like today when she cries," her mother said, "and I think, 'Oh, she's really working hard!'"
Janis Mackey Frayer and Arata Yamamoto reported from Kitakyushu, Japan, and Mithil Aggarwal reported from Hong Kong.