Five small Japanese whaling ships set sail for the first time in more than three decades Monday following that country's controversial decision to resume the hunt for the huge marine mammal.
Crew in orange life vests took positions on the decks as the blue-hulled ships sailed out of the northern port city of Kushiro, some with red banners fluttering from their masts.
The ships will spend much of the summer hunting for minke and Baird's beaked whales, Reuters reported.
Neither species is listed as endangered or threatened in the U.S. by the National Oceanic and Atmospheric Administration.
Japan last year announced its withdrawal from the International Whaling Commission (IWC), an international organization that deals with whale conservation and management of whaling, in a move that sparked global condemnation.
Whale hunting was banned in 1986 by the IWC due to dwindling whale populations, with a worldwide moratorium placed on the practice to allow the species to rebound.
But Japan then began what it called scientific whaling, which environmental groups have decried as little more than commercial whaling in disguise.
"Japan has been whaling in their own waters every single year, despite the moratorium on whaling in 1986," Sea Shepherd, an international non-profit marine wildlife conservation organization, told NBC News on Monday. "The only difference now is that Japan withdrew from IWC last year, finally paving the way for the commission to become focused on conservation."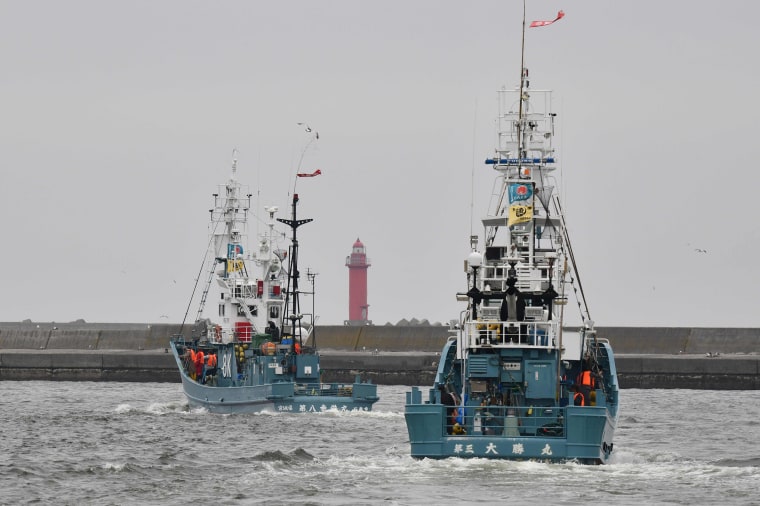 Norway and Iceland also openly defy the international ban, while an exemption allows indigenous communities in places like Greenland and Alaska to hunt whales.
The World Wide Fund for Nature estimates nearly 32,000 whales have been killed by whaling since the moratorium was imposed.
Japan's exit from the IWC in December was met with criticism from environmental protection groups.
"It's clear that the government is trying to sneak in this announcement at the end of year away from the spotlight of international media, but the world sees this for what it is," said Sam Annesley, executive director at Greenpeace Japan at the time, calling the move "out of step with the international community."
Greenpeace Japan issued another statement on June 10, saying oceans and their ecosystems are under threat from rising sea temperatures and acidification due to climate change, as well as a host of other threats including industrial fishing and plastic pollution.
"Increasingly whales are valued for their crucial role in our oceans, and whale watching is booming for tourism globally. At the same time markets for whale meat are continuing to decline," the statement said.
Whales are directly affected by climate change, plastic pollution, oil exploration, industrial fishing and habitat loss, the organization said.
"While these problems require time to be resolved, there are also threats that can be immediately removed, such as commercial whaling," Greenpeace International said in the statement.
Japan has long maintained that eating whale is an important part of its culture and that most species are not endangered.
It said the commercial hunts will be limited to Japan's territorial waters and its 200-mile exclusive economic zone. However, it promised to stop its annual whaling expeditions to the Antarctic and northwest Pacific oceans.
Prime Minister Shinzo Abe, whose district includes the old whaling center of Shimonoseki, has long campaigned to restart commercial whaling, but the industry's future is far from clear.