YOKOHAMA, Japan — Buddhist priest Tomonobu Narita admits he hadn't thought much about energy policy until the Fukushima nuclear meltdown forced tens of thousands of people to flee their homes in 2011.
Now he's at the forefront of a budding movement in Japan to withdraw money from banks that provide finance for environmentally harmful energy projects.
"I was taught about the idea of how changing your bank account can contribute to bettering the environment, and that was an enlightenment for me," said Narita, the third-generation head priest of a temple in Yokohama, south of Tokyo.
The campaign to "divest" from fossil fuels such as coal has gained traction in the United States, Europe and Australia in recent years, but environmental activists are now targeting Japan. They see the country as crucial to the success of international efforts to address climate change.
On top of fossil fuels — which release greenhouse gases into the atmosphere when burned, contributing to global warming — campaigners here are working to oppose nuclear power.
While advocates of nuclear power say it can provide carbon emissions-free energy, critics say the overall dangers are too high.
Residents are still barred from returning to some of the towns closest to the Fukushima Daiichi nuclear power station, where three reactor meltdowns occurred after the March 2011 earthquake and tsunami disaster.
Most of the country's nuclear plants remain offline amid safety checks and legal challenges.
Driven by concern about nuclear power, Narita recently shifted some of his temple's funds to a financial firm that is rated as one of Japan's 45 "earth-friendly" banks. This means the bank is not known to provide finance for the fossil fuel and nuclear sectors.
Narita told NBC News he planned to explain the decision to his counterparts in other temples, believing that "we need to be more mindful of what we're blessed with."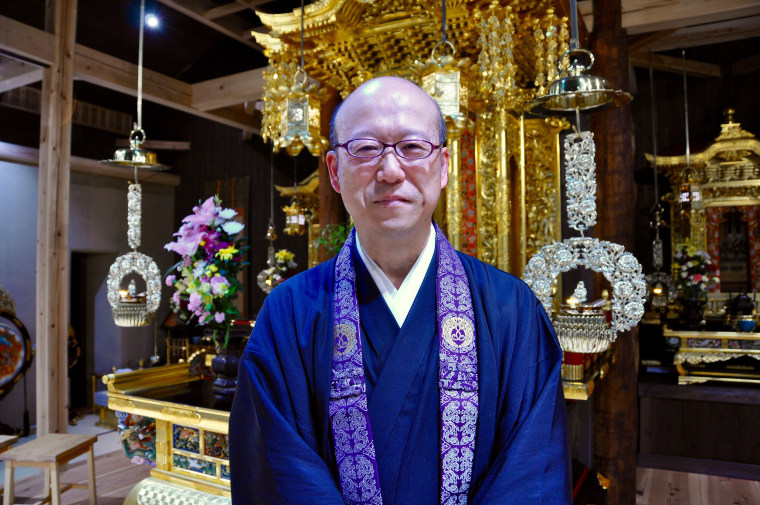 "That small action when combined [with the actions of others] leads to a bigger effect, so I hope for divestment to have that kind of spread in Japan," he said during an interview at Totsuka Zenryo Temple.
In the next room, about 100 people gathered to hear from the veteran American climate campaigner Bill McKibben, who co-founded the global divestment and climate action movement known as 350.org and has organized rallies around the world.
McKibben described being jolted into action by a visit to Bangladesh more than a decade ago when he saw people die from dengue — a mosquito-borne viral illness that is projected to worsen in that country as the globe warms. McKibben said he viewed it as "very unfair" that Bangladesh would bear major impacts from climate change when it had not been the source of most of the world's greenhouse gas emissions.
"They're suffering from a problem that they didn't cause, a problem that we caused," McKibben said. "And so, when I went back to the United States, I decided that the time had come to fight — in a good, nonviolent, Buddhist peaceful way," he quipped to the temple crowd.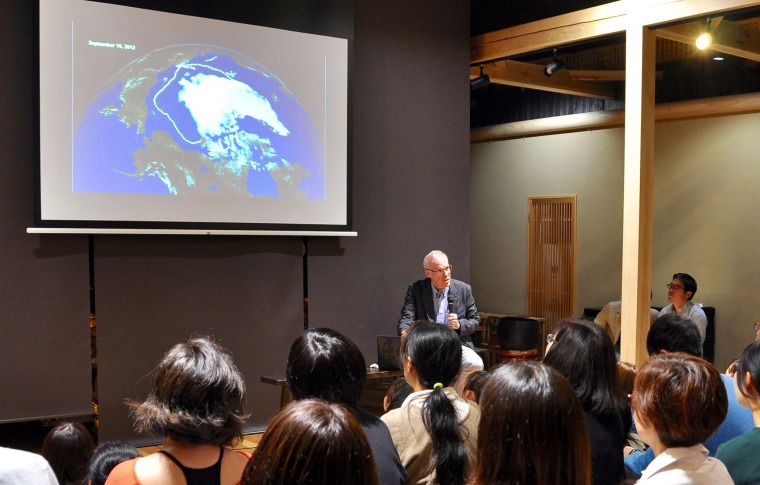 Now, McKibben said, it was important for the divestment movement to spread to Japan "because Japanese banks are now the biggest lenders of money for coal projects around the world."
Japan's Mizuho provided an estimated $11.5 billion in loans to the world's top coal-plant developers from January 2014 to September 2017, according to analysis published by BankTrack, a pro-renewable energy network. That led to Mizuho being assessed as the most prolific lender in that category, followed by another Japanese financial group, MUFG, in second place, while Sumitomo Mitsui Banking Corporation came in at fifth.
These banks have signaled that they are weighing their future lending criteria.
Mizuho said on its website that it was currently discussing the "best due diligence methods" for reducing environmental and social risks, while MUFG told investors it would strengthen its focus on financing renewable energy.
A spokesperson for Sumitomo Mitsui told NBC News: "Coal-fired thermal power generation is considered as a relatively low-cost power generation method; however, since we consider that the impact on climate change is significant, we are considering [reviewing] our current credit policy."
Still, the number of ordinary people in Japan actively divesting from fossil fuels remains small: Just 146 individuals have so far reported divestments worth 568.2 million yen ($5.1 million) since the campaign launched late last year, according to 350.org Japan.
Takejiro Sueyoshi, a former senior banking executive who is now a special adviser to the United Nations Environment Program Finance Initiative, believes it will require strong government leadership for banks to take a more assertive step toward renewables.
"Many people are very well aware of this matter, but what they are saying is: 'Personally I understand that, but under the current situation no Japanese government [has set] any new direction, new policy, new strategy.'"
This was because the Japanese business culture tended to be "government-oriented," he explained. "When the Japanese central government says 'do this,' they follow. And if the Japanese central government does not say anything about something, no institutions or companies will [act]."
Some senior government figures, at least, seem to be paying attention. The foreign minister, Taro Kono, recently blasted his country's lackluster embrace of renewable sources like wind and solar as "lamentable."
Japan's target for renewables to make up 22 percent to 24 percent of its overall energy mix by 2030 is low, Kono said in a speech in January. He pointed out that such technology already accounts for about a quarter of the total global energy mix, and there had been a "dramatic decrease" in the price of renewables.
"We have prioritized keeping the status quo for fear of change," said Kono, whose climate advisory panel warned the following month that Japan was facing increasing scrutiny from other countries about its plans to build dozens of new coal-fired power plants.
As the government and experts continue to debate the best way forward in terms of policy, campaigners will step up their efforts to build community momentum for change.
Narita, the Buddhist priest, said he had not sought media attention for his decision to divest but simply wanted to do his part "to contribute to society." The action is grounded in his beliefs.
"Right now the greenery that we have, the earth, the soil — everything is a product of the things that people who have come before us have left behind, so we can't just treat those things carelessly," Narita said.