Japan's Emperor Akihito, who has spent much of his nearly three decades on the throne seeking to soothe the wounds of World War Two, will step down on April 30, 2019, the government announced Friday.
His abdication will be the first such departure from the Chrysanthemum Throne in about 200 years.
Akihito turns 84 on Dec. 23 and has had heart surgery and treatment for prostate cancer. In rare remarks last year, the emperor said that he feared age might make it hard for him to fulfil his duties.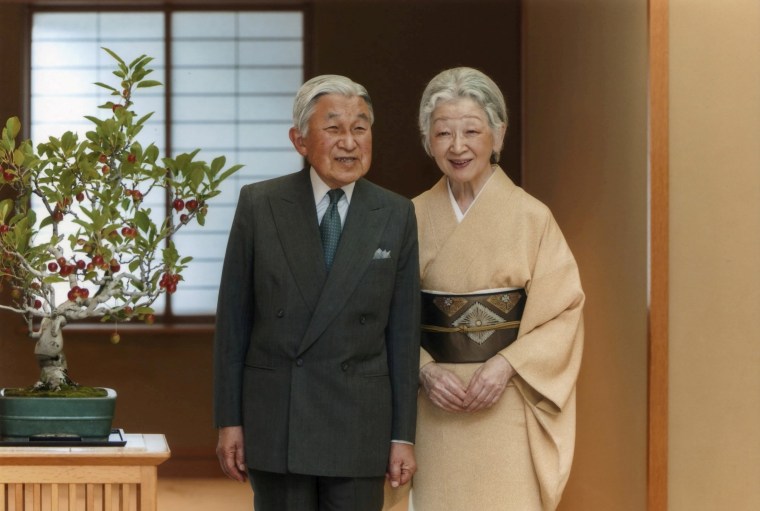 He will be succeeded by his heir, 57-year-old Crown Prince Naruhito.
The decision was made Friday at a meeting of the Imperial House Council, which was chaired by Prime Minister Shinzo Abe and included parliamentary leaders, supreme court judges and imperial family members.
"I feel deep emotion that today, the opinion of the Imperial Household Council was smoothly decided and a big step was taken toward the imperial succession," Abe told reporters after announcing the recommendation.
The Cabinet still has to sign off on the decision on the date, which it will likely do next week.
Legislation allowing Akihito to abdicate within three years was enacted earlier this year. It was needed because the 1947 Imperial House Law does not provide for abdication. The last emperor to abdicate was Kokaku in 1817.
Officials said the timing was chosen so that Akihito can abdicate after reaching his 30th anniversary on the throne, a milestone. Late April is also more appropriate for many Japanese to embrace the change of an era after settling down from a busy period of travel and job transfers around April 1, the beginning of a new fiscal year.
Related: World's oldest monarchy faces a very modern problem
Once considered divine, Japan's emperor is defined in the post-war constitution as a "symbol of the state and of the unity of the people", but has no political power.
Akihito and Empress Michiko, the first commoner to wed a Japanese monarch, have spent much time trying to address the legacy of World War Two, which was fought in the name of his father Hirohito, and consoling victims of disasters or other woes.
Akihito's desire to leave the throne revived a debate about the country's 2,000-year-old monarchy, one of the world's oldest, as well as discussion about improving the status of female members of the shrinking royal population. The current male-only succession rules prohibit women from succeeding to the Chrysanthemum Throne and female members lose their royal status when they marry a commoner.