TOKYO, Japan — A lawmaker who made headlines in Japan as the poster boy for paternity leave quit on Friday after admitting to a tryst with a kimono fitter days before his wife gave birth.
Kensuke Miyazaki resigned from Prime Minister Shinzo Abe's ruling Liberal Democratic Party during a live televised news conference.
He also apologized for the affair to supporters and to his wife — a lawmaker from the same party.
"I plan to repent for the rest of my life" Miyazaki told reporters. "I know my careless acts are inconsistent with the ideals I was advocating. For that I am deeply, deeply, deeply sorry, and resign as a member of parliament for this."
The junior lawmaker said he had met up with the model and garment-fitter in question at least three times — including days before his wife gave birth to their first child, a son.
Miyazaki, 35, last year became the first member of the socially-conservative country's parliament to apply for paternity leave.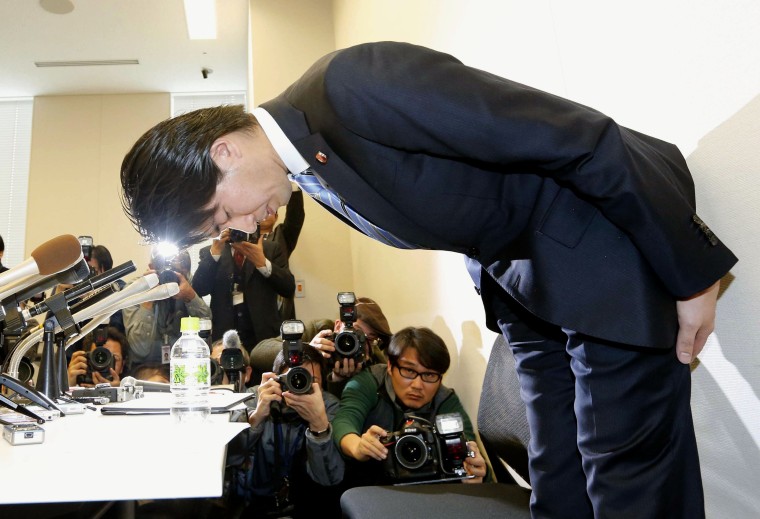 His dalliance was first reported by the weekly magazine, Shukan Bunshun. Abe said Wednesday he hadn't seen the magazine's report but added that lawmakers "must hold themselves to a much higher standard."
Akira Amari, a key member Abe's government and the architect of his economic policies, quit last month after a member of his team accepted a US$140,000 bribe from a construction company.
While Abe enjoys fairly strong public approval, hovering at 51 percent according to the most recent poll by Mainichi Shinbum, such scandals may eventually harm his party as it heads for upper house elections scheduled to take place later this summer.