TOKYO — Teary-eyed and taking a bow, Japan's longest-serving prime minister, Shinzo Abe, on Friday announced he was resigning due to ill health.
"I cannot be prime minister if I cannot make the best decisions for the people," Abe, 65, said during a live public broadcast to the nation.
"I would like to express my deepest gratitude," he said. "Unfortunately, there are still issues that are unresolved but there are also many accomplishments."
Abe said he will continue to serve until a new leader is selected, likely in the next month.
He announced his resignation as Japan grapples with a number of challenges, including the coronavirus pandemic, worsening tensions between the United States and nearby China, and a restive North Korea.
The news comes just days after Abe surpassed a record for the longest consecutive tenure as premier, set by his great-uncle Eisaku Sato half a century ago. Abe hails from Japan's political elite, with a number of family members having served in senior government positions.
Abe has for years battled ulcerative colitis, a chronic bowel condition. He said Friday that medicine had helped in the past but that his condition nonetheless worsened in recent months.
"The most important thing in politics is to achieve results," he said with tears in his eyes. "I've done my utmost ... I cannot allow for the possibility of an error in making a political decision or not being able to produce results."
The country's benchmark Nikkei average fell by more than 2 percent on the news, as markets dealt with the uncertainty of who would lead the world's third-largest economy. Abe made reviving economic growth through his "Abenomics" policies a key pillar of his time in office.
Download the NBC News app for breaking news and politics
His resignation will now trigger a leadership race in the Liberal Democratic Party, the winner of which must be formally elected in parliament. A new party leader would hold the post for the rest of Abe's term until September 2021, and is likely to be elected in the coming weeks.
Along with political longevity, Abe will leave a mixed legacy.
A well-known figure on the global stage, he sought to boost Japan's global profile. He was the first foreign leader to meet with Donald Trump when he became president-elect in November 2016. Abe was also instrumental in winning the 2020 Olympics for Tokyo, which were postponed to 2021 due to COVID-19.
While he has been hailed for boosting Japan's profile, Abe has also been plagued by political scandals in his party and accused of fumbling the response to the pandemic. Support for Abe recently fell to one of the lowest levels of his nearly eight years in office.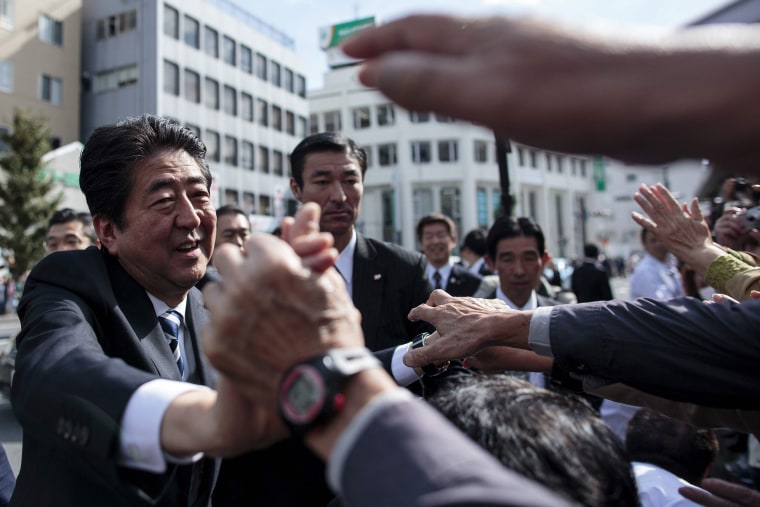 Part of his legacy will also be his stance on defense. Abe sought to beef up Japan's military and aimed to revise the pacifist U.S.-drafted, post-war constitution — it is unclear whether his successor will take the same approach.
In 2014, his government oversaw a historic shift, reinterpreting the constitution to enable Japanese troops to be able to fight abroad in the name of collective self-defense to aid an ally, for the first time since World War II.
Despite this, Abe failed to revise Article 9 of the constitution, which if taken literally, bans the maintenance of armed forces but has been interpreted to allow a military for self-defense purposes.
He made amending Article 9 a personal mission after it also eluded his grandfather, Nobusuke Kishi, who served as premier until 1960.
After reports that he looked tired and had scaled back media events, his last major public appearance was in early August at the 75-year memorial of the atomic bombing of the Japanese city of Hiroshima — which marked the end of World War II and the dawn of the nuclear age.
Abe has stepped down as prime minister once before, in 2007, also citing ill-health but was re-elected in 2012.
Arata Yamamoto reported from Tokyo, and Adela Suliman reported from London.
Reuters contributed to this report.