TOKYO — Japanese Emperor Akihito and Empress Michiko, marking the 70th anniversary of the end of World War Two this year, offered flowers and prayers on Thursday at a memorial to those who died in a fierce fighting on the Pacific isle of Peleliu.
About 10,000 Japanese defenders, fighting in the name of Akihito's father, Emperor Hirohito, died in a two-month battle in 1944 on Palau's tiny Peleliu island along with about 1,600 American troops. Unaware Japan had surrendered on Aug. 15, 1945, 34 Japanese soldiers hid in the jungle until April 1947.
With the blue ocean sparkling in the background, Akihito, wearing an open-necked white shirt, and Michiko, clad in an ivory suit with a gray lapel, bowed deeply before laying bouquets of white chrysanthemums at a memorial erected by Japan's government to those who died in the region in the war.
The ceremony was shown live on public broadcaster NHK.
The imperial couple then spoke to Japanese veterans and soldiers' relatives who traveled to the island for the event. They were scheduled to offer silent prayers at a separate memorial for U.S. soldiers who died on the island.
"During World War Two ... fierce battles between the United States and Japan took place in this region, including the present Republic of Palau, resulting in the loss of countless lives," Akihito said at a banquet on Wednesday.
"We are here in Palau to mourn and pay tribute to all those who lost their lives in World War Two and reflect on the hardships suffered by the bereaved families."
Akihito, 81, has often urged Japan not to forget the suffering of the war, comments that have attracted fresh attention at a time when Prime Minister Shinzo Abe appears to be pushing for a less apologetic tone toward Japan's past.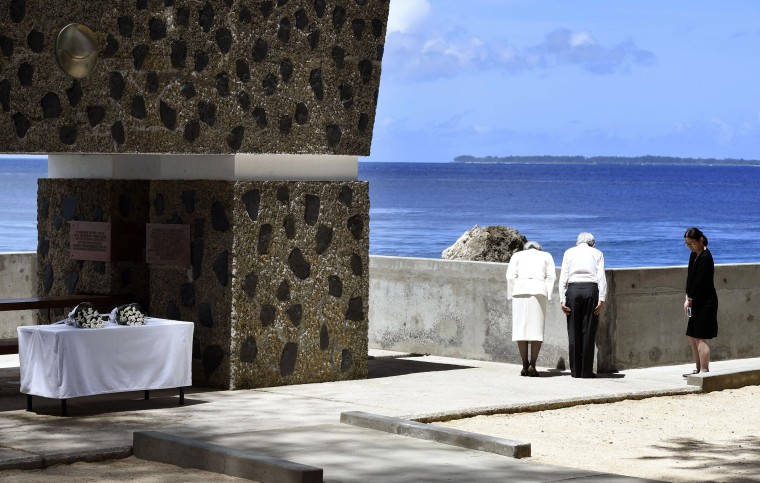 IN-DEPTH
Vets Visit Iwo Jima 70 Years After Battle That 'Lifted' America
Unexploded World War II Bomb Found in London
— Reuters