TOKYO — Kim Jong Un wants one that can hit the United States. President Donald Trump apparently asked for 10 times more of them.
But amid this arms race between Washington and Pyongyang, one country on the front line of the North Korea standoff remains steadfastly opposed to nuclear weapons being deployed on its soil.
"Japan must not use nuclear weapons, absolutely not!" says 24-year-old Misato Mori, who works at a department store in Tokyo. The white surgical mask covering her face does little to conceal her shock at the suggestion.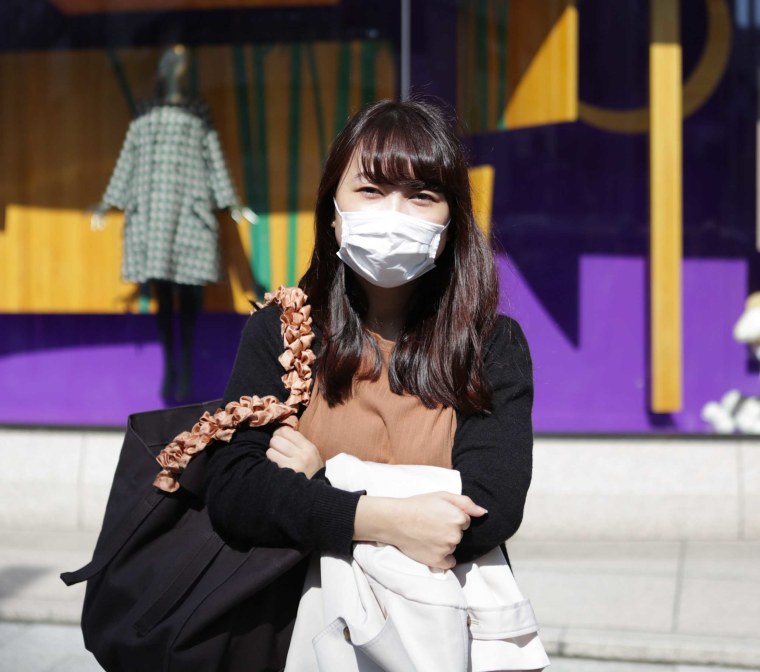 While anti-nuclear sentiment is high in Japan, a snap election being held Sunday could result in changes to the Japan's postwar pacifist constitution.
If he wins, Prime Minister Shinzo Abe has vowed to revise the constitution so it formally recognizes the Japan Self-Defense Forces as an actual military. Some critics say this could be a slippery slope, however, eroding the anti-war commitments it made after World War II.
At around 320 miles from North Korea, Japan may not be in the same immediate danger zone as the South Korean capital of Seoul, which is within the range of thousands of artillery pieces. But all of North Korea's missile tests have been fired in its direction, and Pyongyang has said Japan "should be sunken into the sea by the nuclear bomb."
In the past two months, terrified Japanese residents were twice woken by text messages, blaring public announcements and emergency TV bulletins warning North Korean missiles were about to fly high in outer space above their homes.
"I am worried about North Korea," says Shizue Ozawa, a 76-year-old homemaker. "I think Kim Jong Un is a bit crazy and I don't know what he will do."
"My parents were afraid of me coming here because of the North Korea situation," adds Jonas Miller, 26, an American biologist visiting Tokyo from Boston.
Related: America's Fear of N. Korea Is on the Rise, Poll Says
And yet the vast majority of people in Japan are vehemently against the idea of their own country obtaining nuclear weapons.
Support for nukes is currently at just 9 percent among the Japanese, a slight rise from last year but still a small minority, according to an opinion poll carried out in June and July.
"We're scared and North Korea is a big threat for us, but for the time being we need to stay calm and see what happens in the future," says Hiroshi Kato, a 54-year-old who works in finance. "Personally, I believe Japanese citizens should not seek extreme solutions, like having nuclear bombs."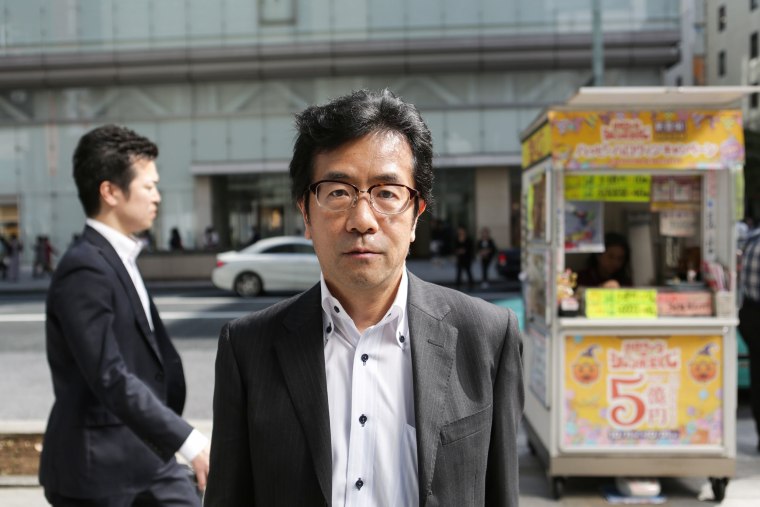 Kiyomi Ebitani, a 60-year-old woman walking through the city's upscale Ginza district, goes even further. "I am against nuclear weapons, because if Japan had them then that would be the end of the world," she says.
The reason most Japanese people hold this view is linked to their country's unique history.
In August 1945, the U.S. dropped two atomic bombs on Hiroshima and Nagasaki, instantly killing more than 100,000 people. It remains the only time nuclear weapons have been used in a conflict.
"My grandmother was a child in the war and she told me her experiences," says Shota Otani, a 25-year-old student. "I felt that it was so bad. We don't want to go to war with nuclear bombs."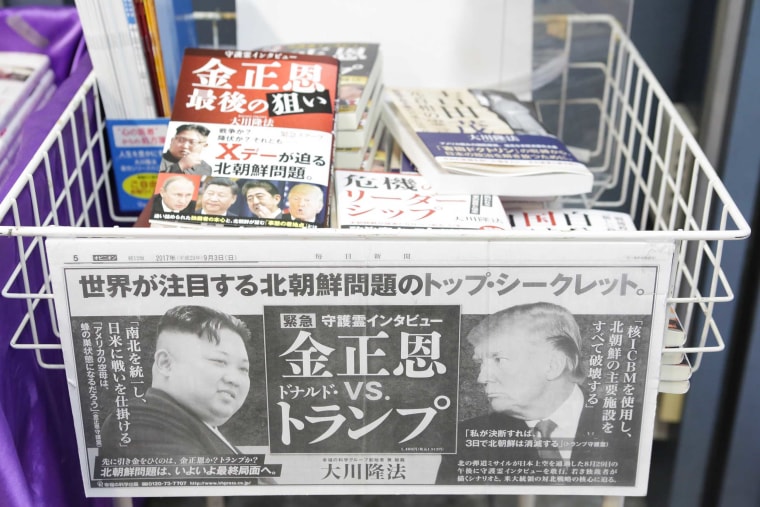 After its surrender in World War II, Japan drafted a new constitution with the help of the occupying U.S. military. Its key clause, Article 9, stated that "the Japanese people forever renounce war as a sovereign right of the nation" and that "land, sea, and air forces, as well as other war potential, will never be maintained."
This was a response to Japan's militaristic expansionism that included widespread war crimes in China before World War II.
Whether or not today's Japan Self-Defense Forces are considered a real military, with nearly 250,000 standing soldiers and Asia's most powerful navy, the country already ranks among the world's top 10 defense spenders.
Some people who spoke with NBC News this week said they are worried about the threat posed by North Korea. But that appears to have done little to slow the pace in this hectic city. The 38 million people crammed into its seemingly endless metro area still whiz around this neon-lit megalopolis of dazzling technology, world-class food and historic tradition.
Of course, not everyone here is opposed to nuclear weapons. A small minority, such as 72-year-old retiree Hayakawa Yoshihide, would reluctantly welcome them as a dangerous but necessary counterweight to Pyongyang.
"Because North Korea has nuclear weapons, maybe Japan needs to get nuclear weapons as well?" Yoshihide says. "I don't think North Korea will give up its nuclear weapons."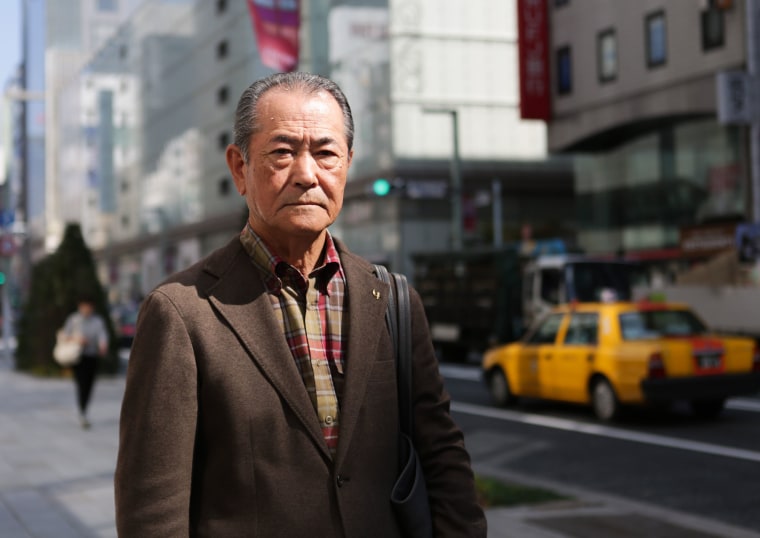 That said, no mainstream politician in Japan is openly calling for such an approach.
The weight of public opinion means the subject is taboo, not to mention it would contravene several domestic and international nonproliferation treaties.
One man who has floated the idea, however, is the U.S. president.
During last year's election campaign, Trump suggested the U.S. could withdraw its 50,000-plus troops from Japan because the country did not pay enough toward their upkeep, a claim that experts say is hard to quantify.
Trump suggested Japan might be better off protecting itself by developing its own nuclear arsenal, something that would amount to a reversal of decades of U.S. nonproliferation policy.
Related: N. Korea Brainwashed Him. Now He's Off to the U.S.
Although he later flip-flopped at a rally two months later, Trump's statement caused outrage and concern in Japan, where just 24 percent of people have confidence in him to do the right thing on international affairs, according to a study by the Pew Research Center in June.
"I am anxious about Trump's words because his speeches are often extreme," says Yuki Nakajima, a 23-year-old sales rep in the manufacturing industry. "He may cause some trouble abroad."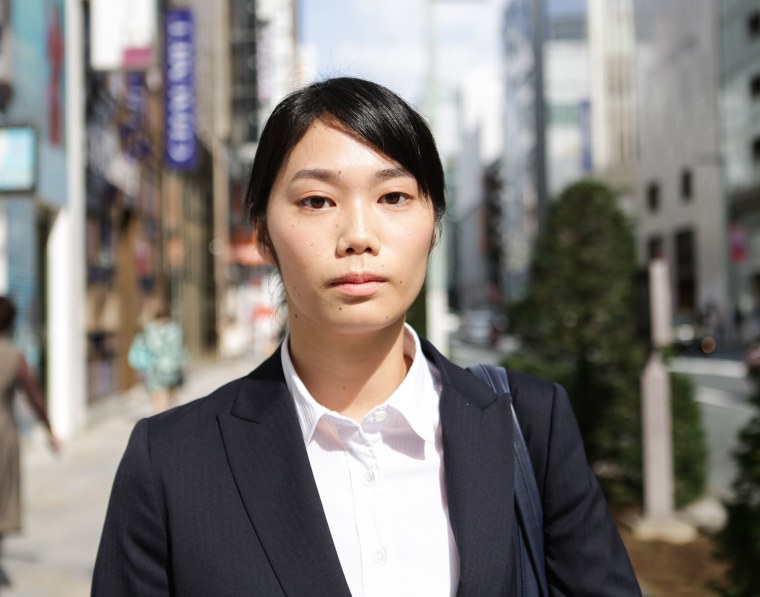 But the president and Japan's leader have developed something of close relationship, typified by the pair playing golf at the president's Mar-a-Lago Florida resort in February.
The hawkish Abe may not agree with Trump on nukes — he called for "a world free of nuclear weapons" at the 72nd anniversary of Hiroshima this year.
But he has pledged that by 2020 he will amend the constitution to recognize the Japan Self-Defense Forces as a military.
While the Japan Self-Defense Forces don't possess offensive capabilities, many scholars allege its current scope is unconstitutional.
Abe needs a two-thirds majority in Parliament to make the change. And in a bid to strengthen his hand he has called a snap election that will take place Sunday, a vote his party looks likely to win.
Related: Bomb Shelters Are Everywhere in Seoul
But some opponents worry that formal recognition of this quasi-military would pave the way for further expansion.
"Critics say that changing the constitution is something of a Trojan horse … and that this is the thin end of the wedge," according to Kōichi Nakano, a politics professor at Tokyo's Sophia University. "It could bring us into a possible war between the U.S. and North Korea, where the Americans say, 'Are you coming with me?' And Abe could go along with it."