With the Japanese government only providing spotty information about the radiation leaking from the damaged Fukushima nuclear plant in the early days after the devastating March 11 earthquake and tsunami, a group of tech-minded citizen scientists set out to fill in the "black holes" in the knowledge base.
They did so by crafting their own Geiger counters and handing them out to volunteers in the disaster area to measure the fallout. Months later, they have assembled thousands of radiation readings plotted on maps that they hope will one day be an invaluable resource for researchers studying the impact of the meltdown at the crippled nuclear complex.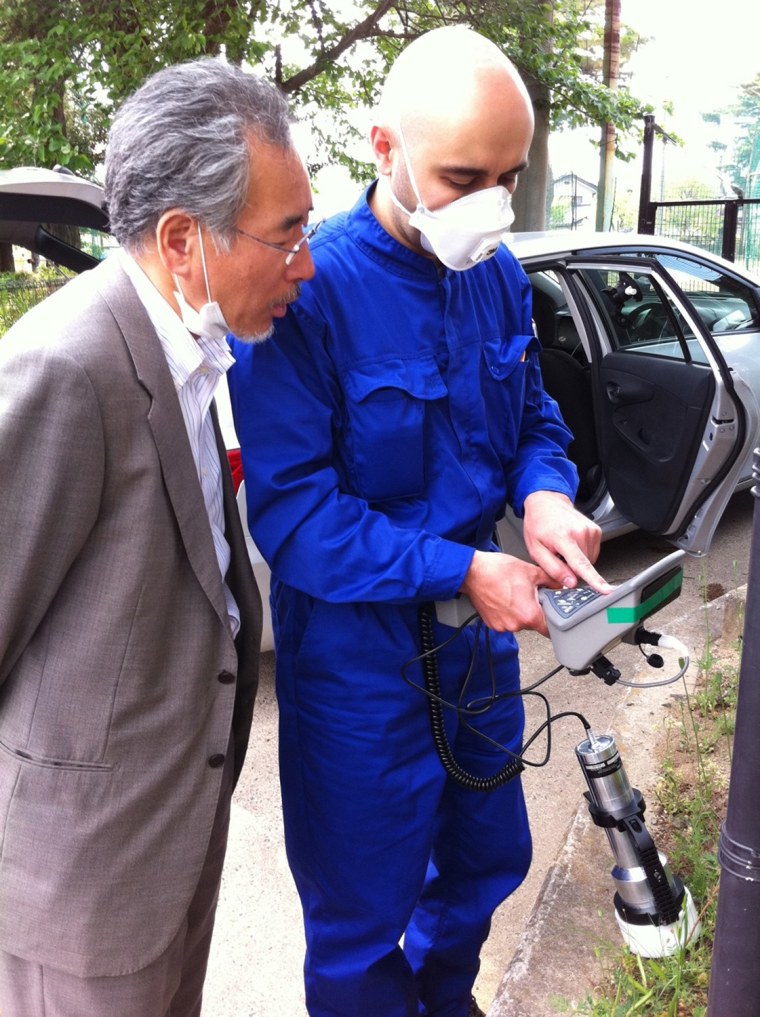 The volunteer network of scientists, tech enthusiasts and residents of Japan collectively known as Safecast (an amalgam of "safety" and "broadcast") sprang to life in the weeks after the devastating 9.0-magnitude earthquake and tsunami struck Japan, cutting off power to the Fukushima Daiichi Nuclear Power Station and knocking out its backup generators. That shut down the plant's cooling system, triggering meltdowns or partial meltdowns in three of the plant's four reactors, followed by explosions that released radioactive substances into the air and allowed contaminated water to leak into the ocean.
"For the scientific community, this is a huge chance to further understand what this all means," said Pieter Franken, co-founder of Safecast and a senior researcher at Keio University in Tokyo, which is collaborating on the project. "Chernobyl was 25 years ago and delivered lots of information. But we're now in the Internet age, and we have a huge opportunity to do a much better job in measuring it and tracking it."
Residents in the surrounding areas were understandably alarmed, but in the early days after the disaster, information from the government came in bits and pieces, and was difficult to find.
Franken and Sean Bonner, a Los Angeles-based technology buff involved in numerous online citizen-involved projects, saw an opportunity to use technology to augment the government's reports and to make the information widely available.
The pair found Uncorked Studios, a Portland, Ore., website development firm, which wanted to map the radiation numbers from all sources "to try to get a better picture of things on a larger scale," Bonner said.
'Unknowns'
The initial effort resulted in a map that revealed the dearth of information available: "We realized that there were some massive holes and that the data that was being published was not that specific," said Bonner. "There would be one reading for an entire city. But we wouldn't know exactly where in the city that reading was taken."
With so many "unknowns," the group decided to buy as many Geiger counters as possible and distribute them to people in the map's "black holes," Bonner said. But that wasn't feasible because the supply of the radiation-measuring devices was limited, he  said.
So Safecast turned to a source they knew well: Hackerspaces, a loose confederation of high-tech tinkerers around the globe.
The TokyoHackerSpace had already drafted a to-do list in the disaster's aftermath that included radiation monitoring. But with Safecast's encouragement, the group stepped up its efforts. Members soon figured out how to build basic Geiger counters with Geiger tubes (which measure radiation) purchased through an initial fundraising campaign and modified so they could be attached to vehicles and upload data to the Internet, Christopher Wang, a specialist in sensor networks also known by his hacker nickname of "Akiba," wrote in an email to msnbc.com.
After meeting Safecast, the hackers decided the best use of the jury-rigged devices would be to drive around taking measurements, allowing one "Geiger counter to cover a huge amount of range," Wang wrote.
"We put together a custom circuit board that would mount on the outside of a car and had GPS (for timestamp and location data), an input for the Geiger counter, an SD card slot (for data logging), and wireless communication (to send the data inside the car and let the driver know if they are in an area with high radiation)," he said.
Other hackerspaces around the world -- such as CRASH space in Los Angeles -- soon enlisted in the effort and before long Safecast had the resources to launch an ambitious measuring and mapping effort.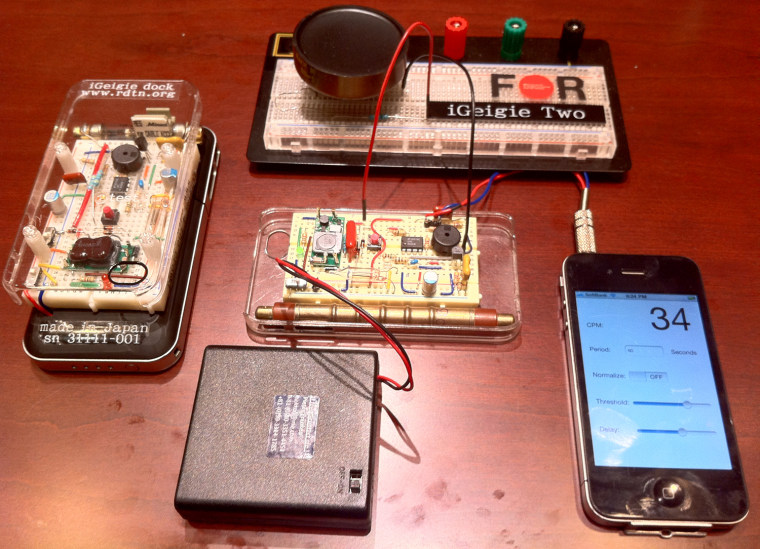 While signing up volunteers, Safecast also developed a training regimen so the recruits would be able to take reliable readings with the instruments and send the data to the group.
Having average citizens involved was crucial, Franken said.
"We want to bring the radiation levels to people's doorstep, so people can see around their house what is happening," he said.
Safecast took its first reading on April 16. Today, it has about 50 regular volunteers who collect data from their homes or while driving, build devices or assist in other ways. Those using vehicles equipped with Geiger counters cover an area that Franken estimates to be about 620 miles long by 185 miles wide. To date, they've collected 251,000 data points from their drives and fixed reporting stations, and have received about 60,000 more from other sources, including people with their own Geiger counters.
Safecast publishes the data on its website and publishes it to a number of other places so the information can be used by the greatest number of people, Bonner said. It also aggregates radiation data from a number of sources, including the Japanese government.
The color-coded maps that Safecast has published don't always agree with the government's readings. But Franken said the effort isn't intended to suggest that the government's information is bad. The government currently has available a website with the readings of environmental radioactivity level by prefecture.
"We really don't want to say that the government is wrong," he said. "And, in fact, in many cases we find that the measurements are fairly much in sync where they are comparable -- we have just much more data points and locations measured."
For example, Safecast's mapping has revealed some radiation hotspots far from the plant, while other areas closer to it show lower levels. This is due to local weather conditions and air flow, meaning distribution of radioactive materials is not just a matter of proximity, Franken said.
"It's not so predictable and it really pays to go and map the whole area, and literally find areas that are higher or lower as we go," he said, noting that in some cases radiation levels can vary by street and even within a home.
"It's kind of a heavy task because it requires a certain amount of guts to go and do it," he said of the volunteers, noting he had recently trained a woman and her 12-year-old son in Fukushima City how to measure radiation.
Anxiety
But knowing what the levels are has helped ease some of the anxiety over the radiation exposure, Franken said.
"The measurements may or may not affect people's decisions but in many cases we see that it more or less gives a sense of confidence that this is what it is and, 'yeah, I'm going to stay and this is probably going to be manageable,' or 'no, I really don't want to take the risk for my family, I'm going to avoid this.'"
One of the volunteers helping in the effort is Brett Waterman, a 46-year-old Australian who runs an English-language after-school program for children nearly 30 miles from the Fukushima plant, in the city of Iwaki. He has been surveying the radiation levels using a Geiger counter mounted on his car.
"There are many people who have decided that the lack of information implied that there was too much risk so they just decided to leave," he said.
But through his work, he has learned that the radiation levels were low in the area.
"We can't see it, but if we map it out, like we are doing street by street, we can sort of start to see it in a sense. We can get a picture of what this radiation stuff is," he said.
His 13-year-old son is a "significant motivator" for him to take the readings. He noted that though residents don't yet know what the long-term effects of the radiation will be, the information will be key in the future.
"In 10 years or 20 years' time, you can't go back to three months after the event and then find out what the data was like. But if we record it now, and then we continue to record it over the months and years to come, then from a scientific and a community point of view there is a database that can be referenced."
Some researchers and government agencies welcome Safecast's endeavor. Andrew Maidment, associate professor of radiology at the Hospital of the University of Pennsylvania, said the efforts were "necessary and helpful," though he added two "cautionary notes."
"The first is that the data are only useful, if it is clear (1) how the measurements were performed and (2) exactly where the measurements are performed," he wrote in an email to msnbc.com. "In general, it is very easy to get erroneous measurements; consistency in following a specific protocol and lots of practice are necessary to do this right. … However, I will say that the data looks consistent since there are repeated measurements and they are spatially correlated. The second problem is that interpretation of the data is hard. Thus, the use of a color code is questionable."
See msnbc.com's Japan series: "After the Wave"
Japan's Ministry of Education, Culture, Sports, Science and Technology did not respond to emails and a call seeking comment on the project.
The U.S. Nuclear Regulatory Commission said it was not in a position to comment on the initiative, but public affairs officer Scott Burnell noted in an email: "Speaking very generally, significant training and specialized equipment is required to provide the most accurate surveying and analysis of radioactive materials in the environment."
Franken said Safecast encouraged dialogue with critics and supporters: "We feel that it is good to have an independent measurement available to people ... I think just having more is probably better," he said.
And Bonner said the initiative has the potential to eventually extend far beyond Japan.
"What all of this did sort of brought to light the fact that this data doesn't exist in the quantities that it should and is not as readily available as would be helpful," he said. "So while Japan is the focus at the moment, you know, longer term we sort of are shifting to a global outlook. There is a lot more ground to cover once everything in Japan is wrapped up."