TOKYO — A snake-shaped robot equipped with a camera gave officials the first look inside one of the reactors at Japan's crippled Fukushima Daiichi Nuclear Power Plant on Friday.
The plant suffered meltdowns in three of its reactors in March 2011 after a massive earthquake and tsunami hit Japan, killing more than 15,000 people.
The crippled reactors are inaccessible to humans because of deadly levels of radiation, so using the two-foot-long robot was the first chance officials were able to examine the damage caused by highly radioactive nuclear-fuel debris.
"We believe this will lead us to figuring out how to decommission the reactor," Ryo Shimizu, spokesman for plant operator Tokyo Electric Power Company (TEPCO), told NBC News.
The robot, developed by Hitachi and GE Nuclear Energy, was inserted into a maze of pipes leading to Reactor Unit No.1. at 9:25 a.m. (4:25 p.m. ET Thursday), Shimizu said. He later confirmed to NBC News the robot reached its destination around two hours later — though stopped its work 2/3 of the way through. It was not immediately clear what disrupted the robot's efforts.
Friday's probe was the first of several planned by officials until the robot's investigation of the reactor finishes next spring. TEPCO is designing a separate robot to examine reactor units 2 and 3.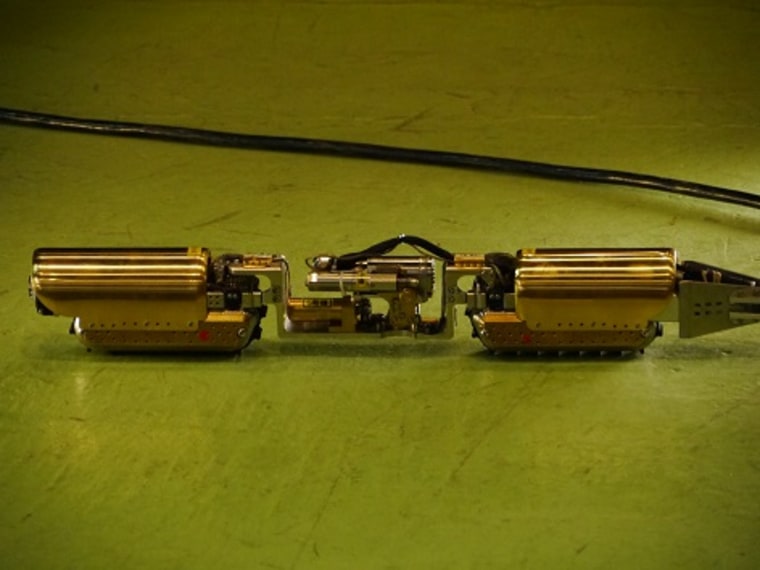 In-Depth
- Arata Yamamoto