Mount Aso, one of Japan's most active volcano sites, erupted Monday, sending a plume of thick black smoke and ash more than a mile into the air and disrupting flights, authorities said.
About 100 tourists and other visitors were in the vicinity of Aso, a popular hiking destination, at the time of the eruption, but they were quickly whisked away to safety, Japan's NHK news agency reported. A ropeway transit station more than a half-mile away was covered in volcanic ash. Aso police station told NBC News that about 20 people who were inside the station at the time of the eruption were safely evacuated.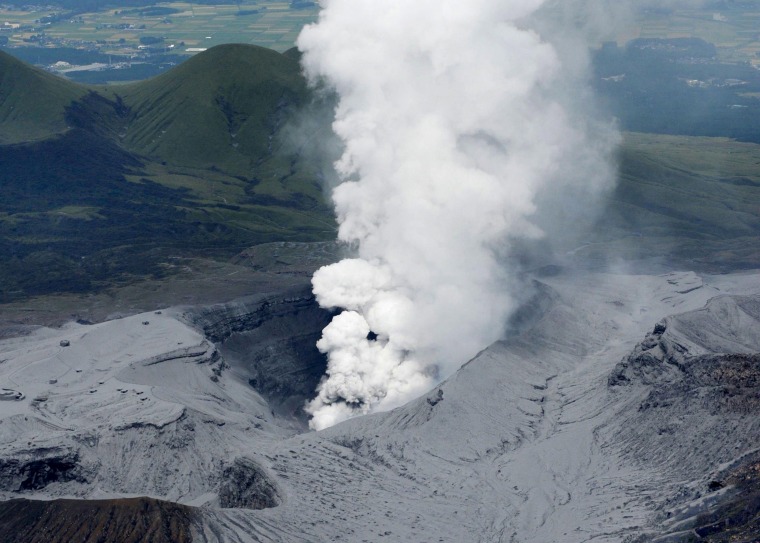 Aso erupted without warning about 9:43 a.m. (8:43 p.m. Sunday ET) in one of the Nakadake craters at Mount Aso, on the southwestern island of Kyushu, the Japan Meteorological Agency said. The agency issued a level 3 alert, warning people to stay away from the area.
Sadayuki Kitagawa, the agency's senior coordinator for volcanic affairs, warned that a second eruption was possible "with possibility of volcanic rocks landing in an area over a 1-kilometer radius," or about six-tenths of a mile. He urged people to be vigilant for flying rocks and ash within a 2-kilometer radius.
Japan Air Lines said arrivals and departures at Kumamoto Airport were "irregular" because of the eruption, which sent a plume of smoke about a mile and a quarter into the sky. Several flights had already been canceled, the airline said, and more cancellations were expected.
Aso last erupted in April, sending smoke almost 5,000 feet into the sky. No one was injured.