A high-ranking Congolese politician was convicted unanimously Monday of war crimes and crimes against humanity in a landmark case at the Hague that put sexual violence in the spotlight.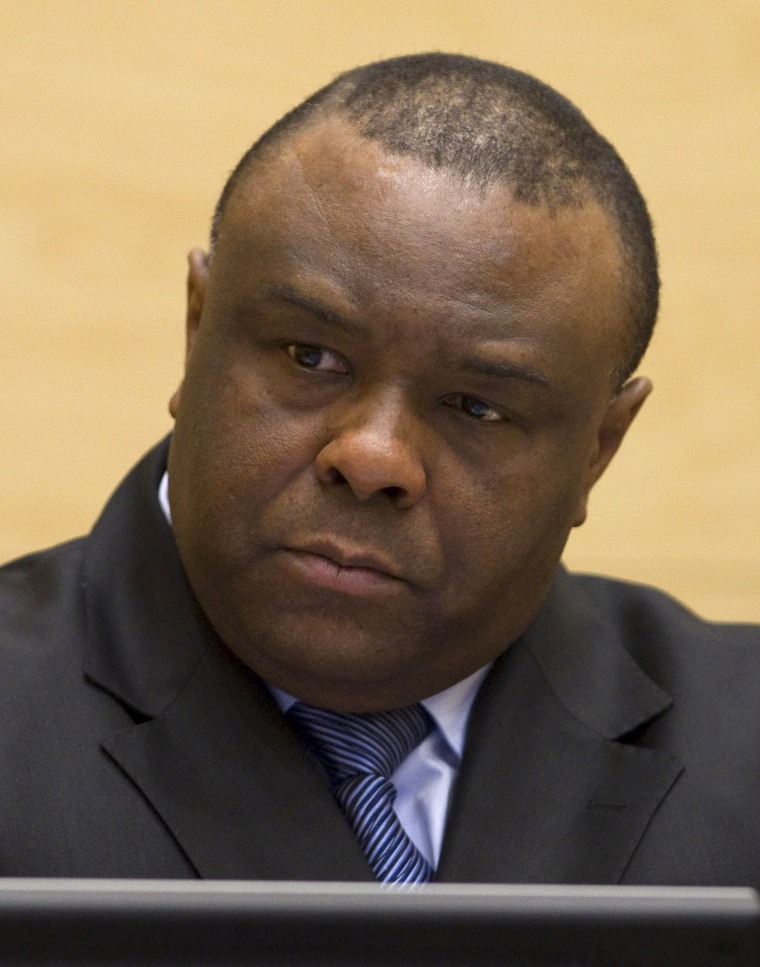 The charges against Jean-Pierre Bemba — a former rebel leader and vice president in the Democratic Republic of Congo — related to rapes, murders and pillaging allegedly carried out by his fighters.
Bemba was the highest-ranking official yet to be convicted by the court and showed no emotion as the unanimous verdict against him was read out Monday at the Hague.
His marathon trial — which began in November 2010 — was the ICC's first to focus on crimes committed in Central African Republic (CAR) and the first to recognize rape as as war crime.
Bemba faced three war-crimes charges and two counts of crimes against humanity — for allegedly commanding the MLC militia which raped, murdered and pillaged between 2002 and 2003 in neighboring CAR's civil war.
The trial focused on the question of "command responsibility" — i.e. whether Bemba should be held legally liable for alleged crimes committed by fighters under his control. It also was the first case to focus so heavily on rape as a war crime, according to the Open Society Foundations.
Bemba had pleaded not guilty to all charges; his defense had argued that he didn't have command and control over Movement for the Liberation of Congo (MLC) fighters.
The ICC's presiding Judge Sylvia Steiner on Monday first summarized the court's findings about MLC forces, saying that troops had committed "many acts of pillaging, rape and murder" deliberately targeting civilians in the Central African Republic.
"Bemba knew that the MLC forces were committing or were about to commit the crimes"
"The civilian population was the primary as opposed to incidental target," Steiner said.
The judge read through a list of specific crimes carried out by MLC troops — from forced anal penetration to the raping of young girls.
One victim was raped by 12 soldiers. A 10-year-old girl also was raped — her father heard her cries, the court heard.
In November 2002 soldiers held a man at gunpoint while at least four soldiers raped his wife. When the man protested he was then raped himself, the court heard.
The judges then turned to Bemba — who they said had maintained effective authority and control over MLC forces in Central African Republic throughout the fighters' deployment there.
While Bemba was predominantly in Congo during the time period in question, he was able to speak directly to commanders in CAR through radios and satellite phones, the judgement noted.
Bemba knew that MLC soldiers were committing crimes and "failed to take all necessary and reasonable measures" to stop them, the judges concluded.
"Bemba both could and did issue operational orders," the judge said. "Bemba knew that the MLC forces were committing or were about to commit the crimes."
Prosecutor Fatou Bensouda said the verdict marked a "crucial moment" in a "long search for justice."
"While the reality of the crimes is appalling, the significance of this decision is to be celebrated," she said. "What this decision affirms is that commanders are responsible for the acts of the forces under their control."
She called the case was noteworthy because it highlighted the use of sexual crimes as weapons, noting that Bemba had "failed as a leader" to prevent atrocities.
"Bemba's troops inflicted terrible crimes," Bensouda added. "To this day men, women and children who survived are still haunted by the horror of what happened to them."
Rights groups praised the verdict as a historic step forward for victims of sexual violence and a stark warning to commanders about accountability.
"Not only is it the first time that the ICC has convicted someone for rape as a war crime but it is also the first ICC conviction based on command responsibility," Amnesty International said in a statement. "The judgment sends a clear message that impunity for sexual violence as a tool of war will not be tolerated."
Human Rights Watch, meanwhile, said the verdict was a called the verdict a "bright moment in achieving all-too-rare accountability" that would send a "stark warning" to commanders who turn a blind eye to rape and atrocities.
Bemba was arrested in Belgium in May 2008 and brought to the Hague. The trial began in November 2010 and heard from more than 70 witnesses.