Jeffrey Webb, a lawyer seen as a future leader of soccer's global ruling body was among the targets of Wednesday's anti-corruption raids.
The 50-year-old, from the Caribbean island of Grand Cayman, has been tipped by FIFA president Sepp Blatter as his future replacement. He also serves as a vice president of FIFA and president of continental governing body CONCACAF.
He was responsible for the launch of an integrity probe into his predecessor, Jack Warner, who was among the 13 others to be indicated by federal prosecutors. That inquiry concluded that there had been serious managerial failings and that millions of dollars of funding had been misused.
Webb is also a successful banker, and until recently was a senior executive with Grand Cayman bank, Fidelity.
Warner's inclusion in the indictment was perhaps less of surprise. He stood down after being accused - twice - of corruption.
In 2006, Warner was accused of being involved in selling almost $1 million worth of World Cup tickets on the black market, according to the Daily Mail which said it had obtained the results of a report carried out by accounting company Ernst & Young.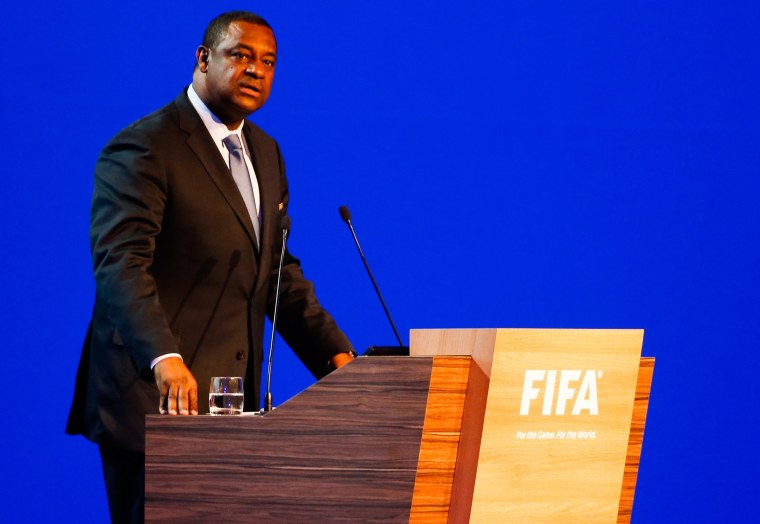 FIFA's executive committee concluded that Warner's son had resold tickets but said it could not obtain enough evidence against Warner himself to proceed. It expressed "disapproval" at Warner's actions but formally cleared him of wrongdoing.
In 2011 Warner was accused, along with FIFA member Mohamed Bin Hammam, of paying bribes of almost $1 million to Caribbean organizations. FIFA moved to suspend him but Walker quit first and thus avoided an ethics inquiry.
Warner still holds a post in the government of Trinidad and Tobago, serving as the country's national security minister.
In a statement Wednesday, Warner said he had not been questioned.
"I have fought fearlessly against all forms of injustice and corruption," he said. "I reiterate that I am innocent of any charges. The actions of FIFA no longer concern me."
Both Webb and Warner have been charged with racketeering and bribery offenses.