BEIJING — Eager to entice 1.3 billion potential fans in the world's second largest economy, the NFL dispatched legendary wide receiver Jerry Rice to China to toss pigskins with the country's aspiring football players.
The trip was part of a relatively recent NFL strategy to attract Chinese supporters by demystifying the game and putting footballs in their hands — not through traditional television advertising.
"I caught his passes twice and had no drops!" a breathless young player named Adrian said after a master class with Rice on Sunday in the Chinese capital of Beijing. "This was the greatest football experience of my life!"
Adrian, originally from the eastern city of Qingdao, was among a few dozen youngsters to receive direct training from the Hall of Fame wide receiver at a local university sports field. Rice held the session after a visit to the Great Wall of China, and has been hosting other football clinics and public receptions as well as planning to attend several games.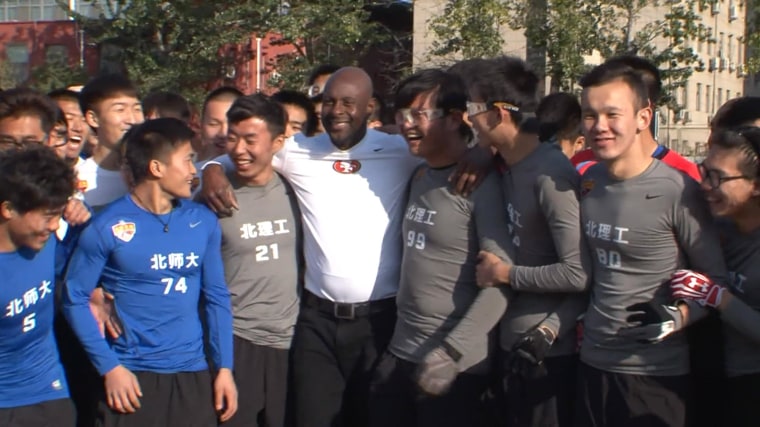 "The kids are very excited about American football," Rice told NBC News. "[I was] trying to get them to run the routes, trying to get them to not use their body to catch the football, use their hands and just teaching them technique."
"There are more potential fans here in China than anywhere else in the world"
The clinic was just one of the several football-related activities on display over the weekend in Beijing. Outside of the main field, visitors were able to put on pads to catch footballs, kick field goals and do linemen drills. Rice later watched two local teams square off in the in the finals of the Beijing division of the NFL China University Flag Football League, a 36-team competition in its sixth season.
Grassroots engagement is an obvious concept for a league trying to enter a market with little history of contact sports like American football, but one that the NFL recently has made a conscious decision to aggressively shift towards after years of focusing heavily on television expansion.
The NFL started its work in China in 2007 but the more hands-on approach was introduced four years ago and evolved into NFL Home Field which debuted two seasons ago. The approach appears to be working. Since 2010, the number of supporters in the country has swelled from one to fourteen million, according to the NFL.
"I think primarily before we were very much looking at just centering around only doing media and only doing television," said NFL China's Managing Director Richard Young, "What we've done since then is started an on-ground, events-oriented marketing strategy and we now run 28 events in Beijing, Shanghai and Guangzhou."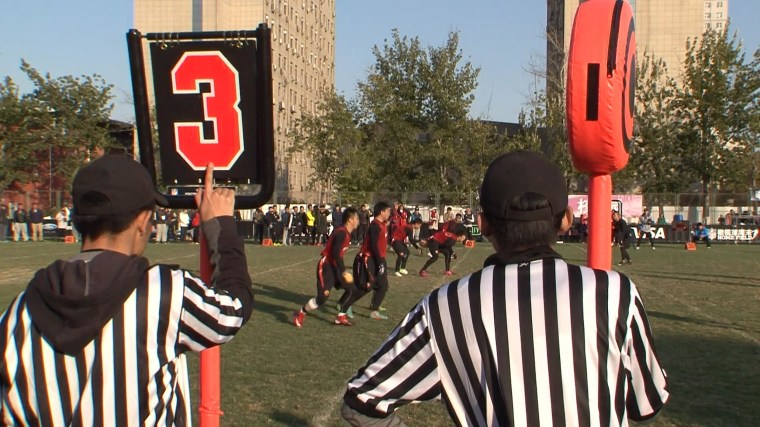 Around 20 percent of the 14 million fans are people Young calls "avid fans" meaning they "follow a team regularly, they watch a game every week or they purchase products."
Part of the fan growth can be explained by the increasing number of ways NFL games can be viewed. The league has brokered deals with 20 regional channels that reach more than 96 million viewers, as well as deals to stream games and download games to watch on demand.
This is a necessity for growth when China's far-off time zone means Monday Night Football really means Tuesday Morning Football.
"The greatest asset the NFL has is its fans and there are more potential fans here in China than anywhere else in the world," says Young. "That's pretty much why we're here."
"It's all about just teaching the game"
But despite the residual influence of television, many credit the new grassroots approach of NFL Home Field for the growth of recent years.
Known for his religious dedication to mastering running and technique while he was a professional sportsman, Rice agrees that football's fortunes in China will large depend on the NFL's commitment to the grassroots.
"It's all about just teaching the game," the 52-year-old said. "I know it's a difficult task but I think this is the greatest sport ever and we just got to keep bringing people over and keep passing that knowledge on, and hopefully one day we start having maybe some exhibition games or even a regular season game."
Rice follows in the footsteps of a number of high profile NFL players who have come to China to promote the game, including Barry Sanders, LaDainian Tomlinson, Rice's former teammate Joe Montana and current player Ndamukong Suh.
Still, the next batch of American football ambassadors could be college students. Later this week in Shanghai, Rice will introduce a new program called the U.S.-China Gridiron Leaders Fellowship Program which will invite NCAA-level American football players to China to coach teams in the independent American Football League of China.
It's a program Rice wishes was around when he was a college student back in the 1980s.
"If I was at Mississippi Valley State and I got a chance to come to NFL China, I would do in a heartbeat," laughed Rice. "You know, just for the experience of it...I don't see why anyone would pass up the opportunity."