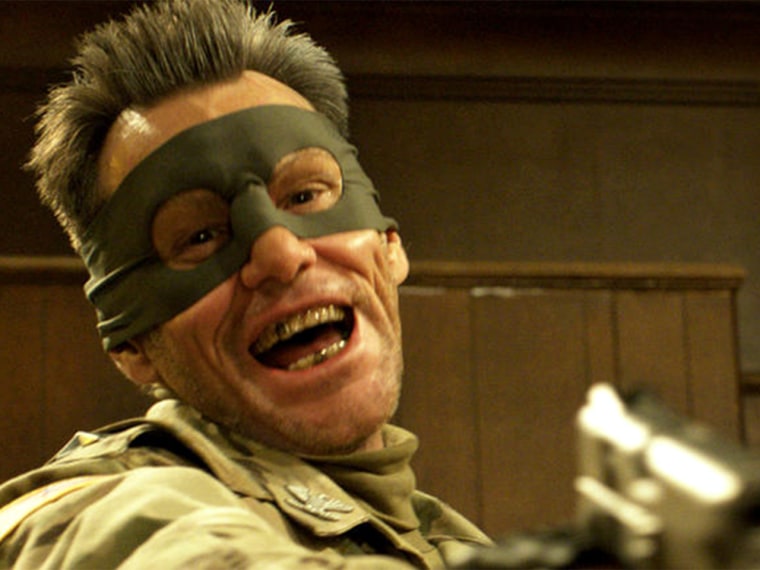 "Kick-Ass 2" won't be in theaters until August, but it already has a major detractor slamming the film on Twitter: Jim Carrey, one of its stars.
Carrey took to Twitter on Sunday to denounce the film, a satirical look at the superhero genre that's a follow up to 2010's "Kick-Ass," saying that he could no longer support the film in the wake of the shootings at Sandy Hook Elementary in Newtown, Conn. last December.
The 51-year old actor, who plays Col. Stars and Stripes and pairs up with the titular superhero, later added:
The film began shooting in July 2012 and wrapped production around Thanksgiving of last year.
The creator of the comic book series "Kick-Ass" is based on, Mark Millar, shot back at the Twitter comments on his website's comments forum.
After praising Carrey's talents and his performance in the film, Millar says he was "baffled by this sudden announcement" and Carrey's timing of his thoughts. "Nothing seen in this picture wasn't in the screenplay eighteen months ago," he added.
"Like Jim, I'm horrified by real-life violence," wrote Millar, "but 'Kick-Ass 2' isn't a documentary. ... ('K)ick-Ass' avoids the usual bloodless body-count of most big summer pictures and focuses instead on the CONSEQUENCES of violence. ... Ironically, Jim's character in 'Kick-Ass 2' is a Born-Again Christian and the big deal we made of the fact that he refuses to fire a gun is something he told us attracted him to the role in the first place."
Millar also said that "our audience is smart enough to know they're all pretending and we should instead just sit back and enjoy the serotonin release of seeing bad guys meet bad ends as much as we enjoyed seeing the Death Star (in "Star Wars") exploding."
Carrey has been a proponent of gun control for some time, and recently made headlines by mocking gun enthusiasts in a short video reminiscent of "Hee Haw." He also wrote an op-ed for the Huffington Post in April, looking for some form of moderation.
"(Gun control) thugs, though menacing, are a minority but they will have their way if good people don't step forward now and make a difference," he said. "Every American has the right to speak their mind. Every American has the right to bear arms. But it is up to every American to draw the line when it comes to the type of guns that are considered a reasonable means of self-defense."
(Warning: Video has some vulgar language.)