CHARLOTTE, N.C. -- As Republicans gather in Charlotte to take stock of their party's brand this week, one of their potential standard-bearers is advising them to turn their attention away from an "obsession with government bookkeeping" in Washington D.C.
"Today's conservatism is completely wrapped up in solving the hideous mess that is the federal budget, the burgeoning deficits, the mammoth federal debt, the shortfall in our entitlement programs,"  Louisiana Gov. Bobby Jindal will say at tonight's keynote dinner at the Republican National Committee's Winter Meeting, according to an advance copy of remarks obtained by NBC News.
"We as Republicans have to accept that government number crunching – even conservative number crunching – is not the answer to our nation's problems," he will say.
Recommended: Hillary's honeymoon with GOP ends
Jindal, frequently discussed as a possible 2016 presidential nominee for the GOP, will make the argument that Republican concern about constraining a bulging federal government -- signified to their base by President Barack Obama -- misses the point of growing the economy outside the Beltway.
"The Republican Party must become the party of growth, the party of a prosperous future that is based in our economic growth and opportunity that is based in every community in this great country and that is not based in Washington, DC," he will say.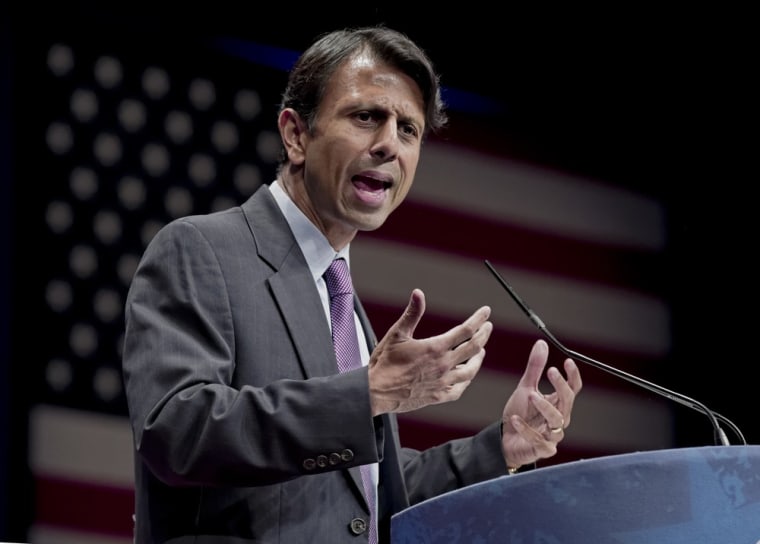 The Louisiana governor's remarks come as Republicans in Congress have been struggling to out-manuever Obama on tactical measures related to spending, taxes and the debt ceiling. While the party has extracted some concessions from the White House as a result of the wrangling, consultants and elected officials alike fret that a focus on fighting the president looks more like stubborn obstruction than conservative valor to a weary public.
Jindal -- who is Indian-American, Catholic and just 41 years old -- has gained national fame in part by defying stereotypes about how a southern Republican governor looks and sounds. The party's efforts to expand its appeal beyond white men and the south top the Charlotte agenda.
Jindal is expected to speak tonight at around 7 p.m. ET.