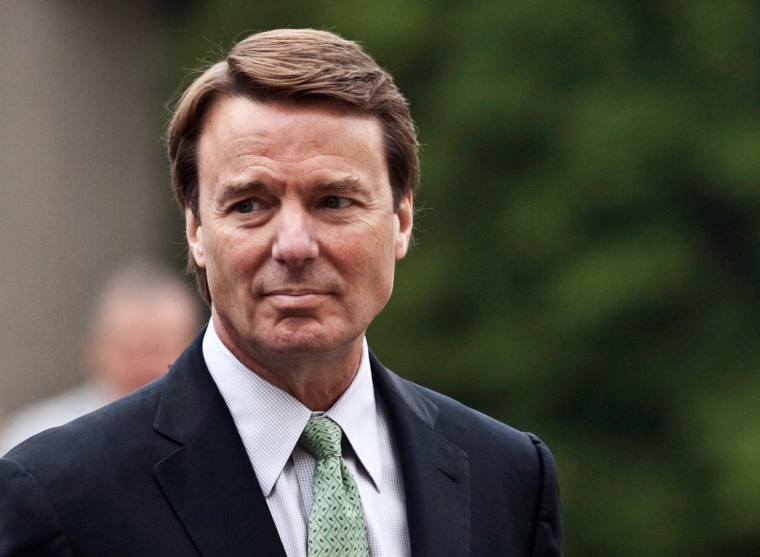 The jury in the campaign finance corruption trial of former presidential candidate John Edwards signaled Thursday that it may not be near a verdict.
As they broke for lunch on their fifth day of deliberations in U.S. District Court in Greensboro, N.C., jurors asked Judge Catherine Eagles for 20 more exhibits to produced for review. 
Most of the requested exhibits relate to money provided by the late Fred Baron, the finance chief of Edwards' 2008 presidential campaign, that was used to pay for hotel rooms, private jets and other transportation expenses rung up as campaign officials moved Edwards' mistress, Rielle Hunter, around the country in an attempt to conceal their affair from the public.
Edwards, a former U.S. senator from North Carolina who was the 2004 Democratic vice presidential nominee, is charged with six felony counts of accepting about $1 million in illegal and unreported campaign donations from Baron and billionaire heiress Rachel "Bunny" Mellon at a time when federal campaign donations were capped at $2,300.
Hampton Dellinger, a legal analyst for NBC news and msnbc.com, said the request made it clear that there's "no verdict in sight." 
Watch US News videos on msnbc.com
The four-week trial established that the Federal Election Commission — which cleared the contributions in its audit of Edwards' campaign — and the Justice Department were unable to agree on whether the donations from Mellon and Baron constituted campaign contributions subject to regulation under a 1971 election law. And the "jury can't yet, either," Dellinger said.
As the deliberations have stretched on, scores of reporters and camera crews outside the courthouse have taken to speculating on the significance of even minor clues.
Wednesday, one reporter was overheard asking whether it meant anything that three of the jurors had shown up wearing orange. 
And after Edwards showed up Thursday wearing what appeared to be the same green tie he's been wearing all week, a reporter asked him whether it was his "lucky tie."
Edwards responded, "I'm not saying."
More content from msnbc.com and NBC News: