MOSCOW — Secretary of State John Kerry said he aims to make "real progress" in ironing out differences with Russia on how to end the conflict in Syria during a visit to Moscow on Tuesday.
He met with Russian Foreign Minister Sergey Lavrov in the morning and then later with Russian President Vladimir Putin.
"We're at a strong beginning opening up possibilities," Kerry told the Russian leader at the start of their meeting. "Together the United States and Russia have an ability to make a significant difference."
Kerry has sought to put in the groundwork for a third round of talks involving world powers on the Syrian crisis, but it was unclear if a meeting planned for Friday in New York would go ahead, Reuters reported.
Top of the agenda during the Moscow talks was the role of Syrian President Bashar Assad in any settlement to the conflict, as well as what part the country's extensive list of militant groups would play.
Related: Kerry to Meet Russia, Others to Discuss 'Tangible' Syria Solution
"I look forward to making real progress," Kerry said. "I think the world benefits when powerful nations with a long history with each other have the ability to be able to find common ground."
He added: "Even when there have been differences between us we have been able to work effectively on specific issues."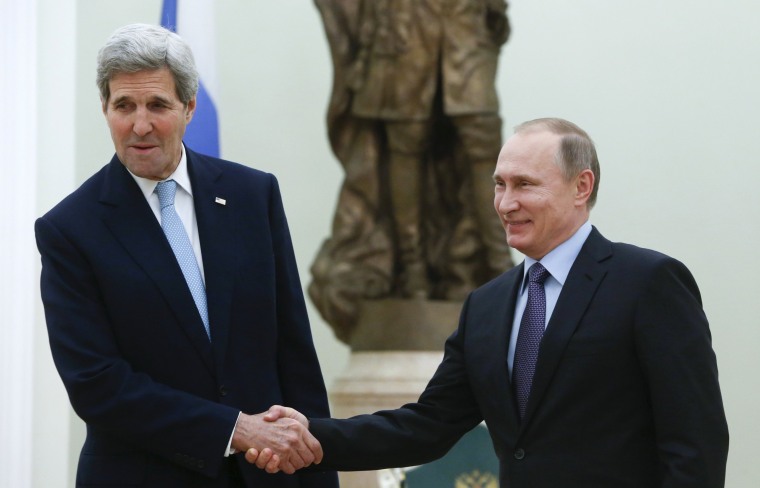 A U.S.-led coalition began bombing ISIS in Iraq and Syria after the extremist group swept across the region last year. Russia launched its own airstrikes in September this year in support of its staunch ally Assad, targeting what it said was ISIS positions.
Before the meeting, Kerry and Lavrov agreed on a phone call that they would need to finalize a list of agreed-upon Islamist terror groups, Russian news agency RIA Novosti reported.
The Russian Foreign Ministry issued a statement Monday on the eve of Kerry's arrival, criticizing what it said was America's "desire to divide terrorists into 'good guys' and 'bad guys.'"
But Kerry on Tuesday described the talks with Lavrov as "good" as he took a break to stroll in a shopping area near the residence of the U.S. ambassador to Moscow where he was mobbed by a crowd of people who wanted a glimpse of him.
Asked whether the New York meeting would happen, Kerry said: "I need to meet with the president (Putin). I look forward to that. It will be an important meeting."
The run-up to the Moscow talks underlined the distance between Moscow and Washington on how to deal with the Syria crisis.
Kerry's visit also follows a meeting last week in Saudi Arabia which agreed to unite a number of opposition groups, not including ISIS, to negotiate with Damascus in peace talks.