Two rockets exploded in Kabul Saturday after Secretary of State John Kerry left the Afghan capital after a short visit for meetings with rival leaders of government.
The trip was Kerry's second unannounced stop in two days, after arriving Friday in Iraq.
Kerry's schedule Saturday included meetings with Afghanistan's President Ashraf Ghani and Chief Executive Abdullah Abdullah.
Related: Secretary of State John Kerry Lands in Baghdad on Unannounced Visit
Ghani could not cite progress toward ending a bitter feud with Abdullah, which has hobbled the Kabul government for 18 months. The unwieldy arrangement, which Kerry helped to forge, has left interim ministers in critical positions while the U.S. ally struggles to confront lawlessness, corruption and the Taliban's resilient and perhaps expanding insurgency.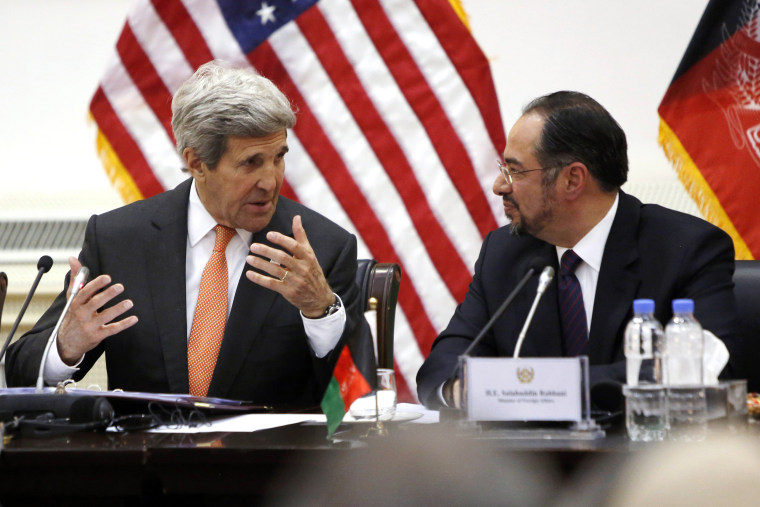 The challenges in Afghanistan mirror those in Iraq. The U.S. invaded both countries over a decade ago, hoping to install stable democracies. Neither has panned out.
Afghanistan's Taliban insurgency persists; Iraq is struggling with ISIS — while sectarian and personal rivalries threaten both governments.
Highlighting the persistent turbulence in Afghanistan, at least two rockets landed in Kabul after Kerry left. A police official in Kabul told NBC News that the explosions did not cause any injuries. The cause of the explosions was not immediately clear.
U.S. officials said there was no damage to the U.S. Embassy or any military buildings, and the explosions erupted while Kerry was either at Afghanistan's Bagram Airfield or while he was already in the air. The officials would not speculate whether the blasts had any connection to Kerry's visit.
"Democracy requires credible institutions," Kerry told reporters at the end of the brief stopover on his way to Japan for a meeting of foreign ministers. "More than that, it requires people from different political, ethnic and geographic factions to be able to come together and work toward a common good."
Ghani, at the joint news conference, hailed Cabinet votes in parliament as a turning point. Progress on that front "assures us there will be fundamental, comprehensive reforms," Ghani said through an interpreter.
Kerry backed him up and stressed the need for a unified approach between the competing Ghani and Abdullah camps, hardened still even two years after a contested presidential election.
Kerry called on the Taliban to re-engage in peace talks dormant for almost a year, and said there was no change now in President Barack Obama's plans for troop levels in Afghanistan. There are 9,800 U.S. forces on the ground in Afghanistan, and that number is set to fall to 5,500 next year.
"But he always has said he will listen to his commanders on the ground," Kerry said.