As the U.S. launched missile attacks Thursday on Houthi-controlled areas of Yemen, behind the scenes Secretary of State John Kerry has been trying to negotiate a temporary cease-fire and reinvigorate a political process to end the country's civil war.
The conflict has dragged on for over two years now, since the Shiite rebels seized control of the capital of Sanaa in September of 2014. The conflict escalated in March 2015 and since then over 4,000 civilians have been killed, the U.N. has said.
"What the Secretary has been pushing hard for is to get back … to a cessation of hostilities, a 72-hour cessation of hostilities which can at least then create some kind of climate where a political dialogue or a dialogue can begin again," State Department Deputy Spokesperson Mark Toner said Thursday.
"We need to de-escalate obviously given the events of the past week and that is where the priority is right now," Toner said.
Related: U.S. Strikes Yemen After Missiles Aimed at Warships
Those events include an airstrike Saturday blamed on a Saudi Arabian-led coalition that hit a funeral party which left over 140 civilians dead and 600 injured, which prompted the U.S. to announce an "immediate review" of its support of the Saudi-led campaign.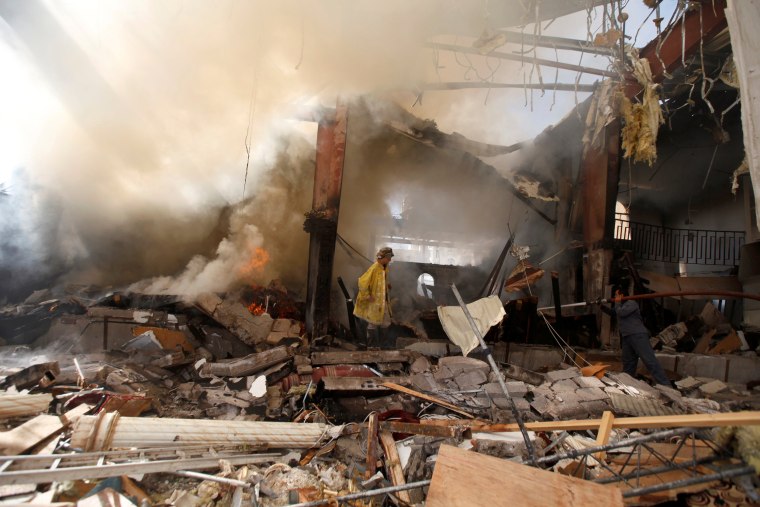 The incident spurred Kerry to renew his engagement with U.S. partners to try and get stalled negotiations back on track.
Reviving discussions between the Houthis and the exiled government of President Abd-Rabu Mansour Hadi will not be an easy task.
Underpinning the conflict is the tensions between regional rivals: Iran which supplies the Houthis financially and militarily, and Saudi Arabia, which backs the U.S.-recognized exiled government.
An already fragile April 10 cessation of hostilities broke down almost completely in early August when months-long discussions between the parties in Kuwait ended with no agreement.
Related: Who Are Yemen's Houthis and What Do They Want?
Since Saturday, Kerry has spoken with Saudi Foreign Minister Adel bin Ahmed al-Jubeir, Saudi Deputy Crown Prince Mohammed Bin Salman; Omani Foreign Minister Yusuf bin Alawi; Emirate Foreign Minister Sheikh Abdullah Bin Zayed Al Nahyan; U.N. Special Envoy Ismail Ould Cheikh Ahmed; and U.K. Foreign Minister Boris Johnson in the hope of de-escalating tensions.
The task is familiar to Kerry, who has led U.S. diplomatic efforts towards a political solution in Syria.
A meeting Saturday led by the U.S. will bring diplomats from the region including Saudi Arabia and Iran to Lausanne, Switzerland to try once again for a cease-fire to end the bombing of the Syrian city of Aleppo.
"It's somewhat safe to assume that in a pull aside or a follow up with the appropriate people [the secretary] is going to raise the situation in Yemen," Toner said. "We are very concerned about what is happening there as well as what is happening in Syria."
The parallel in the diplomatic efforts is not lost on the State Department.
"It's hard and I agree that it does sound similar," Toner said. "But the formula is what we believe is the right one."