John E. Sulston, a pioneer in the field of genome research and founder of the Sanger Institute, has died at the age of 75, the organization confirmed on Friday.
Sulston was awarded the Nobel Prize for medicine in 2002 for his work on the genetic regulation of organ development. He led the United Kingdom's contribution to the Human Genome Project, which has helped make strides in modern medicine and the understanding of diseases.
From 1992 to 2000, Sulston founded and directed the Sanger Institute, formerly known as the Sanger Centre, which conducts research on diagnostics and treatment for genetic diseases. He was serving as the professor and chairman of the Institute of Science, Ethics and Innovation at the University of Manchester at the time of his death, the institute said.
RELATED: Scientists pave way for at-home genome mapping with portable DNA sequencer
"He had a burning and unrelenting commitment to making genome data open to all without restriction and his leadership in this regard is in large part responsible for the free access now enjoyed," Professor Sir Mike Stratton, director of the Sanger Institute, said in a statement on Friday.
"We all feel the loss today of a great scientific visionary and leader who made historic, landmark contributions to knowledge of the living world, and established a mission and agenda that defines 21st century science."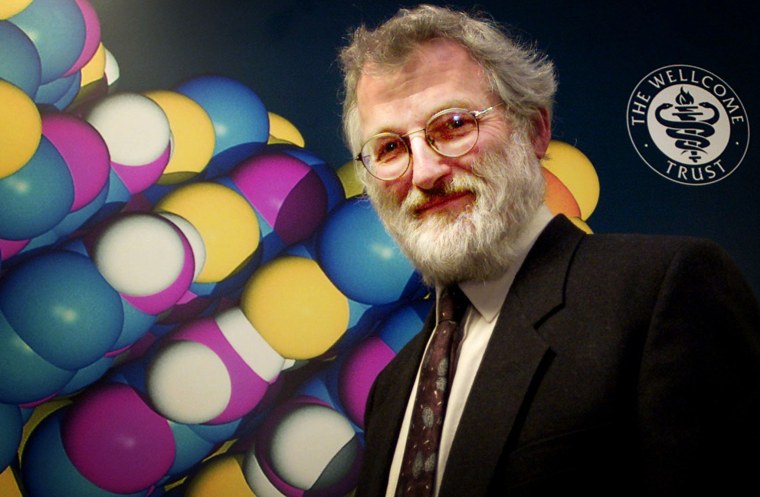 Sulston was born in Cambridge, England in 1942 to Reverend Canon Arthur Edward Aubrey Sulston and Josephine Muriel Frearson. Beginning at a young age, he displayed a deep fascination with the mechanical workings of organisms and eventually earned an undergraduate degree from Pembroke College, Cambridge, in 1963. Later, Sulston joined the Department of Chemistry at the University of Cambridge and completed a Ph.D. on nucleotide chemistry, the Sanger Institute stated.
RELATED: What you're giving away with those home DNA tests
Early on in his career, Sulston studied the division of cells in adult nematode worms in order to understand how cells divide and die to create new organisms. His findings proved crucial to understanding how cancer develops.
In 2017, Sulston was made a Companion of Honor by Queen Elizabeth II for contributions to society and science.