VIENNA -- International negotiations on Iran's nuclear program wrapped up Thursday with few details released about the talks, but with signs of an ongoing thaw between Tehran and world powers.
Tehran's top diplomat Mohammad Javad Zarif and the European Union's foreign policy chief Catherine Ashton shared jokes and looked relaxed during a briefing with reporters in Vienna. Both sides announced an agenda for the next round of meetings had been agreed.
"We have had three very productive days during which we have identified all of the issues we need to address," according to a statement in English and in Persian. "It won't be easy but we have made a good start."
Ashton, who is coordinating the talks on behalf of the United States, France, Germany, Britain, China and Russia, also looked set to visit Tehran in mid-March, ahead of the next round scheduled to start on March 17.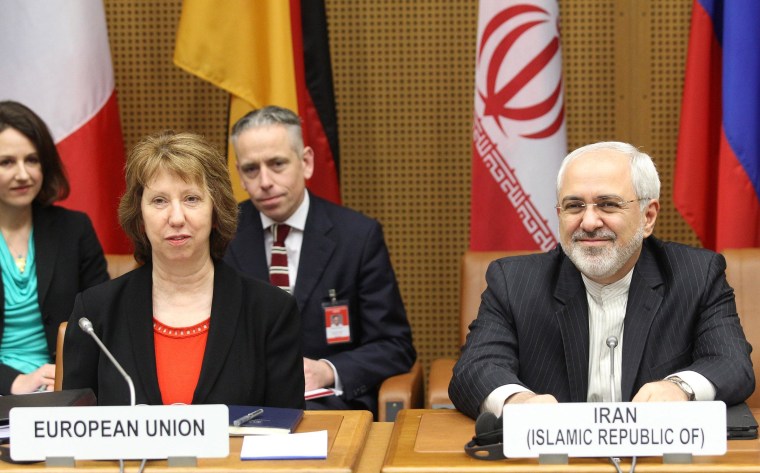 In another sign of warming relations between both sides, members of the Iranian press were invited to State Department background briefings for the first time.
Despite the apparent thaw, both sides are still far apart when it comes to the details of how to deal with Iran's nuclear program. A key point of dispute revolves around how many centrifuges Iran can keep can or what to do with its Fordo and Arak facilities.
"I am not optimistic about the negotiations and they will lead nowhere but I am not against them"
Western powers want to be sure that they could halt Iran's nuclear capability before nuclear bombs are developed. Tehran, which is intent on the complete removal of bruising economic sanctions, strenuously denies that it wants to develop nuclear weapons.
While the diplomats leading the negotiations might appear to be working together well, hardliners on both sides cast doubt on whether talks will be successful.
"Some of the officials of the previous government as well as the officials of this government think the problem will be resolved if they negotiate the nuclear issue," Ayatollah Ali Khamenei, who is Iran's most powerful political leader, said on his website on Monday.
"I repeat it again that I am not optimistic about the negotiations and they will lead nowhere but I am not against them," he added. "The work that has been started by the foreign ministry will continue and Iran will not violate its commitment, but I repeat it again, it will lead to nowhere."
In the United States, meanwhile, the White House has been battling efforts in Congress to slap new sanctions on Iran, saying such measures would only increase the chance of war.
The administration is facing pressure from the likes of Virginia Republican and House Majority Leader Eric Cantor, who criticized an interim agreement easing sanction on Iran and called the regime a "brutal theocracy."
"Human nature has not changed since World War II. Evil and hateful ideologies still exist in the world," he said during a speech at Virginia Military Institute on Monday. "Already, the limited sanctions relief provided by the interim deal has undermined the perception of international pressure so critical to convincing the Iranians to change course."
F. Brinley Bruton reported from London. Reuters contributed to this report.