A lawyer acting for Wikileaks founder Julian Assange told NBC News there is "great concern" among his team that a new Ecuadorian president could force him out of the country's London embassy and warned his health was deteriorating.
Ecuador's presidential race will be decided in a run-off election, to be held April 2, between ruling party candidate Lenin Moreno and opposition candidate Guillermo Lasso.
Moreno has indicated he would back Assange's continued stay, while Lasso has indicated he would evict the Australian activist within 30 days of taking office.
"We are preparing potential legal remedies should the opposition come to power in Ecuador," Jennifer Robinson, a member of the legal team representing Assange and Wikileaks, told Keir Simmons on MSNBC Saturday.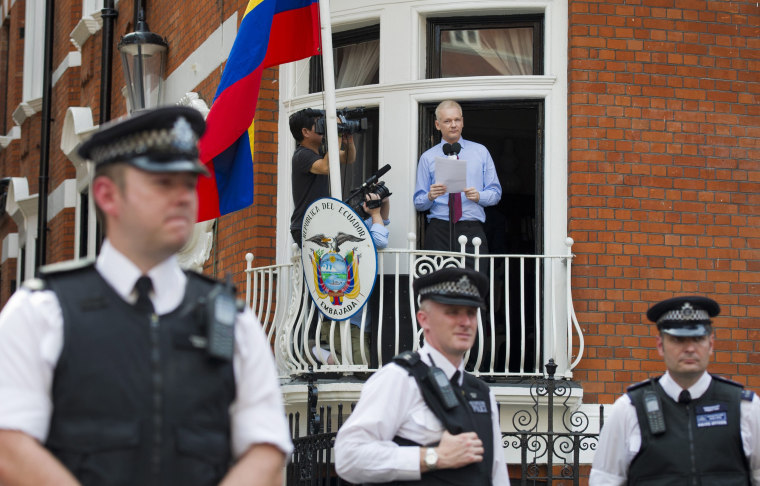 "You don't change asylum protections just because a change of government," she added.
Assange was granted asylum in Ecuador in 2012, and has been sheltering in the country's U.K. embassy since then, in a bid to avoid extradition to Sweden over allegations of sexual assault. Assange says he fears Swedish authorities could deport him to the U.S., where he argues his work with Wikileaks could earn him life in prison or even the death penalty.
Robinson also expressed concerns about Assange's wellbeing, after over four and a half years of living in the embassy.
"His health is deteriorating," she said. "It's obviously far from ideal but given the difficult circumstances he is doing incredibly well, but the situation has to end and it is in the hands of the U.S. administration to end that situation."
President Trump has sent mixed messages about his views on Assange in recent years.
In tweets sent in early January, Trump appeared to take the Wikileaks founder's word over that of U.S. intelligence agencies, who said that Russia intervened in the U.S. election.
However, in 2010, Trump branded Wikileaks "disgraceful," adding: "there should be like death penalty or something," when speaking on Fox News.