WikiLeaks founder Julian Assange declared victory Friday after Swedish prosecutors dropped their seven-year rape investigation without charging him with a crime.
But because he is still wanted by British police for failing to appear in court, Assange's muted celebration took place on the balcony of the Ecuadorian Embassy, which has been his refuge for the past five years.
"While today was an important victory, an important vindication, the road is far from over," he said after waving to a small crowd of supporters. "The UK said it would arrest me regardless," he added, saying it was under intense pressure from the CIA to do so.
"My legal staff has contacted the United Kingdom authorities and we hope to engage in a dialogue about what is the best way forward," he said. "The legal conflict with the United States and the United Kingdom at a formal level continues."
Assange also vowed to continue publishing secret U.S. documents on WikiLeaks.
"Today we published material from the CIA," he said.
Assange also noted the release of Army whistleblower Chelsea Manning, who landed in prison after she leaked nearly 750,000 military files and cables to WikiLeaks. At the time she was a man named Bradley Manning.
"We managed to have him released 28 years early from his sentence," Assange said, still using the male pronoun.
It was President Barack Obama who commuted Manning's 35-year sentence after seven years behind bars.
Assange spoke after Marianne Ny, the chief prosecutor in Sweden, announced that she "has decided to discontinue the investigation regarding suspected rape" by Assange.
Ny stressed that she was not declaring Assange innocent, only that he no longer faces any charges in Sweden.
Assange, a 45-year-old Australian, became the target of Swedish authorities in 2010 after two women came forward accusing him of rape and sexual assault.
Assange denied the accusations and took refuge in the embassy in London two years later to escape extradition to Sweden. He has been there ever since, fearing that once he lands in Stockholm he'll be shipped to the U.S. to face justice for publishing secret documents on WikiLeaks.
Melinda Taylor, a member of Assange's legal team, welcomed the "wonderful news."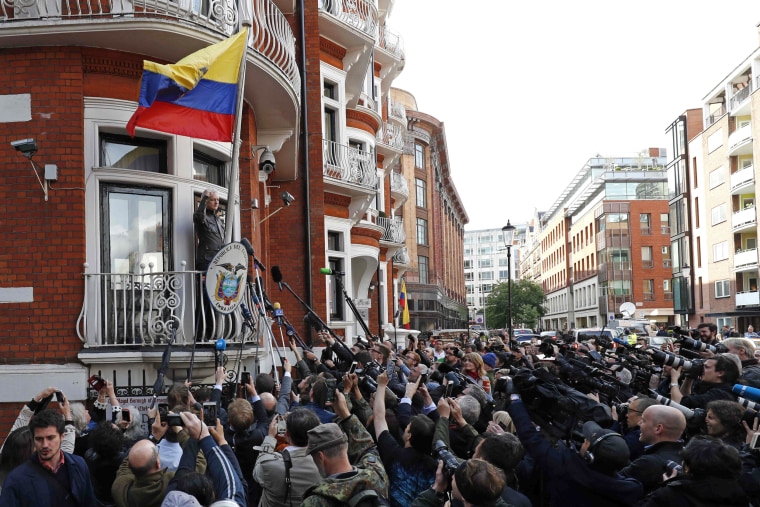 "Now all eyes are on the U.S. — that's the reason for his asylum," she told NBC News. "As long as the national security prosecution continues there continues to be a risk to him."
London's Metropolitan Police said Assange remains a wanted man.
"Westminster Magistrates' Court issued a warrant for the arrest of Julian Assange following him failing to surrender to the court on June 29, 2012," the force said in a statement. "The Metropolitan Police Service is obliged to execute that warrant should he leave the embassy."
Within minutes of Ny's announcement, Assange tweeted a picture of himself.
Swedish officials withdrew a Europe-wide arrest warrant for Assange after coming to the conclusion that it would be impossible to bring him to Sweden, Ny said.
"He has tried to dodge all attempts to avoid Swedish and British legal authorities," she said at a press conference in Stockholm. "My assessment is the transfer cannot be carried out in a foreseeable future."
Ny warned that the investigation of the alleged sexual offenses could be reopened if Assange sets foot in Sweden before the statute of limitations expires in August 2020.
Assange previously promised to leave the embassy "soon" — in August 2014.