Donald Trump's plan to tear up NAFTA could hit U.S. jobs, Canadian Prime Minister Justin Trudeau warned in an exclusive interview with NBC News.
The president has begun moves to renegotiate what he called the "worst trade deal ever approved in this country." However, Trudeau said the Clinton-era agreement had "led to a lot of great jobs for a whole lot of people on both sides of the border."
Trudeau spoke to NBC News' Tom Brokaw at the New York launch of "Come From Away," a Broadway musical about international friendships and the cross-border impact of 9/11.
It tells the story of the 38 international flights forced to land in Gander, Newfoundland, when U.S. airspace was closed following the attacks by al Qaeda in 2001.
Ivanka Trump and Nikki Haley, the new U.S. ambassador to the United Nations, were among the guests at Wednesday night's event.
Trudeau said his message to the new administration was that "good jobs, middle class, happen on both sides of the border because of the close relationship" between the neighbors.
"NAFTA's been ... improved a dozen times over the past 20 years," Trudeau said. "There's always opportunities to talk about how we can make it better. It has led to a lot of great jobs for a whole lot of people on both sides of the border and I very much take him at his word when he talks about just making a few tweaks. Because that's what we're always happy to do."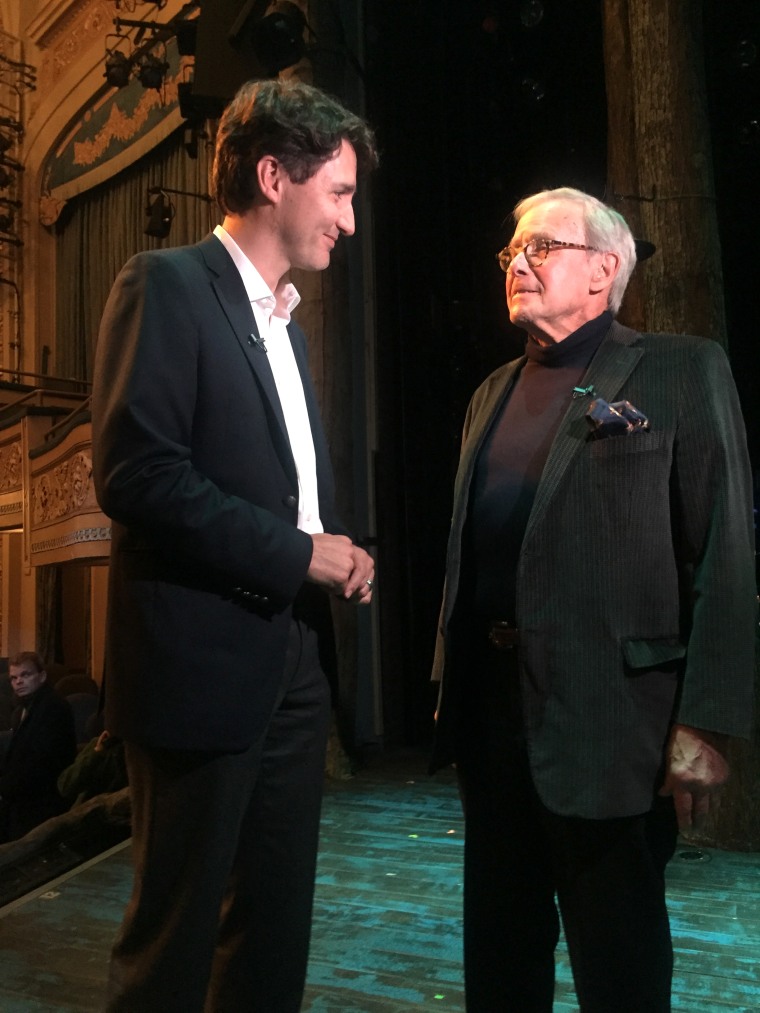 Trudeau added: "We've got auto parts criss-crossing the border six times before they end up in a finished product. You've got over $2 billion a day going back and forth. So, making sure that the border is … secure but also smooth in its flow of goods and people is essential to good jobs on both sides of the border."
President Trump has vowed to withdraw from NAFTA, which took effect in 1994 and includes Canada and Mexico, if he cannot renegotiate it to benefit American interests. He formally withdrew the U.S. from the Trans-Pacific Partnership within days of taking office in January and said he would renegotiate NAFTA "at the appropriate time."
The U.S. Chamber of Commerce says the United States conducts more than $3.2 billion worth of trade with its North American neighbors every day. NAFTA brings export revenue worth $36,000 for each and every American factory worker, it says.
A study published by the Center for Automotive Research in January suggested the withdrawal from NAFTA or the implementation of punitive tariffs could result in the loss of 31,000 U.S. jobs.
Trump has called the deal "one-sided," citing a "$60 billion trade deficit with Mexico."
Revisiting comments made during last month's trip to the White House, the Canadian leader said that "we'll agree to disagree on certain things."
"Come From Away" tells the story of how Gander's 10,000 inhabitants rallied to accommodate the 6,700 travelers whose planes were diverted and then stranded in the hours after the 9/11 attacks.
Trudeau said the episode underscored the close relationship between the U.S. and Canada and "encapsulates so much of what we've shared through great times and also through extraordinarily tragic times."
It also highlighted what is now a stark difference between the nations over immigration, he said.
"I know and I've always felt for Canada that we recognize that diversity is a great source of strength," Trudeau said. "I think Canadians have always been interested in the choices Americans make because the choices you make inevitably impact upon us … and how we make sure that we get that balance right between continuing to have a good relationship and standing for the things we believe in is what we expect of ourselves."