KABUL — A suicide car bomb at the entrance of Kabul's international airport killed at least 5 people on Monday, officials said, the latest in a deadly series of attacks targeting the Afghan capital.
Kabul Police Chief Gen. Abdul Rahman Rahimi told NBC News that a bomber in a Toyota Corolla detonated as vehicles went through one of the many checkpoints leading into the airport.
Both civilians and security forces were caught up in the blast, according to Ministry of the Interior spokesman Najib Danish.
"A suicide car bomb attack at the entrance of Hamid Karzai International Airport and has caused casualties both on civilians and security forces," Danish said. "I do not have the exact number."
The Ministry of Public Health later said at least 21 people — including three children — were injured in the blast.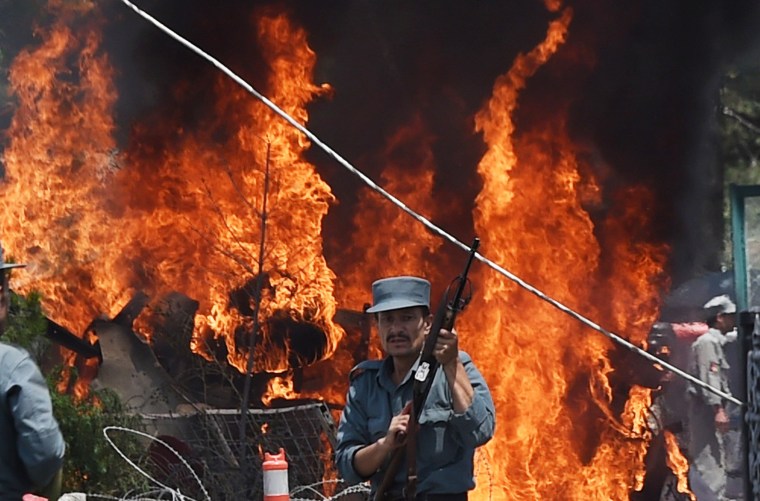 The Taliban quickly claimed responsibility for the attack, which came just days after an upsurge in violence in Kabul left more than 40 people dead.
Related: Guns, Cops With Vendettas Drive Afghan Violence
On Friday, a massive truck bomb killed at least 15 civilians and wounded 400 in Kabul's heavily-populated center. The same day, a NATO service member and eight Afghan security guards were killed in an attack on a base housing U.S. Special Operations Forces near the Kabul airport. A separate attack at the gate of a Kabul police academy killed at least 18 cadets.
Afghan civilian casualties are hitting their highest levels on record, with 1,592 killed and 3,329 injured during the first six months of the year, according to the United Nations.