A bomb targeting TV station workers in the Afghan capital killed at least seven people and wounded more than two dozen others Wednesday, officials said.
There was no immediate claim of responsibility for the blast near the Russian embassy, though the Taliban has previously threatened journalists from Tolo TV, the target of the attack.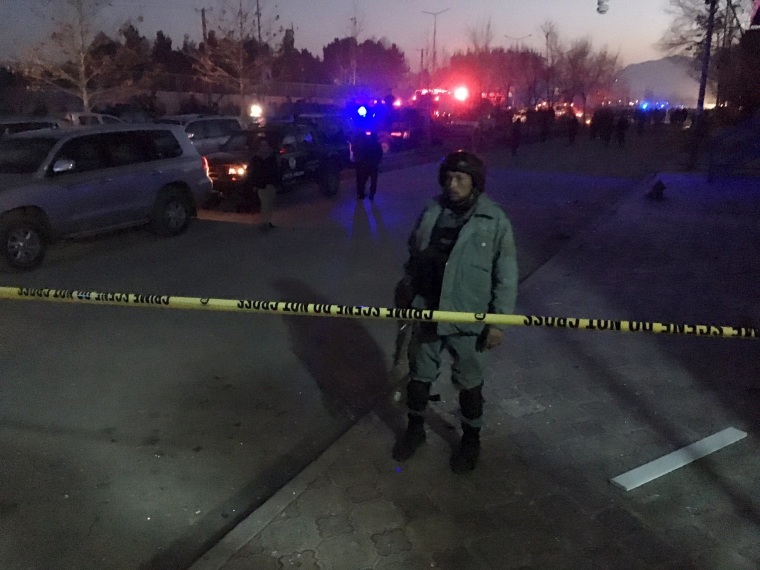 Interior Ministry spokesman Sediq Sediqqi told NBC News a bomber in a Toyota targeted a minibus carrying employees of a Tolo-owned production company.
He said four of the seven dead were women and that 27 civilians were injured - mostly production-company employees on the bus.
Afghan President Ashraf Ghani condemned the attack as a "cowardly act," while Chief Executive Abdullah Abdullah called it an assault on media who work "tirelessly" to keep the nation informed.
There was no formal statement from Tolo on the attack, though the station carried news of the blast live and said those targeted worked for its Kaboora Production company.
The Taliban said in October it no longer considered the station a media outlet but a military target, calling the it "satanic" and a "spearhead" of propaganda promoting the "invasion" of Afghanistan by infidels.
"No employee, anchor, office, news team and reporter of these TV channels holds any immunity," the terror organization said in a statement at the time.