KABUL, Afghanistan — A rush-hour suicide bomb hidden in a sewage truck killed at least 80 people and wounded more than 300 others in Afghanistan's capital early Wednesday, officials said.
The powerful explosion occurred at a time when Kabul's roads were packed with commuters.
A huge plume of smoke rose over the city. Windows were shattered in shops, restaurants and other buildings up to a half-mile from the blast site.
Hamdullah Mohib, the Afghan ambassador to the U.S., was in Kabul at the time of the explosion. "It felt like the house was going to collapse from a massive earthquake," he told NBC News.
Local TV footage showed shocked residents soaked in blood stumbling about, then being ferried away to hospitals. Passersby stopped and helped the wounded into private cars.
Related: Chaos as Blast Shakes Kabul's Diplomatic Quarter
Blast survivors told NBC News that at first they did not know what hit them.
"Everywhere was dark and everybody was....they were just shocked," said Karimullah Khan, who works for the Roshan telecommunications company near the site of the explosion and whose brother was among the wounded. "I opened up my eyes and I was just looking after my brother."
A 32-year-old survivor named Saminullah said one minute he was in his office, then next he was in the hospital.
"We were leaving early," he recalled in broken English. "Then this happened. After that, I didn't know anything what happened, how we came here to hospital."
The Health Ministry confirmed the death toll. Authorities said most of the casualties were civilians and that many of those killed were women and children.
Eleven U.S. citizen contractor personnel were injured, but none of the injuries are considered life threatening, a U.S. State Department official said.
In the immediate aftermath of the blast, Interior Ministry spokesman Najib Danish told NBC News it occurred close to a gate to the presidential palace. However, the site of the bombing is much nearer to the German Embassy.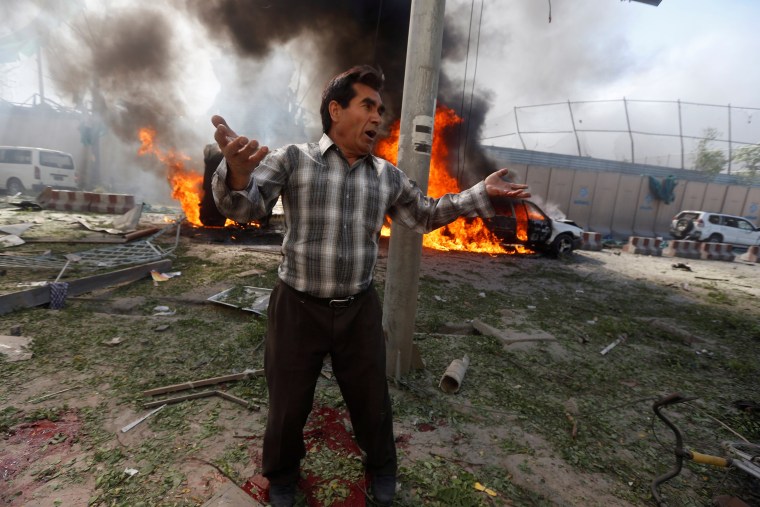 Germany Foreign Minister Sigmar Gabriel confirmed that some employees based at its diplomatic outpost had been injured.
Basir Mujahid, a spokesman for Kabul police, told Reuters that it was "hard to say what the exact target is."
The neighborhood is considered Kabul's safest area, with foreign embassies protected by dozens of 10-foot-high blast walls and government offices, guarded by police and national security forces.
The Chinese, Turkish, French, Iranian and Japanese embassies all suffered damage.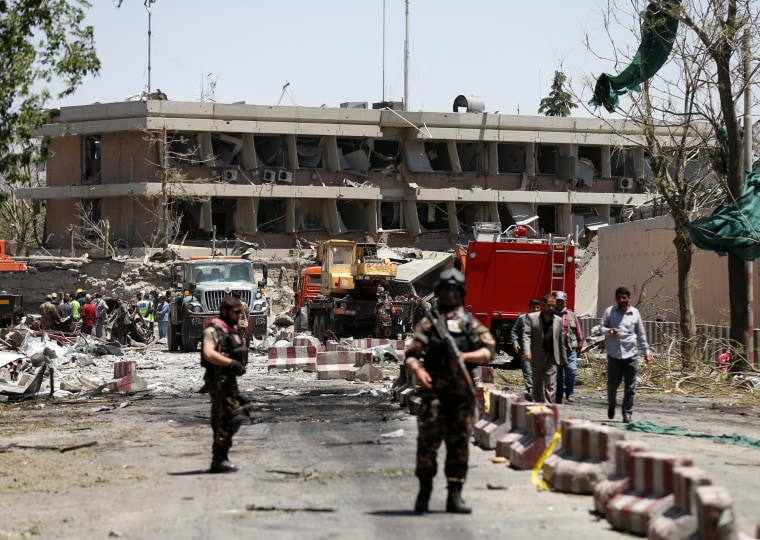 The U.S. Embassy is located in another part of the city, about a half-mile away.
America's top diplomat to Kabul, Special Chargé d'Affaires Hugo Llorens said Wednesday's "horrific and shameful attack demonstrates these terrorists' complete disregard for human life."
Waheed Majroh, a spokesman for the Afghan health ministry, told NBC News that the injured included some foreign nationals working for a telecommunications firm.
No group immediately claimed responsibility for the blast but both the Taliban and ISIS have staged large-scale attacks in the Afghan capital in the past.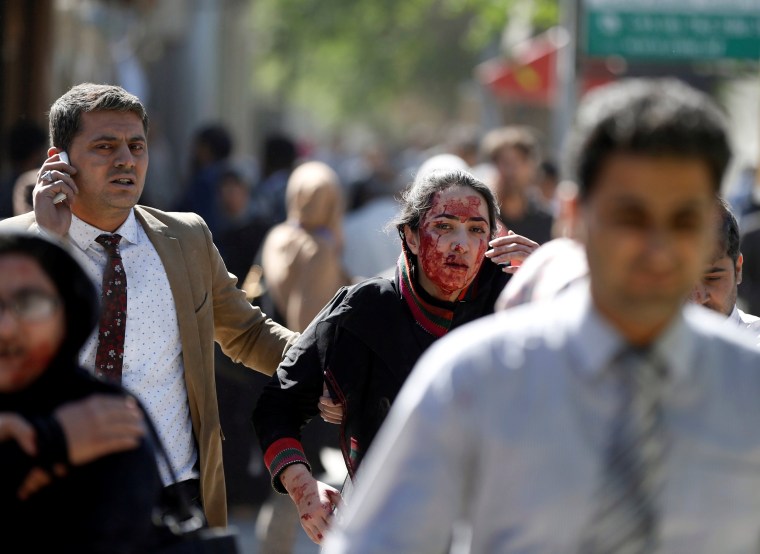 The Taliban later said it had "nothing to do" with the explosion.
"We will continue our attacks even in the month of Ramadan against the US-led foreign forces and their puppet Afghan government but that doesn't mean we will carry out attacks in places where civilians are targeted," Taliban spokesman Zabihullah Mujahid added.
Last month, the group announced the beginning of their spring offensive, promising to build their political base in the country while focusing military assaults on the international coalition and Afghan security forces.
The explosion raises serious questions about the Afghan government's ability to secure the war-battered nation.
Related: Generation 9/11 Grows Up Under U.S. Invasion's Shadow
U.S. and Afghan forces have been battling the Taliban insurgency for more than 15 years. The U.S. now has more than 8,000 troops in Afghanistan, training local forces and conducting counterterrorism operations.
In the past year, the Taliban have captured key districts, such as Helmand province, which U.S. and British troops had fought bitterly to return to the government.
Since most international troops withdrew at the end of 2014, the Taliban have gained ground and now control or contest about 40 percent of the country, according to U.S. estimates.
Ahmed Mengli reported from Kabul. Mushtaq Yusufzai reported from Peshawar, Pakistan. Jason Cumming and F. Brinley Bruton reported from London. Andy Eckardt reported from Mainz, Germany. Rima Abdelkader reported from New York.