A truck bomb that struck the heart of the Afghan capital last week killed more than 150 people, the country's President Ashraf Ghani said Tuesday, making it one of the deadliest single attacks in the country since the 2001 U.S.-led invasion.
The Associated Press reported Ghani's remarks which were made at a conference in Kabul.
A spokesperson for the Afghan ministry initially told NBC News in the aftermath of the blast that at least 80 people had been killed, although that figure has now risen significantly.
The powerful explosion occurred close to the German embassy at a time when Kabul's roads were packed with commuters.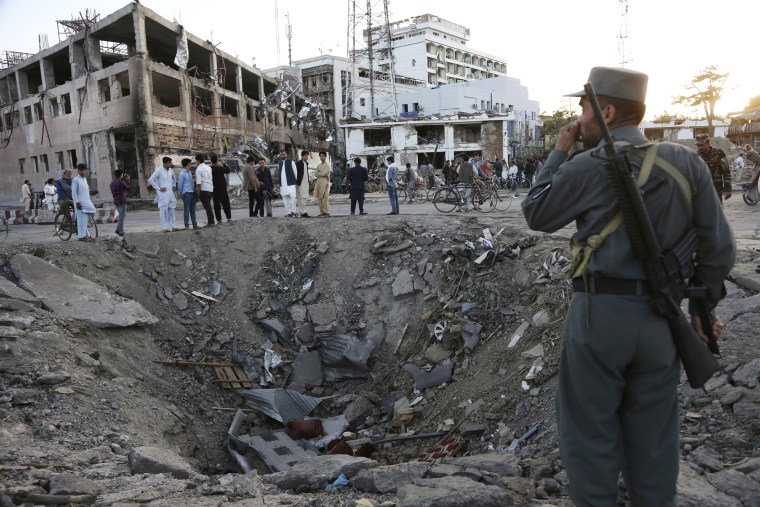 Most of the casualties were civilians and many of those killed were women and children, authorities said at the time.
Related: 'Kabul bomb was like an earthquake'
Eleven U.S. citizen contractor personnel were injured, but none of the injuries were life-threatening.
There was no immediate claim of responsibility for the bombing but Afghanistan alleged Pakistani involvement in the blast. Islamabad has refuted these accusations, AP reports.
Reuters reported Tuesday that Ghani told foreign diplomats that: "We were not the only targets, the entire diplomatic community was the target of this attack."
The attack came with a debate still raging around whether Afghan forces can defeat the Taliban or ISIS without further help from international forces.
The U.S. and its allies officially ended combat missions in the country in 2014 and now fulfill a support and counter-terrorism role.
However, the Taliban has been waging a years-long insurgency against the U.S.-backed government in Kabul and controls large swathes of the country.
AP reported on Tuesday that Ghani invited the Taliban to peace talks, calling it their "last chance" to give up their 16-year insurgency and join the political process.
The Trump administration is currently weighing up its options on whether to send more troops to the country.