NAIROBI, Kenya – Imagine paying just $20 for a fancy cell phone with a good calling plan. Or how about working with a cell phone company that won't obligate you to sign one of those tricky multiyear contracts with deceptive pricing plans detailed in tiny print that skyrocket with every added feature? How about calls to anywhere in the country costing less than 3 cents a minute and most international calls costing just a penny more?
Sound too good to be true, especially for American cell phone users? Not in Kenya. I'm on assignment in Kenya and am astonished at how little people pay for cell phone calls.
The phones work, calls are cheap, and the country is using cell phone technology innovative ways – beyond simple telephone calls to personal banking.  
In addition to having us beat, cell phone tariffs here are the lowest in Africa.
Competition frees up market
A call over Kenya's Safaricom network, for example, costs about one-third the price of making a call from anywhere else on the continent. 
And those low prices apply to downloading data as well. No one blinks an eye at surfing the web for hours at a time on their phones. 
But Kenya wasn't always so consumer-friendly.
A Canadian businessman told me that just six years ago, he was paying more than $1,000 a month to connect to the Internet via modem in Kenya.  
And a photographer told me about how he used to trudge across Nairobi to a five-star hotel to connect a few times a week. "Those days, there was just a handful of cyber cafes and they charged somewhere near the equivalent of $5 an hour, pretty pricey for the average user," he said. 
During those years, hairdresser Janet Muoki said she only carried her cell phone for emergencies. Now she said she calls her brother living in the U.S. and her best friend in South Africa a few times a week. 
While cell phone prices have been steadily dropping in Kenya since 2008, last August the government regulator introduced new rules that sparked a fierce price war between carriers. It all started when the Communications Commission of Kenya cut mobile phone termination rates, namely how much mobile operators can charge for connecting your call to another network.  
That fee was often blamed for bloating phone bills. Small companies trying to break into the cell phone business characterized the fee as a big-bully tactic of the larger cell phone networks—arguing that the higher the termination fee, the more expensive it becomes to operate their less popular networks.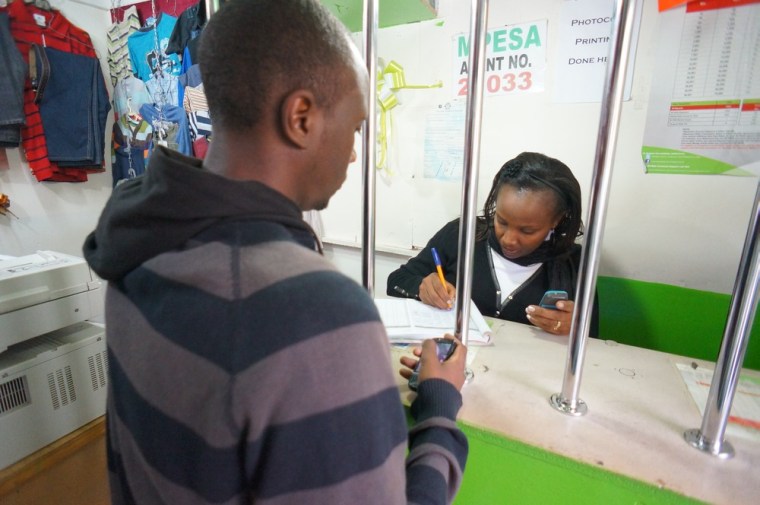 But on July 1 Kenya's termination rate was slashed again and now you don't hear consumers complaining. Robert Kabata admitted that he loves seeing the cell phone companies fighting for his business. In the past, making a call was a big deal that required some thought; now he doesn't think twice before making a call. 
To prove his point, Kabata said just that morning he went out to meet a friend. Before he reached their agreed rendezvous point, he sat down on a bench and called his buddy to tell him to walk around the corner. 
"I know, it's decadent," he admitted with a grin. 
Cell phone banking
His wife, Margaret Wambui, makes her living from another modern feature of the Kenyan cell phone – a mobile banking platform called "M-Pesa."  A joint venture between Safaricom and Vodaphone, the "M" stands for mobile and "Pesa" means money in Swahili. Many Kenyans say the mobile-phone-based money service has helped turn their mobile devices into mobile banks. 
With the ease of a text message, "M-Pesa" allows millions of Kenyans to buy groceries, pay their rent and utility bills or transfer money without the need to maintain a bank account, visit the bank or even carry cash.
All consumers need to do is register with a national ID card or passport and then they can go to any licensed "M-Pesa" customer booth, like Margaret's booth next to her women's clothing boutique, deposit the contents of their paychecks into accounts run from their cell phones or withdraw cash.
These days, Margaret says she earns up to five times more from "M-Pesa" commissions than she does selling women's clothing and jewelry.
Kenyans also use "M-Pesa" to send money to relatives hundreds of miles away, living in the remotest corners of the country.
All the other person needs is an "M-Pesa" feature on their cell phone too.  They then take their phone to an authorized agent, like Margaret, and with a push of a button they pick up their cash.
For giant telecom Vodaphone, which owns the "M-Pesa" property rights, the innovation earned $15.6 million last year for the giant British telecom.
Nationwide, some $11 billion moved over the mobile network in 2011.
"M-Pesa" has transformed the way average Kenyans conduct business. It has been especially innovative for the 90 percent of the population who previously never had a bank account. 
Now, about 60 percent of Kenyans rely on "M-Pesa" to shop, pay all their bills and generally move their money around.
No need to lug around credit cards or wads of cash. Who needs to waste time on a long bank line or at an ATM machine? Just a simple cell phone and a PIN number gets you through the day.
Who would argue that Kenyans haven't re-invented the idea of a "smart" phone?