JERUSALEM — Secretary of State John Kerry visited Israel for the first time in over a year on Tuesday, hoping to calm two months of deadly violence.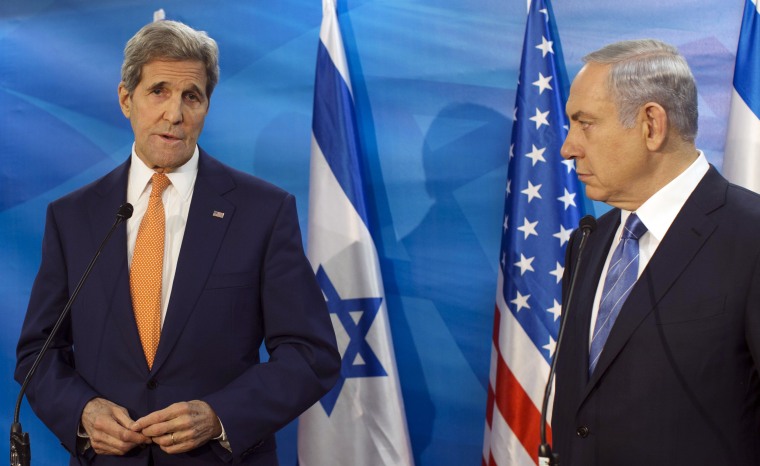 Kerry touched down amid a new rash of deadly attacks that have dampened any lingering hopes of renewed peace negotiations between Israel and the Palestinians during the Obama administration's final year. Ahead of his trip, Kerry conceded he was coming without the ambitious agenda of past visits and was primarily focused on stemming the violence.
"There can be no peace when we have an onslaught of terror, not here, not anywhere else," Israeli Prime Minister Benjamin Netanyahu said as he welcomed the chief American diplomat.
With Netanyahu nodding, Kerry said Israel had a right and obligation to defend itself and that "no people anywhere should live with daily violence, with attacks in the streets with knives, with scissors, with cars."
At the same time, he said he would speak with the Israeli leader about how "to push back against terrorism, to push back against senseless violence, and to find a way forward to restore calm and begin to provide opportunities."
Related: Girls With Scissors Shot After Injuring Two in Stabbing Attack
Kerry will travel to the West Bank for discussions with Palestinian President Mahmoud Abbas later on Tuesday.
The current spate of violence erupted in mid-September over tensions surrounding a sensitive Jerusalem holy site and quickly spread across Israel and into the West Bank and Gaza Strip. Nineteen Israelis have been killed, mostly in stabbings. Israeli fire has killed 89 Palestinians. Israel says 57 of these were attackers, while the rest died in clashes with security forces.
Kerry said Monday he would be traveling to Israel and the Palestinian territories without any "highfalutin, grandiose, hidden agenda." Instead, he was seeking steps "that could calm things down a little bit so people aren't living in absolute, daily terror."
But the attacks renewed as quickly as Kerry landed.
At a West Bank checkpoint Tuesday, the Israeli military said a Palestinian motorist rammed a group of soldiers, lightly wounding three of them. It said the attacker was shot and wounded at the scene.