UNITED NATIONS — Secretary of State Kerry said he sometimes feels like he's living in a "parallel universe" to his Russian counterpart on the subject of Syria.
During an impassioned address at a United Nations Security Council briefing on the five-year civil war Wednesday, he also argued that a cease-fire deal brokered by the U.S. and Russia on September 9 could be saved in spite of a string of violations.
The U.S. continues to believe there was a way "out of the carnage" in the war-torn country, Kerry added.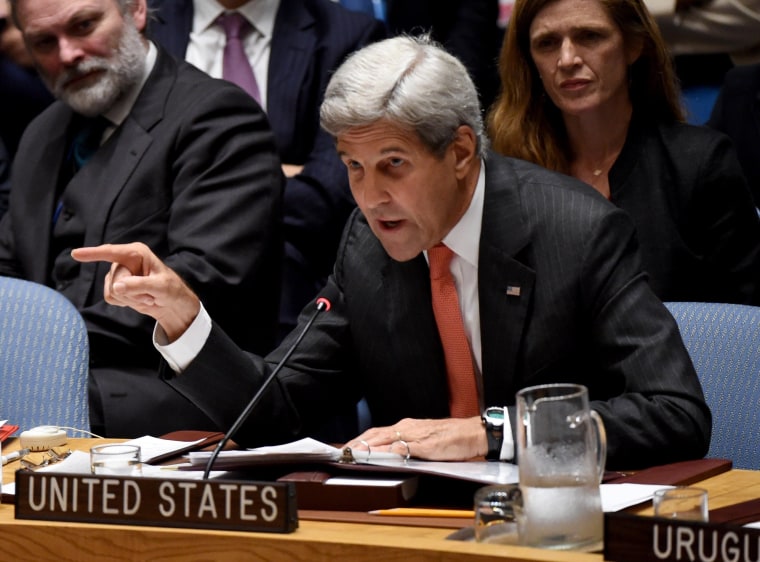 He went on to call for a ban on all aircraft over parts of the country to allow humanitarian aid to reach civilians.
While saying he believed a truce was possible, Kerry hit out at Russian Foreign Minister Sergei Lavrov.
"I listened to my colleague from Russia — and I sort of felt [we're] in a parallel universe here," he said.
"Supposedly we all want the same goal. I've heard that again and again," a clearly angry Kerry said. "But we are proving woefully inadequate in ... making that happen."
Related: Airstrike 'Completely Destroys' Medical Facility
Kerry outlined a list of U.S. complaints against President Bashar al-Assad's government and Russia, its chief backer. He went over the changing narrative over an attack on an aid convoy that has included everything from claims of a justifiable counter-terror strike to vehicles spontaneously combusting.
"This is not a joke," Kerry said, sharply criticizing those who engage in "word games" to dodge responsibility over questions of "war and peace, life and death."
Kerry's comments came hours after at least four aid workers were killed in an airstrike on a medical triage point near Aleppo.
The earlier attack on the aid convoy killed at least 20 people and touched off a round of blame-trading. The U.S. said Russia was responsible for the airstrike, while Moscow vehemently denied any involvement.
The Russian Defense Ministry flatly rejected suggestions that its forces were behind the attack on the convoy.
"Russian warplanes did not plan and did not deliver any airstrikes in the area of Urum al-Kubra," a spokesman told NBC News via email, referring to the town near Aleppo where the convoy was hit. "They were not in the area at all."
Lt. Gen. Igor Konashenkov added that a U.S. Predator drone was in the area, and appeared there minutes before the incident.
U.S. defense officials then flatly denied that American aircraft — "manned or unmanned, U.S. or coalition" were "anywhere near the vicinity" when the convoy was hit.