ANKARA, Turkey — Syrian Kurdish forces have started withdrawing east of the Euphrates River, Turkish officials said Thursday, after stern warnings from Vice President Joe Biden.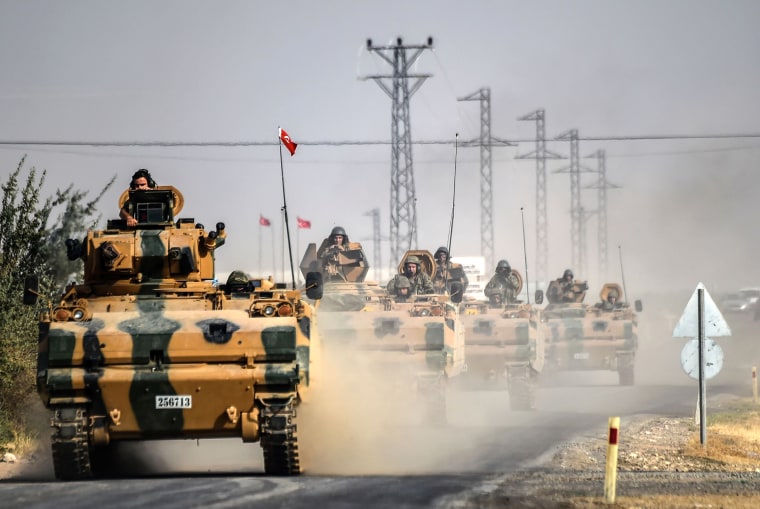 Turkey's surprise incursion Wednesday to capture the town of Jarablus was a dramatic escalation of the nation's role in Syria's war — but Ankara's objective went beyond fighting extremists.
Turkey is also aiming to contain the expansion by Syria's Kurds, who are backed by the U.S. and have used the fight against ISIS and the chaos of Syria's civil war to seize nearly the entire stretch of the border with Turkey in northern Syria.
Biden flew into Ankara hours after the offensive was launched, and he backed Turkey with a warning to the Kurds to stay east of the Euphrates, which crosses from Turkey into Syria at Jarablus.
Related: Turkish PM Blames Kurdish Militants PKK as Bombs Kill 7
Kurdish forces "must move back across the Euphrates River. They cannot, will not, under any circumstance get American support if they do not keep that commitment," Biden said.
Kerry stressed during a conversation with his Turkish counterpart on Thursday that the Syrian Kurdish forces "were in the process of retreating east of the Euphrates," Turkish officials said, speaking on condition of anonymity in line with government regulations.
It was unclear Thursday whether Turkey-backed rebels who seized Jarablus Wednesday would move against ISIS-held towns of nearby Kurdish-controlled areas, including the town of Manbij, which Kurdish forces retook from ISIS earlier this month. Manbij lies west of the Eurphrates and Ankara has demanded the Kurds hand it over to Syrian rebels and withdraw.
Related: Turkey Sends Tanks Into Syria on Anti-ISIS Operation
On Thursday, Turkish forces were securing the area around Jarablus, Turkey's Defense Minister Fikri Isik said. He said the Turkish-backed operation has two main goals — to secure the Turkish border area and to make sure the Kurdish Syrian forces "are not there."
"It's our right to remain there until" the Syrian opposition forces take control of the area, Isik said.