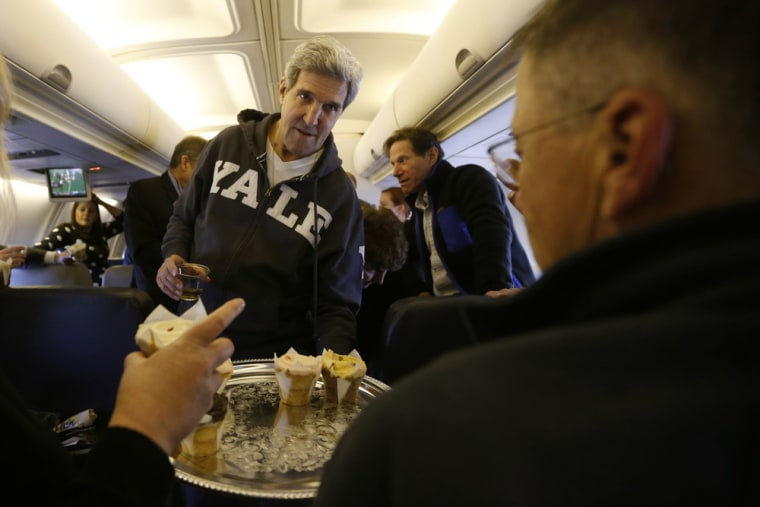 Secretary of State John Kerry said Sunday there were signs Egypt's military-backed rulers would embrace democracy as he visited the country for the first time since the overthrow of elected president, Mohammed Morsi.
"President Obama and the American people support the people of Egypt," he told reporters after landing in the capital Cairo. "We believe this is a vital relationship."
His comments came after the July 3 ouster - and subsequent deadly crackdown on Morsi's supporters - prompted Washington to freeze some aid to its long-standing ally. 
Kerry is expected to hold a number of meetings with key figures including Egypt's military chief, Abdel Fattah al-Sisi – who seized power in the ouster - and the interim president, Adly Mansour.
His visit comes on the on the eve of Monday's scheduled start of Morsi's trial on charges of inciting murder. After Egypt, Kerry will visit Saudi Arabia, Jordan, the United Arab Emirates, Algeria and Morocco.
Kerry said the country's military generals had signaled they intended to take Egypt towards a democratic constitution and free elections as part of a 'road map' to stability urged by the White House.
"The road map is being carried out to the best of our perception, there are questions we have here or there about one thing or another, but foreign minister [Nabil] Fahmy has re-emphasized to me again and again that they have every intent, and they are determined, to fulfill that particular decision and that track," Kerry said.
The Associated Press reported that there was unprecedented security for a secretary of state's travel to Egypt, for decades one of the closest U.S. allies in the Arab world – a situation that highlighted the deep rifts between Washington and Cairo.
Kerry last was in Egypt in March, when he urged Morsi and his Muslim Brotherhood-backed government to enact sweeping economic reforms and govern in a more inclusive manner. Those calls went unheeded. Simmering public unhappiness with his rule boiled over when the powerful Egyptian military deposed Morsi.
The Obama administration was caught in a bind over whether to condemn the ouster as a coup and cut the annual $1.3 billion in U.S. military assistance that such a determination would legally require.
Fahmy said on Saturday that Egypt would look beyond the U.S. to meet its security needs and warned Washington that it could no longer ignore popular demands in a changed Arab world, according to Reuters.
Reuters and The Associated Press contributed to this report.
Related: