YAOUNDE, Cameroon — Two Italian priests and a Canadian nun kidnapped in northern Cameroon nearly two months ago by suspected Boko Haram gunmen were released on Sunday, smiling and apparently in good health as they arrived in the capital.
Giampaolo Marta and Gianantonio Allegri, missionaries from the diocese of Vicenza in northeast Italy, and Canadian Gilberte Bissiere were seized on the night of April 4 from the parish of Maroua, close to the border with Nigeria.
There has been no claim of responsibility for their kidnapping but Cameroonian officials have pointed the finger at the Nigerian Islamist group Boko Haram, which has become active in a region that it had for some time used as a logistical base.
State television showed images of the priests and the nun arriving at Yaounde airport on Sunday in the company of heavily armed Cameroonian special forces.
The Cameroonian presidency said the captives had been "handed over last night to Cameroonian authorities", and thanked those who had worked for their release. Authorities declined to give further details of the release, or to say whether any deal had been done to secure it.
The clerics, looking tired but smiling, were greeted by the ambassadors of Italy and Canada, local church authorities and an envoy sent by Pope Francis, state television said.
They were taken to their respective embassies and were expected to meet Cameroonian President Paul Biya later on Sunday, officials said.
In Rome, Vatican spokesman Father Federico Lombardi said the pope had been informed immediately of the release, which "fills us with joy."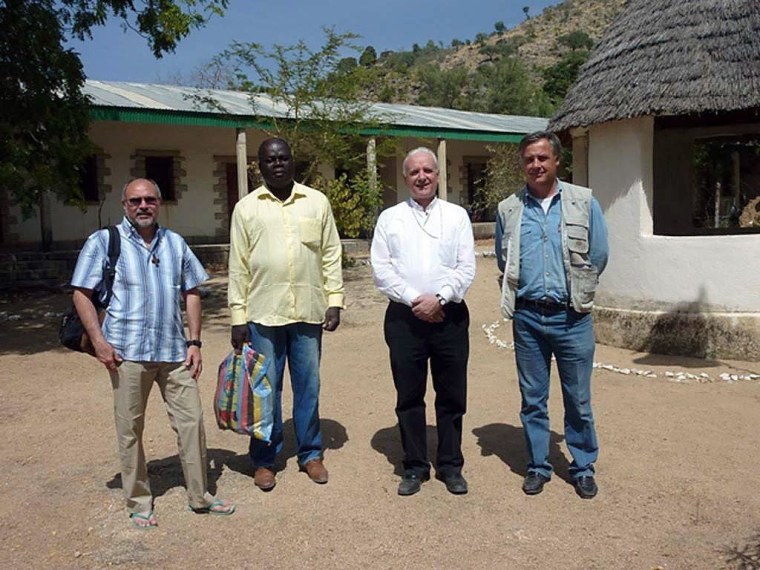 The priests had been working on improving water supplies and fighting the spread of HIV/AIDS in the impoverished region, as well as their religious duties, according to their diocesan website.
One of the priests had said in a letter to his diocese - posted on its website - that local authorities had advised him to travel with a police escort due to the deteriorating security situation in northern Cameroon.
Countries across West Africa are increasingly concerned that Boko Haram, which has killed thousands in a fight to carve out an Islamic state in northeast Nigeria, poses a threat to the entire region.
Boko Haram, whose name means 'Western education is sinful' in the Haussa language, stirred an international outcry with the kidnapping of more than 200 schoolgirls in northern Nigeria on April 14.
Cameroonian security forces killed some 40 Boko Haram militants in clashes in the country's far north, state radio said on Sunday. A presidency source confirmed the clashes, which took place west of the town of Kousseri, in the region bordering Nigeria and Chad.
Cameroon, which has been criticised by Nigeria for not doing enough to fight Boko Haram, deployed some 1,000 troops to the far north this week.
— Reuters