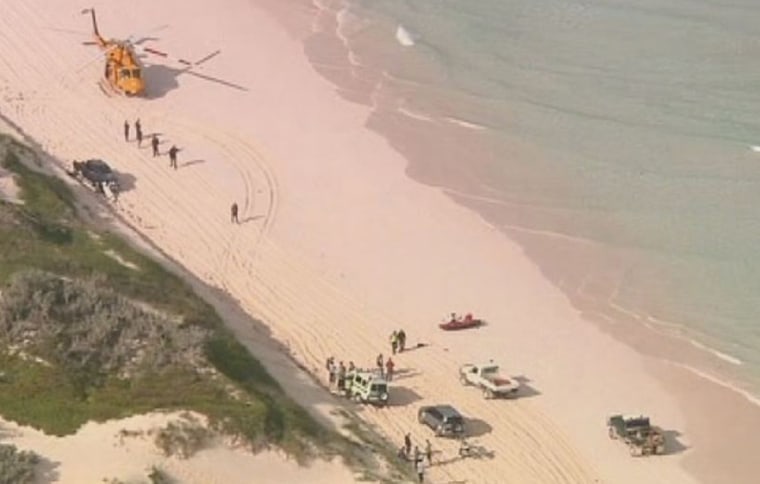 Following a record number of attacks this year, and retracting his earlier stand, the leader of a state on Australia's west coast announced Thursday that any great white sharks seen near beachgoers would be killed in order to prevent attacks on humans.
"We will always put the lives and safety of beachgoers ahead of the shark," Western Australia Premier Colin Barnett told ABC Radio Australia. "This is, after all, a fish — let's keep it in perspective."
Previously, sharks could only be hunted if there had already been an attack on a swimmer and, even after a fatal attack last March, Barnett had ruled out changing that strategy, saying "the ocean is the domain of the shark and we go there with a risk always."
But the state has now seen five deaths this year — out of a total of just 12 recorded over the last 100 years.
The new strategy includes more watercraft and helicopter patrols as well, but it was not welcomed by everyone.
The Conservation Council of Western Australia called it a "guilty until proven innocent" approach, The Australian reported.
"This may be the most reactionary and archaic response I have seen in my lifetime of shark study," added George Burgess, curator of the University of Florida's International Shark Attack File.
"Such methods run totally in contrast to modern scientific thinking," he told NBC News, noting that "no evidence" from the 5,000 attacks on file suggest that sharks have become more aggressive toward humans. In fact, only two or maybe three of those attacks can even be attributed to one shark involved in multiple strikes.
Western Australia's strategy, he added, "is particularly ill-founded in that it involves a protected species — an animal already acknowledged to be in trouble not only in Australia but in most areas of its biological range.
"We're supposed to be smarter than the average shark," he said, adding that scientists know general shark migratory patterns and that can be used to better warn beachgoers and even close beaches ahead of time when needed.
Great white sharks have been a protected species in Australian waters for more than a decade, but Barnett's fisheries minister last July suggested it might be time to review that.
"I wonder if research might tell us that there are now much greater number of  great whites than ever before, and maybe we should look at whether they should remain a protected species," Norman Moore told reporters.
Burgess said any culling would further threaten the species. "It's sad they're going after one of the animals that can least take that fishing pressure" since it is relatively scarce in the ocean.
More than 100 species of shark are found in Australian waters but most are not aggressive. The great white, tiger and bull sharks are considered the most dangerous. 
Great whites prefer the colder and temperate waters of Australia's south, while tiger and bull sharks are more common in northern tropical waters.
Burgess said there is no evidence showing that sharks "hang around" beaches and instead they tend to follow migratory patterns in search of food like whales.
Still, France last month authorized a cull of around 20 sharks off its Indian Ocean island of Reunion after a series of attacks in the surfing hot spot.
In the U.S., "preventive hunting of white sharks" is not allowed, Monica Allen, a spokeswoman for the National Oceanic and Atmospheric Administration, told NBC News. "White sharks are an important part of the ocean ecosystem," she said, and instead "coastal communities and states use public education to help reduce the risk of shark attacks, which are rare."
Burgess said great whites along both U.S. coasts probably number in the low thousands, and Allen said the species appears to be seeing pressure.
"In the Atlantic, white sharks are prohibited from being landed by fishermen because of the status of the stock," she said. "NOAA is also reviewing a petition to consider listing the Pacific white shark under the Endangered Species Act."
Reuters contributed to this report.
More world stories from NBC News: