MOSCOW - Two men were sentenced to life in prison Monday for the murder of Russian investigative journalist Anna Politkovskaya.
Three other men were given jail sentences of between 12 and 20 years, the press service of the Moscow City Court told NBC News, after the five men were convicted of the killing last month.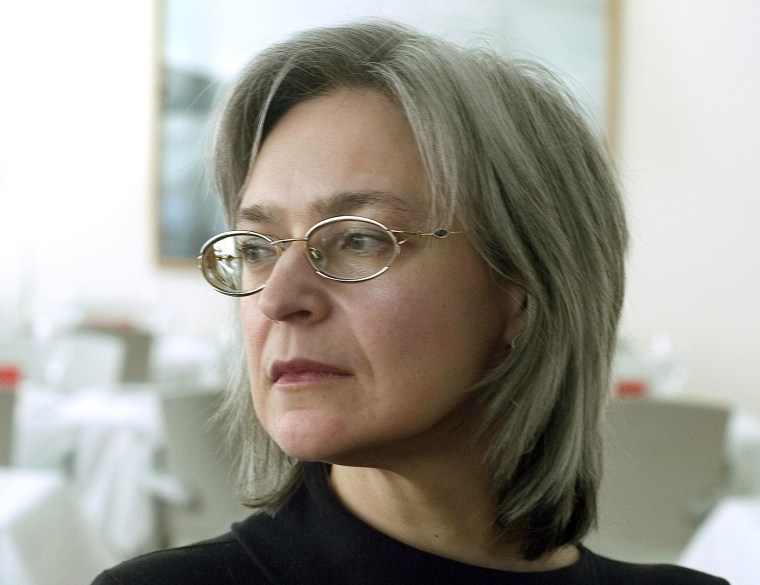 Politkovskaya was found murdered in the elevator of her Moscow apartment building in Oct. 2006. A journalist for the Novaya Gazeta newspaper, she had been a vocal critic of President Vladimir Putin as well as Russia's war in Chechnya.
Rustam Makhmudov was sentenced to life in prison on Monday after he was found guilty of pulling the trigger. His uncle, Lom-Ali Gaitukayev, was also given a life term after he was convicted of organizing the murder.
Ibragim Makhmudov was sentenced to 12 years in prison, his brother Dzhabrail Makhmudov to 14 years, and Sergei Khadzhikurbanov to 20 years. All the men were found guilty of murder for their parts in the killings.
The murder raised worldwide questions about freedom of speech and of the press under Putin — especially after three of the defendants were initially acquitted in 2009. The Supreme Court overturned those acquittals and ordered a new trial.
NBC News' Alexander Smith contributed to this report from London.