A senior North Korean delegation arrived in Malaysia Tuesday in a bid to recover the body of Kim Jong Un's slain half-brother, and secure the release of one of their country's nationals detained in connection with the killing.
The delegation includes North Korea's former deputy ambassador to the United Nations, Ri Tong II, who said the North Koreans sought the "development of friendly relations" between the two countries, as well as the recovery of the body and the detained man.
That tone was a marked departure from some of North Korea's recent heated rhetoric surrounding the killing.
After Malaysian authorities conducted an autopsy on Kim's remains, over the vehement protests from Pyongyang, a state-run North Korean news agency claimed the action "proves that the Malaysian side is going to politicize the transfer of the body in utter disregard of international law and morality, and thus attain a sinister purpose."
Malaysian authorities have not directly accused the North Korean regime of orchestrating Kim's killing, but officials in South Korea have. On Monday, South Korean intelligence agencies briefed lawmakers that the assassination was an act of "state terror," set in motion by agents of the country's foreign and security ministries.
The Pyongyang delegation arrived as Malaysian officials prepare to charge two women for their part in the killing.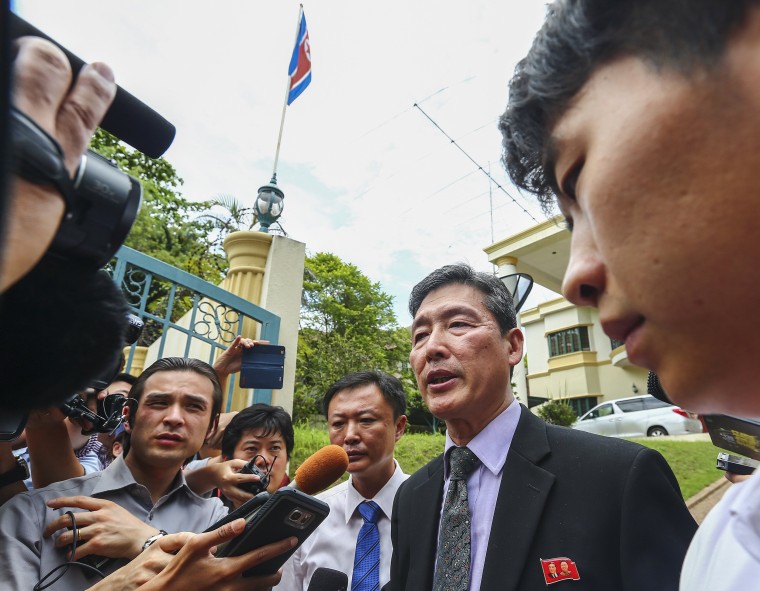 Malaysian Attorney General Mohamed Apandi Ali told news agencies via text message that Indonesian Siti Aisyah and Vietnamese Doan Thi Huong, would be charged with murder on Wednesday.
If convicted, the pair could face the death penalty under Malaysian law. Both women have told police they believed they were participating in a prank for a reality TV show.
Malaysian police have said they believe the women knew what they were doing when they attacked Kim, and had been instructed to wash their hands afterwards.
Kim died Feb. 13, after being poisoned with VX nerve agent, a chemical weapon banned in many countries by a treaty that North Korea has not signed up to. Experts believe that the country has a sophisticated chemical weapons program, and the use of the chemical in the killing has raised suspicions of the North's involvement.
Apandi told the Associated Press that the North Korean citizen currently detained in connection with the killing could also face charges, depending on the outcome of the investigation.