KUALA LUMPUR, Malaysia — In the latest twist in the suspected assassination of the estranged half-brother of North Korean leader Kim Jong Un, Malaysian police say they are now hunting for four North Korean suspects.
Kim Jong Nam died last Monday after being assaulted at Kuala Lumpur International Airport, where he was catching a flight to the Chinese territory of Macau. South Korean and U.S. officials have said he was assassinated by North Korean agents.
Malaysian police arrested a North Korean man on Friday in connection with the murder. They said Sunday at a news conference that they were looking for four more North Korean suspects.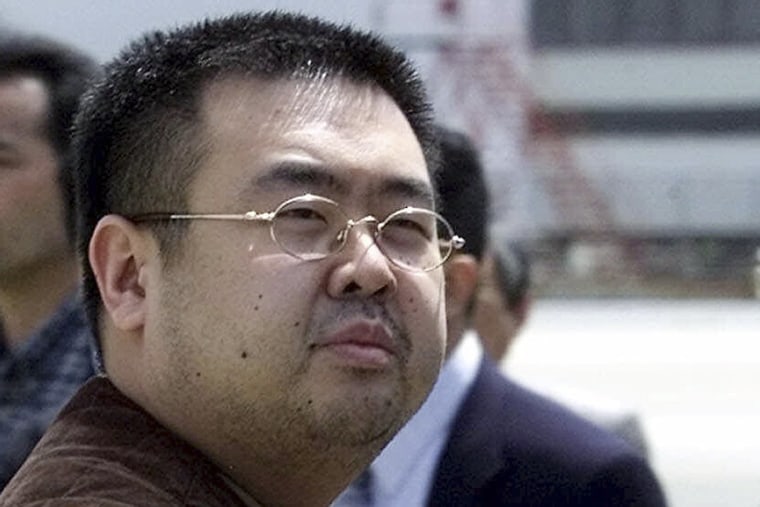 The four North Koreans flew out of Malaysia, but police would not reveal the flight's destination, saying only that they were coordinating with Interpol to track them down.
Police gave Kim's next of kin two weeks to claim his body. South Korea's intelligence agency told lawmakers in Seoul that Kim had been living with his second wife in Macau, under China's protection.
"I can confirm today that they [the four North Korean suspects] have left our country the very same day the incident happened," said Noor Rashid Ismail, deputy inspector-general of the police.
Police said no when asked by NBC News whether the suspects were traveling on diplomatic passports, like the victim.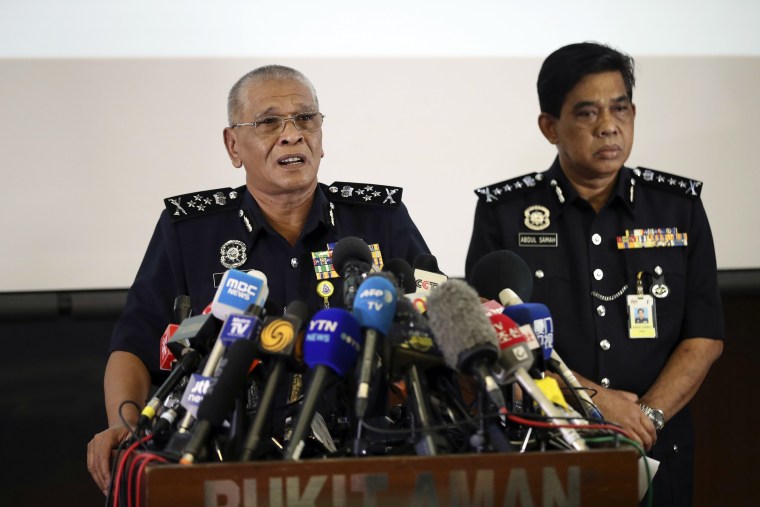 Malaysian police said that the cause of death still was not known and that they were waiting for pathology and toxicology tests after conducting a post-mortem.
A diplomatic spat between North Korea and Malaysia over the body has escalated. North Korea has said it would reject Malaysia's autopsy report, and it accused Malaysia of "colluding with outside forces" — a veiled reference to rival South Korea.
Flight records from the day of the attack reviewed by NBC News reveal that the suspects could have flown directly to Pyongyang, the North Korean capital, or they could have taken a flight via another Asian airport, such as Bangkok's or Beijing's.
South Korea told NBC News on Sunday that it believed North Korea was behind the murder.
Jeong Joon-hee, a spokesman at the South Korea's Unification Ministry, which handles inter-Korean affairs, said: "Although we will have to wait for the final investigation result, given the circumstances and various information, our South Korean government is sure that it was Kim Jong Nam and that North Korea is behind all this considering that the five suspects are of North Korean nationalities,"
PHOTOS: North Korean Celebrates Birthday of Kim Jong Il Days After Son's Death
"North Korea has been committing anti-human crimes and terror, the South Korean government and the international community are seriously worried about the reckless and cruel act and we are watching closely," Jeong said.
Two female suspects, one an Indonesian and the other carrying Vietnamese travel documents, have also been arrested, while a Malaysian man has been detained.
Kim Jong Nam, who is believed to be in his mid-40s, was once considered a successor to the leadership. But he fell out of favor when he was caught trying to enter Japan on a fake passport in 2001. He said he wanted to visit Disneyland Tokyo — a symbol of the Westernization demonized by North Korea.
Since then, he has been critical of the regime, but experts never considered him a direct threat to his half-brother's rule.
"Most North Koreans do not know of his existence, and he ruled himself out as a political player long ago," according to James Edward Hoare, an associate fellow and North Korea expert at Chatham House, a London-based think tank.
In this sense, it appeared his death would have no immediate benefits for the regime.
"It is not just the manner of it, which is brutal, but it's the fact that there's no payoff," said Hazel Smith, director of the International Institute of Korean Studies at the University of Central Lancashire in England.
It wouldn't be the first time that Kim Jong Un, a youthful dictator still in his 30s, had meted out pitiless punishment.
Since he came to power in 2011, he has executed several high-profile members of his government — as well as his uncle and aunt. In May 2015, South Korean intelligence officials said he ordered his defense minister to be blasted to pieces with an anti-aircraft gun as punishment for falling asleep at a meeting.
Here's what else we know about the case so far:
Two women are alleged to have approached Kim in the airport while he was waiting for a flight and used needles, spray or a chemical-soaked cloth to poison him before fleeing in a taxi. Kim managed to make it to a desk to ask for help but died before reaching the hospital.
Late Friday, Malaysian police arrested a North Korean man in connection with the death. They identified him as Ri Jong Chol, 46.
That brought the total number of arrests to four.
In addition to the North Korean man, two women who are alleged to have carried out the attack — a 28-year-old with Vietnamese travel documents and a 25-year-old with Indonesian documents — have been arrested.
A 26-year-old Malaysian man, said by police to be the boyfriend of the Indonesian woman, has been arrested, as well.
The family of the Indonesian woman, Siti Aishah, says she thought she was going to Malaysia for a prank TV show on which she would surprise people by spraying them with perfume.