SEOUL -- North Korean leader Kim Jong Un supervised a live artillery drill close to a disputed sea border with South Korea, state news agency KCNA reported on Thursday, in the latest sign of increased tensions between the two Koreas.
KCNA did not specify when the drill took place. The border is seen as the most likely site of any clash between the North, which has stepped up military preparations in response to being sanctioned for its February nuclear test, and South Korea.
North Korea has threatened a nuclear strike against the United States in response to new United Nations sanctions and to strike back at South Korea and the United States during military drills that the two allies are holding.
Kim praised the artillery units on two islands after watching them hit targets, in what KCNA described as the "biggest hot spots in the southwestern sector of the front," in practice for striking at two South Korean islands.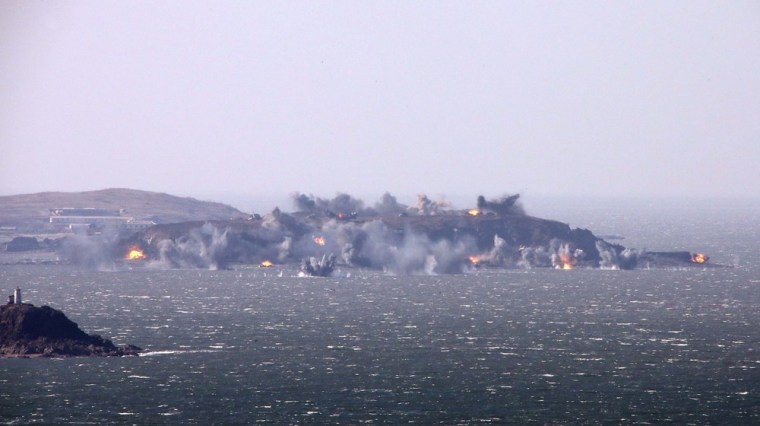 North Korea's claims to be able to stage a nuclear strike on the United States have been derided by most observers of its missile program, but it shelled a South Korean island in 2010, causing civilian casualties.
Pyongyang has kept up a steady stream of incendiary rhetoric since moves began to sanction it in the United Nations over its third nuclear test. It was also subject to sanctions for the launch of a long-range test rocket in December that critics say is aimed at proving its long-range missile technology.
The new United Nations sanctions aim to stifle funding for the North's nuclear and missile programs and for the ruling Kim dynasty, although much will depend on whether China, the North's main ally, enforces them.
So far, there are few signs beyond Pyongyang's rhetoric that it is preparing for a major conflict.
South Korean workers at the Kaesong joint industrial zone in the North reported seeing North Korean soldiers wearing camouflage webbing earlier this week but said work was proceeding as normal.
Related:
UN passes sanctions despite North Korea threat of 'pre-emptive nuclear attack'
Video: Kim Jong Un directs army to 'annihilate the enemy'
North Korea threat of nuclear attack predictable but worrisome