North Korea's Kim Jong Un wants Secretary of State Mike Pompeo to make another visit to his country and reiterated his desire for a second summit with President Donald Trump, South Korea's leader said Thursday.
Negotiations between Washington and Pyongyang have been deadlocked since June, when Kim and Trump met in Singapore.
The two leaders agreed that North Korea should denuclearize, but their accord was vague and both sides have been at an impasse ever since.
On Thursday, South Korean President Moon Jae-in said he had tried to grease the wheels of U.S.-North Korean diplomacy at a three-day summit in Pyongyang this week.
Speaking to journalists back in Seoul, Moon reported that Kim wants Pompeo to come to Pyongyang for more talks. Moon also said the young dictator had expressed a desire to meet with Trump for a second U.S.-North summit.
It would be Pompeo's fourth visit to the North after Trump abruptly canceled a visit scheduled for August. It's the second time this month that Kim has reportedly asked for a second summit with Trump.
In addition to his public statements, Moon told reporters Thursday that he will deliver a private message from Kim to Trump at a United Nations meeting in New York next week, The Associated Press reported.
One of the major stumbling blocks in negotiations has been North Korea's desire for an official end to the Korean War.
Moon supports this push, and said he would discuss this with Trump before the end of this year, the AP said.
As one of the signatories of the 1953 armistice that stopped the fighting, the U.S. would need to sign off on the war's official end. However, it has been reluctant to do so because of fears it could lead to calls for the withdrawal of the 28,000 American military personnel stationed in South Korea.
While the U.S. effort has stumbled, Moon has had more success with his own talks, which focus on peace and economic cooperation with the North rather than denuclearization.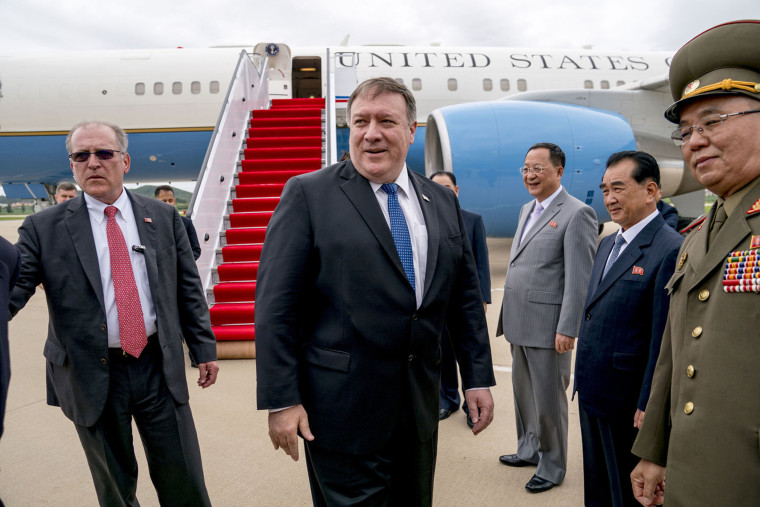 At the summit in Pyongyang this week, Kim pledged to shut down his country's nuclear complex, halt missile testing and cease hostile acts toward South Korea.
However, big questions hang over the announcement, with analysts warning against overestimating its significance.
There is debate among experts about how much Moon actually cares about Trump's goal of denuclearization; some say he thinks it's impossible and is therefore more focused on more short-term achievable goals.
Moon did claim Thursday that the North's latest pledges this week proved it was filling in the details missing from June's summit.
"This is a huge change in that North Korea has seriously discussed detailed measures," he said.
However, Jeffrey Lewis, a nuclear policy expert at the Middlebury Institute of International Studies at Monterey, was among those who viewed the pledges with deep skepticism.
"The North Koreans are offering gestures that mimic disarmament," he wrote on Twitter. "They don't meaningfully constrain North Korea's nuclear program. But they aren't meant to. There primary purpose is to appease Trump, so that Moon and Kim can keep their engagement alive."