SEOUL, South Korea — It's been an unusually quiet quarter for North Korea, which has avoided the occasional exchange of bellicose bluster with the U.S. and South Korea, and has not tested a much-prophesized fourth nuclear bomb.
But for the past month, a curious string of events has stirred up questions over whether changes are underway in this garrison kingdom. Its 31-year-old generalissimo, Kim Jong Un, has not made any public appearances since he attended at a state concert with his wife on September 3. Since an official ceremony in July, Kim has been walking with a limp.
Kim's furlough is unusually long by regime standards. In June 2012, the dictator went missing for 24 days. In two other instances, he vanished for more than two weeks, only to reappear without explanation.
News reports speculate that the Supreme Leader is undergoing medical treatment for gout or cheese allergies, but in a nation as opaque as North Korea, it's incredibly difficult to pinpoint whether this is true. The state-run Korean Central News Agency (KCNA) confirmed that Kim Jong Un has been suffering from "discomfort," which many onlookers interpreted to mean a physical ailment.
But even that is far from clear.
On Sunday, elite North Korean official Kim Yang Gon, who suddenly arrived in Incheon, South Korea, for the regional Asian Games on Saturday, claimed that there was "no problem" with the Supreme Leader's health, according to his South Korean counterpart who attended talks.
The timing of this visit has also raised questions.
On Friday, North Korea gave a 24-hour notice to Seoul that it would send three senior officials to attend the closing ceremony of the Asian Games, including the second most powerful man in North Korea, Vice Marshal Hwang Pyong-so. Over the weekend, the two frosty neighbors rushed to high-level conciliatory talks.
So it's been a month of oddities alongside an enormous North Korean charm offensive.
The peculiarities have led analysts to look at the appearance of another player in the North Korea elite: Kim Jong Un's little sister, Kim Yo Jong.
She may be managing the country in her brother's absence, claims the North Korean Intellectuals' Solidarity, a Seoul-based advocacy organization started by former North Korean professors. The group hasn't revealed its source, and the claim has not been confirmed. But it follows Kim Yo Jong's apparent emergence within regime circles, probably as a key ally of her brother.
"She is one of the only people in [North Korea] that we know has unfettered direct access to KJU. At the present time I would not be surprised if she is sole gatekeeper," said Michael Madden, who runs the North Korea Leadership Watch blog, which tracks the country's elites.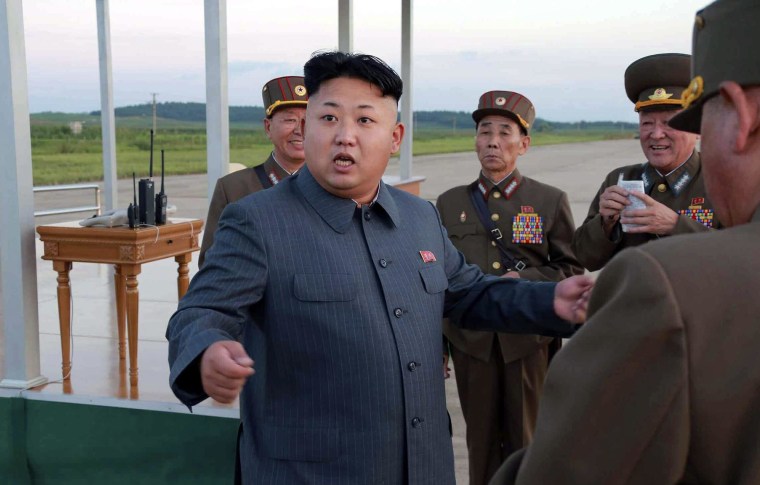 Little is known about this mysterious sibling, who has maintained a low profile for much of her life.
She attended boarding school in Switzerland with her brother Kim Jong Un, according to Madden. That's where the leader-in-waiting cultivated his love for Nike shoes and the Chicago Bulls that later led to Dennis Rodman's visits.
Born in 1987 or 1988, she is the youngest of seven known brothers and sisters, all of whom are the children of deceased former dictator Kim Jong Il and one of his four former partners.
From early appearances, she was hardly significant in the Pyongyang pantheon. For years, state mouthpieces did not list Kim Yo Jong as an official cadre, nor did she show up in its (mind-numbing) documentaries on Kim Jong Un's obligatory field visits — a way of gauging one's standing within the leader's trusted circle.
But last March this relative made her first official appearance on state television as a senior official, shown casting her vote in North Korea's elections for its rubber-stamp parliament. Such an appearance suggests she's building a more prominent profile within the Supreme Leader's young cabal, coming just after an older pair of confidantes, once allied with their father, exited.
"Her status is unlikely to have diminished in the Kim Jong Un era"
In late 2013, Kim Jong Un's uncle and king-maker — then the second most powerful man in the nation, Jang Song-taek — was executed on charges of treason and corruption in one of the regime's most dramatic shake-ups.
Another aging player apparently removed from the clique was his wife, Kim Kyong-hui, who stopped making public appearances in September 2013. Rumored to be dead after a life of alcohol abuse (a recurring tale that she has repeatedly survived in the past), purged, or gone hiding in Poland, nobody really knows what happened. Usually, the regime would announce excommunications this riveting through state media, both as a warning and a form of humiliation.
Kim Yo Jong, meanwhile, may have held a role as an administrative and logistical planner for Kim Jong Un, probably giving her considerable influence. "We know for sure that she used to do pre-trip security checks for her father," said Christopher Green, international affairs manager for DailyNK. "Her status is unlikely to have diminished in the Kim Jong Un era."
Such a heavyweight position could signify that she sits at the top of the regime's Escort Command, the elite force charged with protecting the Supreme Leader, and is probably linked with the ruling party's powerful and secretive Organization and Guidance Department, one of its most influential bodies.
Not all Kim siblings are that lucky.
After trying to visit Tokyo's Disneyland in 2001, eldest step-brother and former heir apparent Kim Jong Nam was deported from Japan on a forged Dominican passport. He fell out of favor for embarrassing his father and now lives in Macau.
Middle brother Kim Jong Chul was similarly passed over because his father saw him as too sensitive and easygoing, according to a book by the leader's former sushi chef. He was last spotted in 2011 at an Eric Clapton concert in Singapore.
Nobody would be surprised that Kim dynasty politics can be vicious and unforgiving, and it remains a mystery as to why the Supreme Leader apparently sees a trustworthy ally in his little sister. But early signs of her rise suggest that she'll climb the ladder in the coming years, emerging as a potent scion as a handful of older leaders fade.
This story originally appeared at GlobalPost.
More Stories From GlobalPost: