LONDON — Guns fired, bells tolled and mourning crowds greeted King Charles III as he led Britain into an uncertain new era Friday.
The country entered a lengthy period of national mourning after Queen Elizabeth II's death, confronting life without its figurehead of 70 years while already troubled by economic crisis and its latest bout of political upheaval.
Follow NBC News' live coverage here.
The longest-serving heir to the throne, Charles formally addressed the nation and the Commonwealth for the first time as king in a prerecorded address from Buckingham Palace's Blue Drawing Room.
He paid a moving tribute to his mother's "life well lived" and vowed to renew her "promise of lifelong service."
Charles also gave a nod to his own children, announcing that Prince William would take on his former title as the Prince of Wales and saying he wanted "to express my love for Harry and Meghan as they continue to build their lives overseas."
The new king ended on a personal note: "And to my darling mama, as you begin your last great journey to join my dear late papa, I want simply to say this: thank you. Thank you for your love and devotion to our family and to the family of nations you have served so diligently all these years. May 'flights of angels sing thee to thy rest.'"
Earlier in the day, the new monarch was greeted by cheers and cries of "God save the king!" from a waiting crowd as he returned to the palace to assume his birthright at the age of 73. He shook hands and took time to observe some of the many floral tributes left in honor of his mother when he arrived at Buckingham Palace shortly after 2 p.m. local time (9 a.m. ET).
Charles traveled to London from Balmoral, the Scottish castle where the royal family rushed to be by the queen's side in her final moments.
Mourners had been gathering outside the palace to lay flowers and to witness history since early morning as a well-rehearsed plan for how the nation will bid farewell to one monarch and welcome another swung into action.
With typical order and correctness, Buckingham Palace issued detailed advice Friday morning.
Julie Masters, 57, from Sussex in southern England, said she was the first person to shake the hand of the new king. She had been waiting with hundreds of others, pressed up against the police barriers.
"It's not really sunk in," she said. "He said, 'Thanks for coming.'"
Margaret Walker, from Wokingham, 40 miles west of London, is 95 years old, just one year younger than the queen. She said: "Charles and Camilla shook my hand and I shan't wash them again!"
Gun salutes at nearby Hyde Park and at the Tower of London fired 96 rounds — one for each year of Elizabeth's life. Flags on official buildings are flying at half-staff. The bells at St. Paul's Cathedral and Westminster Abbey rang out at noon (7 a.m. ET), echoed by church bells across the country.
The queen's death Thursday at the age of 96, shortly after doctors placed her under medical supervision, came as little shock given her age and recent health issues. But with the country facing unprecedented economic hardship due to spiraling energy costs and inflation, her absence may be felt even more keenly as Britain confronts a crisis without her for the first time in seven decades.
As French President Emmanuel Macron put it in one of the dozens of tributes from world leaders, she represented "through the fluctuations and turmoil of politics, a permanence with the scent of eternity."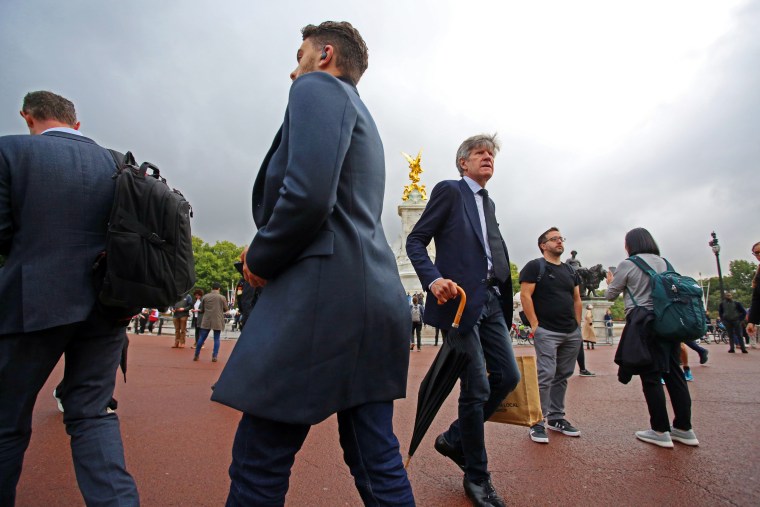 Outside the palace in central London, Britons and people from around the world shared in the sense of disbelief that the second Elizabethan age has come to an end.
Mounted members of the King's Guard, the soldiers who patrol royal households, trotted past. Until Thursday, they were known as the Queen's Guard.
A large but quiet crowd gathered to pay respects and to witness history. Gardeners were busily trimming royal lawns in anticipation of the days of pageantry ahead. Many in the growing crowd were wielding smartphones and selfie sticks and were, naturally for the social media generation, documenting all they could see.
"It's a historic day because the queen is the only monarch most of us have known," said Darius Koenig, 24, a trainee lawyer and singer from London, who was carrying flowers and said he couldn't find a newspaper to buy anywhere.
"I'm not really sure what to feel; it's hard to put words on it. It's certainly a day of collective grief."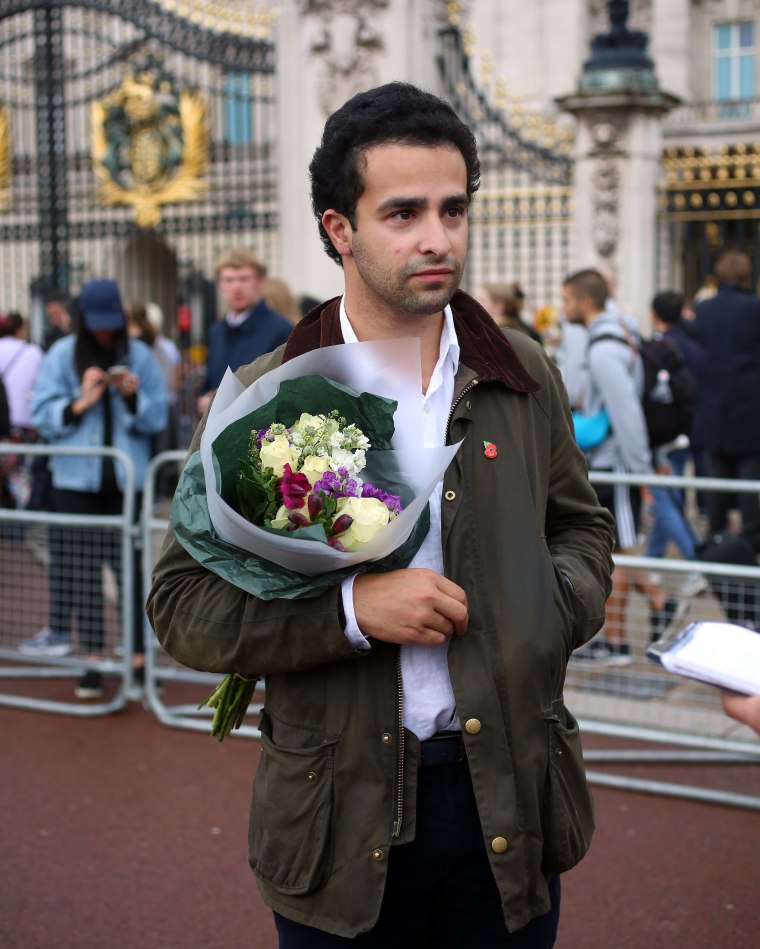 The changes in the monarch and the prime minister come at a seismic point in British political and economic life, with many families fearing how they will afford the increasing energy bills as a cost-of-living crisis intersects with Russia's war in Ukraine and the aftermath of the country's exit from the European Union. 
Charles met Liz Truss, only days after the queen invited her to be prime minister. The pair will then meet every week for the monarch's traditional weekly audience with the prime minister — and one issue is likely to take precedence.
Hours before the queen's death was announced, Truss told the House of Commons she would freeze energy bills at 2,500 pounds ($2,900) a year until 2024, a colossal intervention that would have dominated national discussion were it not for the news that interrupted debate in Parliament — and much of British life for days to come.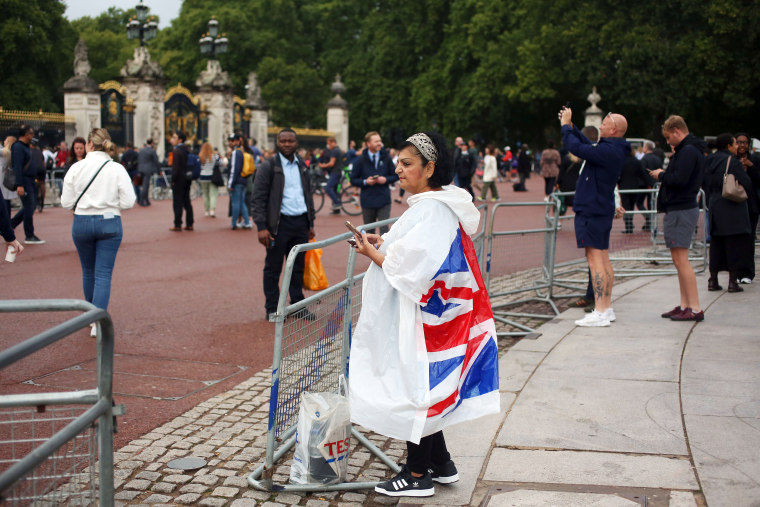 Record inflation of more than 10% has driven a summer of widespread strikes, but industrial action at the Royal Mail and by railway workers planned for Friday was canceled in light of the queen's death. Sporting and cultural events were also canceled, and some stores shut as the country embarked on a 10-day period of mourning.
Such is the gravity of the national mood, the Bank of England said Friday it would postpone its decision on whether to raise interest rates — a decision with potentially huge consequences.
It's possible the first post-Elizabeth national crisis will be one of the worst in recent memory — nevertheless, the days ahead will be spent remembering her contribution to public life.
Steve Kazan, 61 — who works in technology and lives near San Francisco and is on vacation in Britain with his son, Henry, 23 — came to pay his respects outside the palace.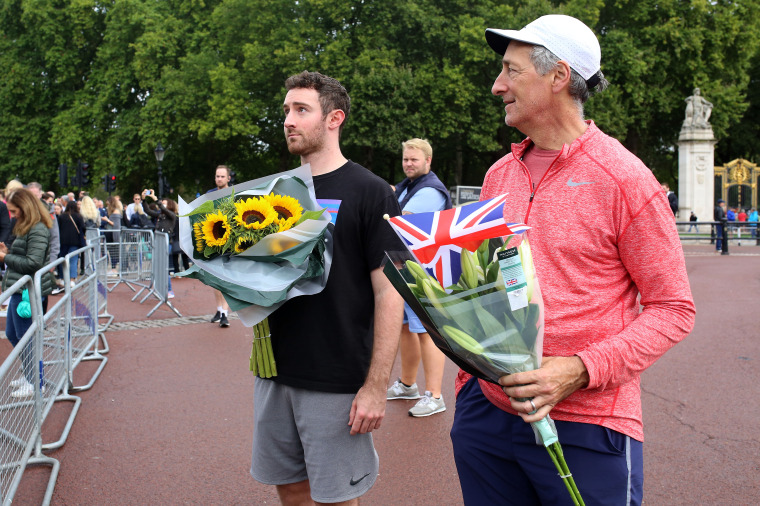 They were on a train from Edinburgh to London yesterday when the news broke. "Someone shouted out the news and ripples of chatter went through the car," he said.
"We were definitely hit by the historic impact of it immediately. I was sat across the table from a young student and I told her: 'You will remember where you were on this day forever.'"