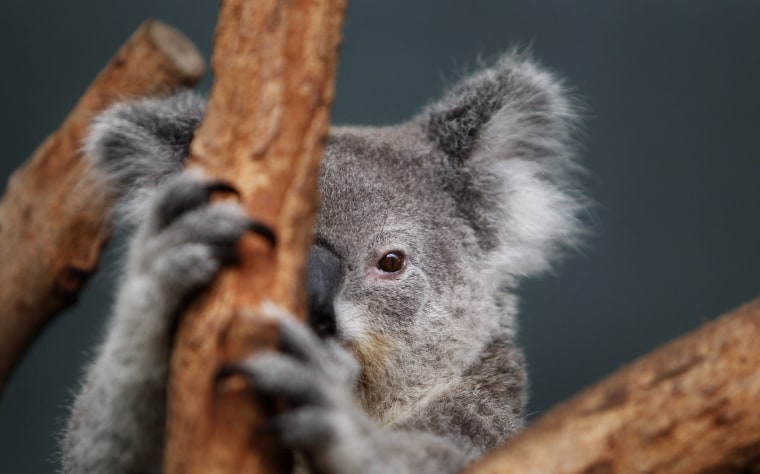 The face of Australia on Monday got some needed protection in parts of the country. While nearly a plague in South Australia, the iconic koala was listed as "vulnerable" in Queensland and New South Wales due to crashing numbers, dwindling habitat and other threats.
"On a species as iconic as the koala, I really don't think I could have credibly said to the Australian people, 'Oh don't worry, you might not have any more in Queensland the way things are going, but you can go to South Australia if you want to see one'," Environment Minister Tony Burke told reporters of his decision.
"In Victoria and South Australia, koalas have actually been in such high numbers they've been eating themselves out of habitat," the Australian Broadcasting Corp. quoted him as saying. "There's what you call population control measures going on there ... like sterilization."
"But in places like NSW and Queensland," he added, "their numbers have been taking a massive hit" -- a 40 percent drop in Queensland and a decline of about a third in New South Wales over the last 20 years.
PhotoBlog: Threats to an iconic species
While not listed as "endangered" -- the most threatened status -- the vulnerable listing will still provide protections.
"If someone wants to make a development there is a tougher hurdle as a result of a species being endangered," Burke said.
Besides habitat loss and urban development, koalas face threats from vehicle strikes, dog attacks, and disease, Burke said.
The Australian Koala Foundation welcomed the listing, but argued that the population in Victoria is much less than the government estimates and should also be protected.
The foundation "is shocked and saddened that the koalas in Victoria have been left unprotected," Foundation Director Deborah Tabart said in a blog post. "It is disheartening to read that the minister has fallen for the old and sad myth that koalas in Victoria have 'eaten themselves out of house and home'."
Whereas the Australian government estimates there are 200,000 koalas across the country, the foundation believes the number is around 100,000.
Tabart told the Australian Broadcasting Corp. that she felt Victoria was left out due to industry pressure.
"Because I have been in my job for so long and I sat through the Senate inquiries last year, I know industry is afraid of a listing and I know they have lobbied very hard," she said. "The logging industry, the development industry and forestry all pleaded with the senators last year, please do not list."
Reuters contributed to this report.
More world news from msnbc.com and NBC News:
Follow us on Twitter: @msnbc_world